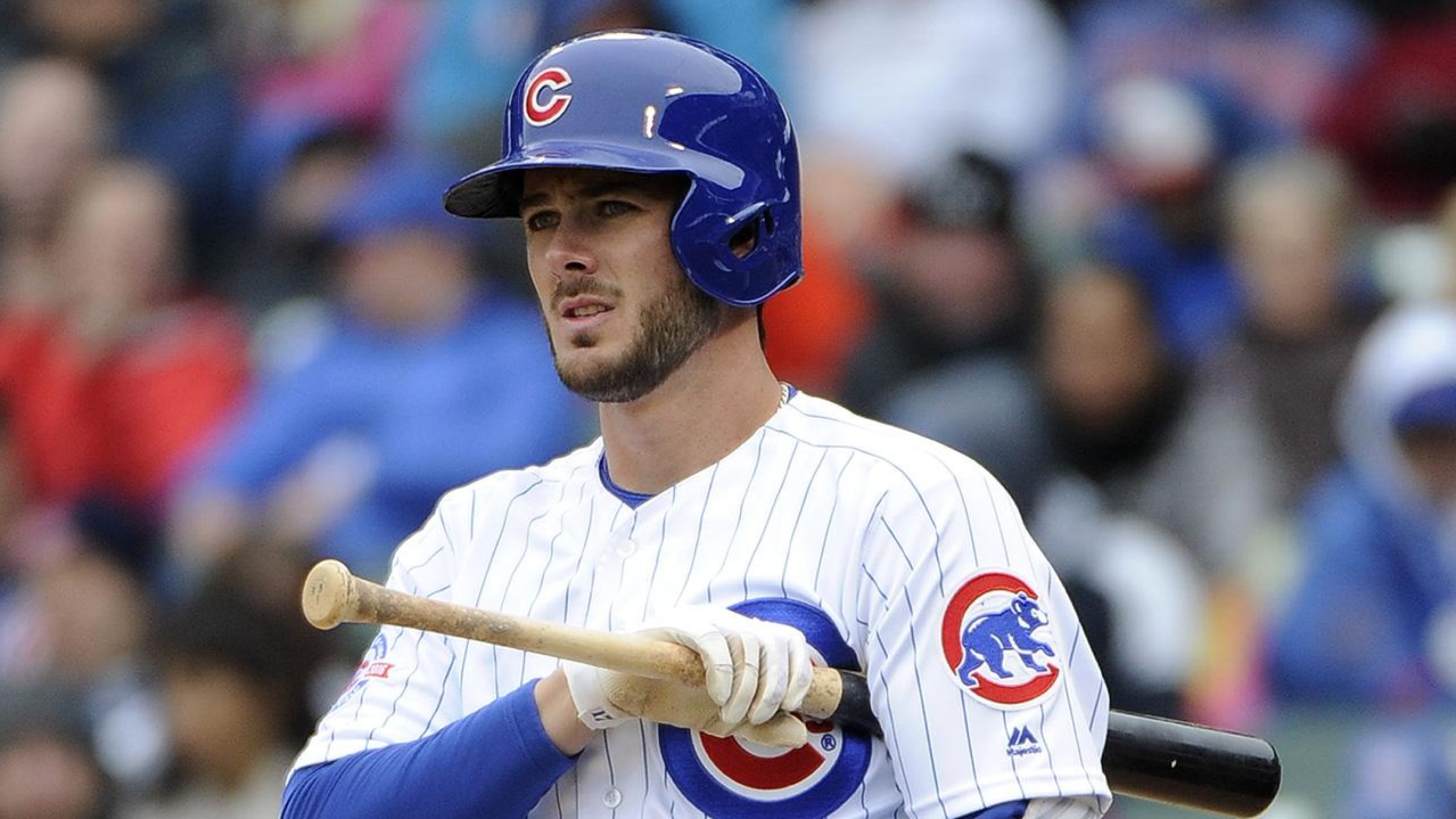 Kris Bryant made history last night. He became the first player in Major League history to hit three home runs and two doubles in the same game in Chicago's win over Cincinnati.
This is the high-point in a terrific season thus far for Bryant. The twenty-four year old is on track to be one of at least a few Cubs to start for the National League in next month's All-Star game. He'll also be relied upon heavily down the stretch as the Cubs try to win their first World Series in over a century.
All of this got me thinking: Is Bryant the best player in baseball to build your team around? He certainly has a case. In only his second season, Bryant is already one of the better power hitters in baseball and he is tremendous in the field as well.
When I first approached this question, I initially thought of only two other players that would be better to build around than Bryant: Mike Trout and Bryce Harper. The case for Trout is obvious: he's been in the MVP discussion every year since entering the league in 2011. As for Harper, even though he is having a rather ordinary year so far, he was far and away the best player in baseball in 2015 and is still only in his early twenties.
Yet after looking into this debate a bit further, I realized how naïve I was. There are a bunch of players in their early 20's who are damn great to build around- so many, in fact, that I felt the need to narrow the following list down to ten names. So, in addition to Bryant, Trout, and Harper, here are seven other players who have a case to be baseball's best player to build around.
Manny Machado, SS Baltimore
Like Bryant, the 23-year old Machado is sensational offensively (.325 batting average this year) and superb defensively. It seems like he's only getting better, too.
Xander Bogaerts, SS Boston
He's arguably baseball's best contact hitter already (.343 batting average). Plus, he's only in his third full season, so he surely has more room to evolve.
Carlos Correa, SS Houston
The former number-one pick is not here simply because he's 21-years old: his ability to hit for power at the shortstop position makes him a once-in-a-generation type talent.
Noah Syndergaard, SP New York Mets
He is being overshadowed by other elite pitchers in the NL right now, but the 23-year old Syndergaard is having a sensational season. Plus, judging strictly by how nasty his arsenal is, he should be in the Cy Young discussion for the next five seasons, minimum.
Nolan Arenado, 3B Colorado
Just because he plays in Colorado doesn't mean he shouldn't warrant any attention. Similar to Bryant and Machado, Arenado is great at the dish and even better in the field. Were these guys cut from the same cloth or something?
Corey Seager, SS Los Angeles Dodgers
Oh look, another infielder who plays on the left-side! Seager doesn't have quite the track record of success as many of the other names on this list. Yet judging by his current WAR (9th in MLB), I suppose you could argue he's as good as pretty much anyone in baseball.
Clayton Kershaw, SP Los Angeles Dodgers
It's understood that when picking a player to build around, you want someone in their early 20's. Kershaw is the lone exception., though. He's having another historic season (1.79 ERA; first in WAR), and there is no reason to think he'll slow down over the next five years.
While I'd be thrilled to have any of these players on my team if I was a general manager, the player I would want the most remains Mike Trout. Once again, the 24-year old outfielder is having another outstanding season. In addition to his .319 batting average and Weighted Runs Created of 167 (which is second in baseball behind David Ortiz), he is leading the Majors in Wins Above Replacement (WAR), meaning he is on track to finish in the top two in the AL MVP voting (at a minimum) for the fifth straight season. Get this: if Trout continues at this rate and averages 9 wins a season for the next ten years, he'll finish his career sixth all-time in WAR, alongside the likes of Hank Aaron and Ted Williams. Even if Trout regresses and averages, say, 7 wins above replacement per season for the next ten years, he'll still rank in the top fifteen all-time. With the exception of Kershaw, who is four years older than Trout, no one else on this list can expect to be as historically great as Trout by the end of their career. That's why he is the obvious choice to be the first player you would want to build around.
Before you go, here is a ranking, in order, of the players I would choose to build my team around:
Mike Trout, CF LAA

Kris Bryant, 3B CHC

Clayton Kershaw, SP LAD

Manny Machado, SS BAL

Bryce Harper, RF WSH

Noah Syndergaard, SP NYM

Carlos Correa, SS HOU

Nolan Arenado, 3B COL

Xander Bogaerts, SS BOS

Corey Seager, SS LAD
Rock the vote!
Kris Bryant photo courtesy of USA Today Sports