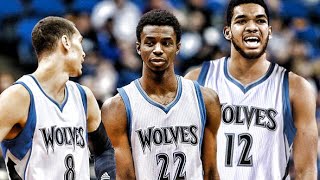 Everyone has seen it in professional sports: a congregation of great players on the same squad that is a force to be reckoned with. We've seen incredible partnerships like this in the NBA, in particular. To name a few:
Michael Jordan & Scottie Pippen – Bulls 1987-1998
Kobe Bryant & Shaquille O' Neal – Lakers 1996-2004
Tony Parker, Tim Duncan, Manu Ginobili – Spurs 2002-present
Paul Pierce, Kevin Garnett, Ray Allen – Celtics 2007-2012
Dwayne Wade, LeBron James, Chris Bosh – Heat 2010-2014
LeBron James, Kyrie Irving, Kevin Love – Cavaliers 2015-present
Russell Westbrook & Kevin Durant – Thunder 2008-present
Steph Curry, Klay Thompson, Draymond Green – Warriors 2012-present
Obviously, all of the above were forces constantly contended in the postseason (some still do). There are many other teams trying to assemble a "big three" (pretty hard to be a legitimate NBA team without a triangle of star power), but they have yet to really show their faces on the big stage. But there is one that comes to mind instantly whenever I think of a big three phenomenon: Zach LaVine, Andrew Wiggins, and Karl-Anthony Towns of the Minnesota Timberwolves.
In a Western Conference dominated by the Warriors, Spurs, Clippers and Thunder, the bottom of the conference is regularly occupied by a few teams, including the Timberwolves. Back when Kevin Love was the heart and soul of the team, the T-Wolves struggled to even get close to a .500 record every year.
Over the past two seasons, Minnesota has transitioned into a rebuilding mode. They had the number 1 overall pick in 2015 and recently added Tom Thibodeau as their head coach. He is considered one of the best coaches in the league and should do wonders in developing the Minnesota youngsters. In particular, his defensive strategies will help the Timberwolves' points allowed per game decrease (106 points allowed per game last season). But let's take a closer look at the three big pieces of the puzzle, including an additional factor that are really confusing me when it comes to a lack of success.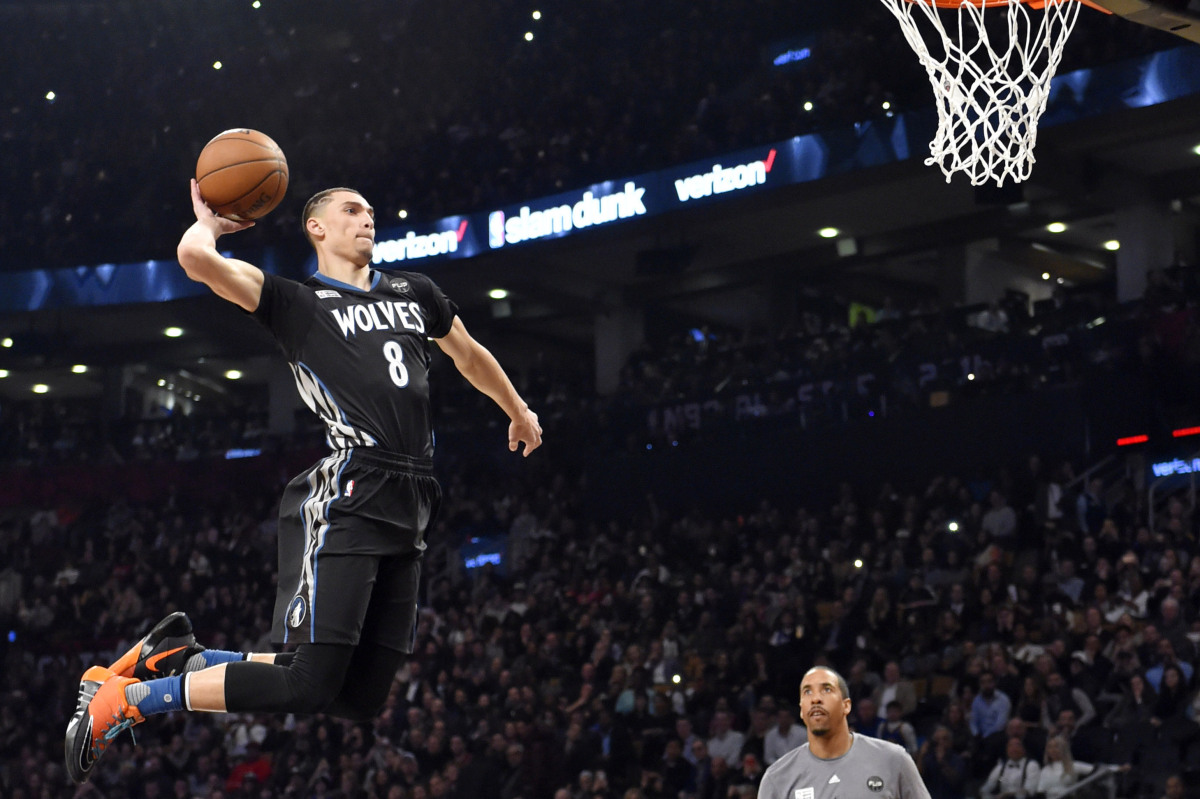 PG Zach LaVine – 6'5″, Drafted 13th overall in 2014 (UCLA)
While the title of back-to-back slam dunk champion resonates in many ears, LaVine's talents go far beyond his craftiness at the rim. This past season, LaVine averaged about 14 points per game and shot at just over 45% from the field and about 39% from 3-point land. While the game of basketball is modernizing to a very small style of play, (exemplified perfectly in Golden State's "small-ball" strategy with Draymond Green at the center position) LaVine's options next year expand greatly. With a teammate like Andrew Wiggins on the wing who consistently puts up points, LaVine's availability to shoot and drive should continue to be difficult for teams to defense.
http://sports.cbsimg.net/images/visual/whatshot/andrew_wiggins_090715.jpg
SG Andrew Wiggins – 6'8″, Drafted 1st overall in 2014 (Kansas)
Last season marked Wiggins' sophomore season in the NBA, where he started every game but one and amassed 20.7 points per game, shooting around 46%. This was an improvement on his rookie season, in which he averaged a respectable 16.9 points per game. But Wiggins doesn't just impact a game with his scoring: his height as a guard opens up the floor for the other players around him on the perimeter such as LaVine and Ricky Rubio. As the Timberwolves roster continues to improve and Wiggins gains experience, I expect him to put up around 24 points per game and frequently hit the 30-point mark in games next year. d
http://clutchpoints.com/wp-content/uploads/2016/01/karl-anthony-towns-nba-minnesota-timberwolves-houston-rockets-768×0.jpg
C Karl-Anthony Towns – 7'0″, Drafted 1st overall in 2015 (Kentucky)
The last piece of the puzzle came to the Timberwolves last year when they selected Karl-Anthony Towns with the number one pick. Along with becoming the first non-guard to win the NBA's Skills Challenge during All-Star weekend, the former Kentucky star put up 18.3 points per game and nearly 2 blocks per game while starting every game of the regular season. He shot about 54% from the field and a respectable 34% from 3-point land too. Towns, in my opinion is easily one of the top five most versatile players in the NBA along with Draymond Green, LeBron James, Damian Lilliard, and Carmelo Anthony. He can grab boards, shoot threes regularly, can score at the basket, etc. I think if Tom Thibodeau can scheme up offensive formations around Towns, he can become even more productive than he was last season. Just as I expect Wiggins to take his game to another level, I think Karl-Anthony Towns will average around 23 points per game, 11 rebounds, and will put up more points from three-point range. In short, there will be no sophomore slump for last season's Rookie of the Year.
Out of all the teams to not make the playoffs last year, the Minnesota Timberwolves have the most potential. It may be bold, but I would not be surprised to see Minnesota in the postseason either next season or following season. At the very least, I think an over-.500 season is in the cards next year. Watch out Western Conference… the Timberwolves are on the prowl.
Images from USA Today, CBS Sports, and Clutch Points