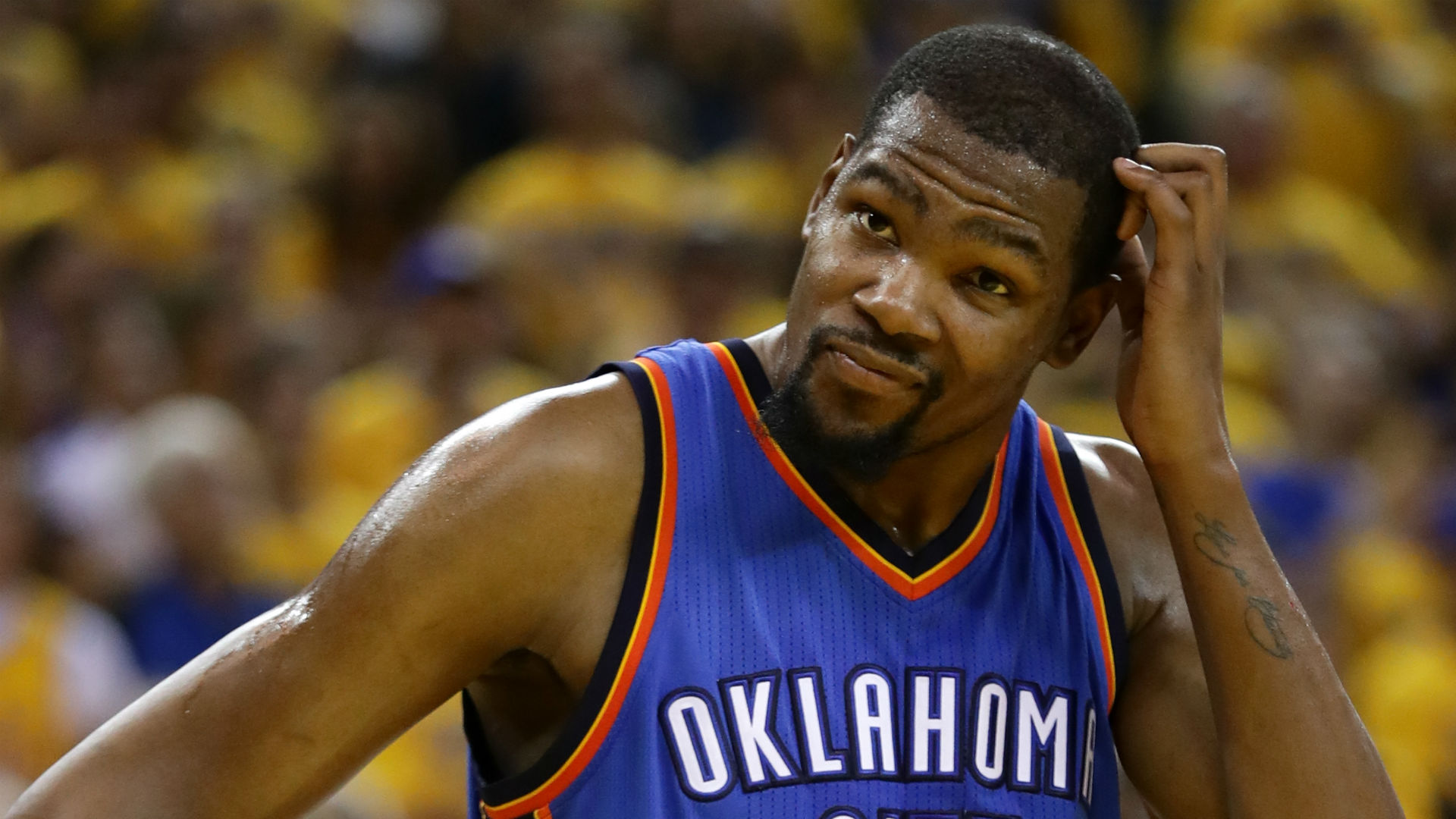 Rumors continue to swirl around Kevin Durant's plans as soon as the NBA's free agency period begins July 1st. Yet unless you're in Durant's inner circle, it's awfully hard to predict where the superstar will sign. So for the sake of this article, the question for the Check Down staff is where you would sign if you were Durant. Read on to see what Mando, Hempdad, Fronte, and Jmac have to say.
---
Mando
If I was in Durant's shoes, I'd sign a long-term contract with the New York Knicks for a few reasons. First, I think it would be smart for Durant to not sign a one or two year deal that allows him to reenter free agency when the salary cap rises in 2017. Durant has had injury issues before, which is why it makes sense for him to look for long-term security. In turn, this rules out resigning with Oklahoma City because the Thunder are not an organization I would want to commit to for the long-haul given their front office's spotty decision making (ex. Harden trade, lack of a supporting cast).
Now that I've ruled out the Thunder, I would also rule out Golden State because I want to carve out my own legacy. I'd also turn down San Antonio because I want to play in a bigger market that will allow me to capitalize on my image like LeBron James and Kobe Bryant have. That leaves me with three choices: the Lakers, Heat, and Knicks. I'd role the dice if I were Durant and sign with the Knicks. The Heat may have a team that is more ready to compete than the Knicks right now, but I like the main pieces New York has. In contrast to the Lakers, at least with the Knicks you have established players that you can put your faith in like Carmelo Anthony, Kristaps Porzingis, and even the newly acquired Derrick Rose rather than a bunch of rookies. Plus, if you could play basketball anywhere in the world, wouldn't you want to play in Madison Square Garden on a nightly basis? Sure, Durant wouldn't realistically have a shot at a title for at least a year, which is why reports are that he won't even meet with the Knicks brass. But is there anywhere Durant could sign that will give him a great chance to win next year without sacrificing his legacy? In short, Durant might have to be patient for two years, but bringing a long-awaited championship to the basketball mecca is worth the risk.
Hempdad

 
Although I'm a Celtics fan and would love to see KD come to Beantown, I just don't think it's in the books as Durant's next destination. If I'm Kevin Durant, I'm looking for a satisfactory amount of money and a championship-caliber team. By joining the Knicks, the combination of Durant, Carmelo Anthony, and Derrick Rose would catapult the Knicks from the bottom of the standings.
Why not join the Celtics? I don't think Durant would fit in with the Celtics smaller lineup, and I don't think Brad Stevens necessarily could work Durant into the offense as much as he would like. What about the Warriors? I just don't see it happening; I think it will cause too much of a shakeup to their current roster and I'm not sure Durant would actually want to play with Steph Curry. I wouldn't be surprised to see Durant join D-Wade, Luol Deng, and Chris Bosh in Miami however, but I think that KD should look for a team that he can be the leader of, and the Knicks are that team. Plus, if Rose doesn't work out, Westbrook might head over there after another year. That would be quite the turnaround for the New York Knicks.
Fronte
I'll make this short and simple. I'm tired of seeing star players run away from their problems. Michael Jordan won his first championship with the Bulls during his 7th season with them. You didn't see MJ jumping ship after continually being bested by the Bad Boy Pistons. In my opinion that makes winning a championship that much more worthwhile and impressive. Durant should stick with the Thunder and complete his goal of bringing a championship to that city. Although they choked away the Western Conference Finals, they are still have all the pieces of a championship caliber team. Despite his criticism, Durant won't find a point guard in the NBA who is as well-rounded and has a greater will to win than Russell Westbrook. My advice for Durant: stay with the Thunder because not only do they have a squad ready to win a championship, but winning a championship in OKC will elevate his legacy.
Jmac
Kevin Durant has spent his entire career as Oklahoma City's centerpiece. He acts as the glue that holds this franchise together. Oklahoma City is just one or two extra bench contributors away from reaching the Finals–after all, we saw with the Cleveland Cavaliers how bench contributions can raise a team to the top. To be blunt, Kevin Durant should stay in Oklahoma City if he wants to win a championship next year. This team is locked and loaded, and more than ready to unseat the Golden State Warriors as the undisputed "King of the West." If that isn't enough for Durant, he'd also be up for a major payday if he chooses to stay put.
Photo courtesy of Sporting News
Logos courtesy of Sportslogos.net