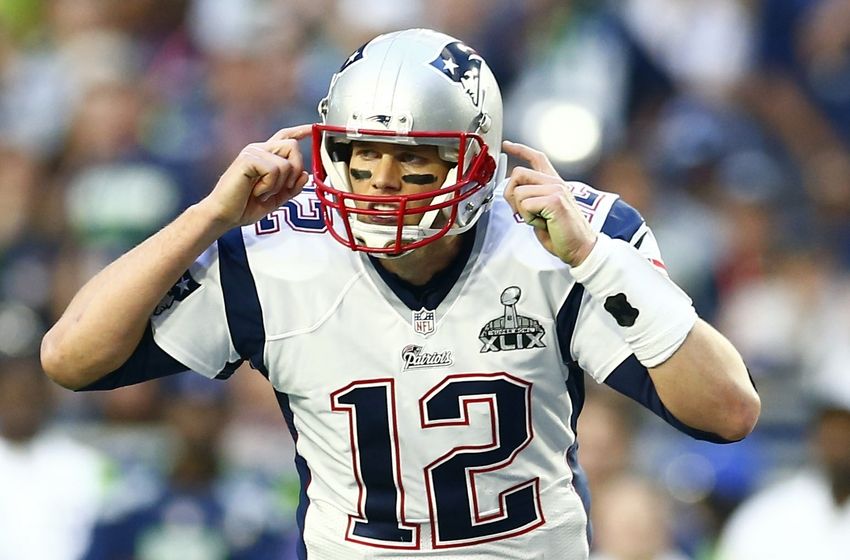 Now that the winter sports seasons are over, our attention at Check Down officially turns to football. Don't worry-we'll still be covering a lot of baseball; it's just that our main focus is on getting you guys hyped for the upcoming NFL and college football seasons. And to commence this occasion, I'd like to start the season off with a bang.
Who is the greatest quarterback of all-time? It's arguably the most engaging question in sports. You'll hear many people say it's Joe Montana because he was 4-0 in Super Bowl's. Some people nowadays think it's Peyton Manning because he's rewritten the NFL record book. Others advocate for old-timers like Johnny Unitas. Skip Bayless might even say it's Tim Tebow.
Yet the quarterback with the most complete case is Tom Brady.
Before diving into a more thorough analysis as to why I think Brady is the best quarterback in NFL history, let's look at some of the basic reasons why Brady could be considered the G.O.A.T.
4 Super Bowl Titles- tied with Joe Montana and Terry Bradshaw for most all-time among quarterbacks

3 Super Bowl MVP's- tied with Joe Montana for most all-time

6 Super Bowl appearances- most all-time for a quarterback

10 AFC Championships game appearances- most all-time for a quarterback

22-9 career record in the postseason- first all-time in both wins and starts

172-51 career record in the regular season- his .771 win percentage is first all-time

Only quarterback to lead team to 16-0 regular season

2-time MVP

11-time pro bowler

4-time leader in touchdown passes

Has led Patriots to 12 division titles- most all-time

Has never had a losing season as a starter

I think we get the point…
Long story short, it's clear that Brady is worthy of being in the discussion as the greatest of all-time. But who's to say he has a better resume than Montana, Manning, or some of the other greats? For this reason, I think it's necessary to compare Brady alongside others to see why he is indeed the greatest.
Who deserves to be compared to Brady? The list, in my opinion, is pretty short: Joe Montana, Peyton Manning, Johnny Unitas, and John Elway. I'm sure some of you might be wondering why certain greats like Dan Marino, Brett Favre, Terry Bradshaw, and Troy Aikman aren't on here; but since we don't really have all day, just trust me when I say they are a tier below these quarterbacks because either a) they didn't win enough, b) their success is attributed more to the players around them, and c) they didn't quite have the stats.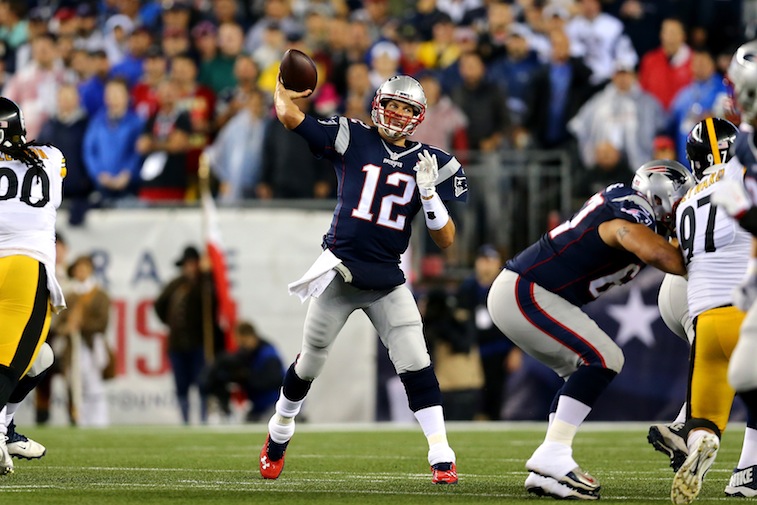 I'll start with the old-geezer first, Unitas. This actually might be the toughest comparison to analyze because he played in a completely different era than Brady. You can't simply look at their passing stats head-to-head because the game was played much differently back in the 1960's. I was actually planning to leave him out of this comparison altogether, but then that would've shifted my argument towards saying that Brady is the best quarterback of the modern era, which I don't really want to do. I want you to know why he is the greatest in history.
So the key for this comparison between Brady and Unitas is to look at how each produced relative to the competition in their day. Luckily, Pro Football Reference has an assortment of advanced passing stats that compare how quarterbacks performed relative to other players during their respective seasons. In passer rating index, Brady owns a higher career Rating+ of 117 while Unitas has a mark of 112 (100, for the record, is considered average; and the higher the score, the better). Brady also succeeded for a lot longer than Unitas. While Unitas had a string of outstanding seasons in the middle of his career in which he led the league in passing touchdowns a whopping four years in a row, Brady has 11 seasons with a Rating+ above 110 while Unitas only has 8. Brady also has never had a season in which his Rating+ has dipped below league average, while Unitas had five.
Let's take a look at some other metrics similar to passer rating index that judge how Brady and Unitas compared to their peers.
Brady: 115 TD+, 115 INT+, 115 Adjusted Yards/Att+, 110 CMP%+
Unitas: 105 TD+, 108 INT+, 111 Adjusted Yards/Att+, 111 CMP%+  
In addition to passer rating, Brady was superior than Unitas, adjusted for their eras, in touchdowns, adjusted net yards per attempt, and limiting interceptions (reminder- higher scores the better, even with interceptions). In short, this means that Brady was better statistically in his era. Combine this with the fact that Brady had far more success in the playoffs than Unitas, who only took the Colts to the AFC Championship game six times in eighteen seasons and threw more interceptions than touchdowns in those games, and Brady has the slight edge overall over Unitas.
Next, let's look at how Brady stacks up to John Elway. The main thing Elway has going for him is that he once rivaled Brady in Super Bowl appearances. Yet I was surprised to find that as great as Elway was, he really doesn't come close to matching Brady statistically. His career Rating+, which we know measures his passer rating relative to others in that year, was only 103. That's barely above average, and it's nowhere close to Brady's 117. Moreover, his TD+ is only 101 and his adjusted yards/attempt+ is 105. He also never led the league in touchdowns, quarterback rating, completion percentage, or yards per attempt; and though Elway had success in the postseason, his quarterback rating in the playoffs was just 79.2. That's Geno Smith territory in this day and age. We can move on to the big boys now, right?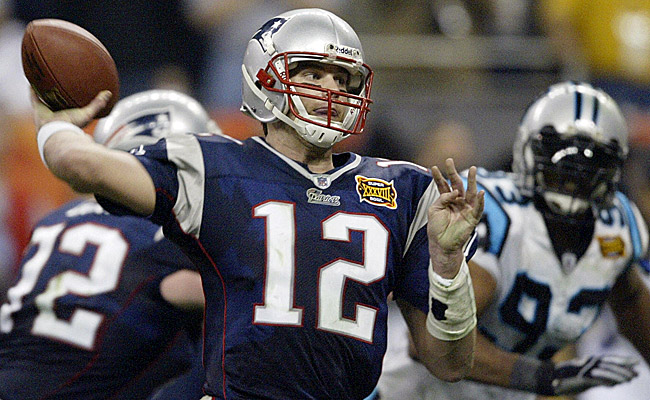 We arrive now at the title card: Brady vs Montana vs Manning. Which battle shall we start with? Let's go with Brady vs Manning. Even though Eli made a deal with the devil to win those two games, he's led the league in interceptions too many times to be considered better than Brady. Plus, Brady's AFC Championship appearances practically match the amount of time Eli and the Giants have missed the playoffs since he's been the starter.
So when we look now at Montana…oh, you meant the other Manning. Alright, I suppose we can do that too.
All jokes aside, anyone who places Manning outside of the top four on their list of the greatest quarterbacks ever needs to have their head examined. Right now, he's the career leader in many of the most important stats for a quarterback such as touchdowns, passing yards, and net yards per pass attempt. He's also led the league in Total QBR a staggering six times and has two of the greatest seasons for a quarterback (2004 and 2013) to his name.
The main reason, however, that Manning can't be considered better than Brady is that he doesn't have anywhere near the playoff success. And that's what ultimately matters, right? I hate to knock Manning too much, but the fact is that it's not as hard to light up teams in the regular season as it is in the postseason when the stakes are higher, the teams are better, and, as Manning knows, the weather is colder.
Let's look first at how Manning's typical Super Bowl performance compared to Brady's.
Brady (6 games): 4-2 record; 65.46% completion rate; 267.5 yards; 2.2 TD; 0.7 INT; 95.3 rating; 6.84 ANY/att; 22.5 points per game
Manning (4 games): 2-2 record; 66.2% completion rate; 250.6 yards; 0.75 TD; 1.25 INT; 77.4 rating; 5.28 ANY/att; 19.5 points per game (16.0 points per game if you don't count points directly off turnovers)
Not only does Brady have the clear edge statistically, particularly in TD/INT ratio and quarterback rating, but he was far more clutch as well. Manning never had a game-winning drive or anything of that magnitude in his four appearances. In the one chance he did have to come through in the clutch, he blew it by throwing a game-ending pick-six to Tracy Porter. Brady, on the other hand, has four game-winning drives to his credit (it could have been five if the Helmet catch never happened) to go along with two fourth quarter comebacks, one of which was the largest fourth quarter comeback in Super Bowl history (Super Bowl XLIX).
This argument extends to other playoff games as well. The stat everyone throws around when debunking Manning's greatness is "nine one-and-dones." There's some validity to that stat, but it is a bit deceptive. It would be better to look at how many rounds a quarterback advances rather than wins alone. Even so, Manning, who is a mere 14-13 in the playoffs compared to Brady's record of 22-9, has underachieved greatly in the playoffs. His teams have been upset a total of ten times compared to Brady's six. Here were some of Manning's notable flops:
1999: 5.5 point home favorites against Titans; lost 19-16
2005: 8.5 point home favorites against Steelers; lost 21-18
2007: 11.5 point home favorites against Chargers; lost 28-24
2009: 4.5 point favorites in Super Bowl XLIV against Saints; lost 31-17
2012: 9 point home favorites against Ravens; lost 38-35
2014: 7 point home favorites against Colts; lost 24-13
Another thing that's ironic is that in Manning's two Super Bowl runs, he didn't really put together a great postseason. Brady, for instance, had an all-time great playoff run in 2014 to go along with terrific runs in 2003 and 2004. Manning, meanwhile, threw only 3 touchdowns compared to 7 interceptions in his first Super Bowl run in 2006 while he was merely a game-manager this past year, letting his defense do all the work. Even in 2009 and 2013, where he had a few outstanding playoff games, they were overshadowed by lackluster performances in the Super Bowl.
Manning's case as the slightly better statistical quarterback than Brady is not nearly enough to make him better overall. This isn't a Chamberlain/Russell debate where Chamberlain was averaging, like, thirty more points per game than Russell. In terms of career stats, Manning has the edge in nearly every category merely because he's played longer. On a per season basis, yes Manning has had countless great years, but are we forgetting that Brady had a 50 touchdown season too? Or a touchdown to interception ratio of 36/4 in 2010?
In fact, I was surprised to find that Brady holds his own quite well when compared to Manning in many categories. In terms of INT%, which measures the amount of interceptions a QB throws per pass attempt, Brady has the much lower mark per season (1.9% vs 2.7%). He also is only slightly behind Manning in TD% (5.5% vs 5.7%), completion percentage (63.6% vs 65.3%), and yards per pass attempt (7.4 vs 7.7). Yet Brady makes up for this in quarterback rating, where he is essentially even with Manning (96.4 vs 96.5), and adjusted yards per pass attempt (which factors in interceptions), where Brady is ahead.
So even though Manning might be a tad better than Brady based only on regular season stats, Brady has been far better in the playoffs, when it really matters. If you're building a team from scratch, you want Brady because he gives you a better chance to win a Super Bowl. If you're down by one possession with under two minutes to play, you want the ball in Brady's hands, not Manning's. Case closed.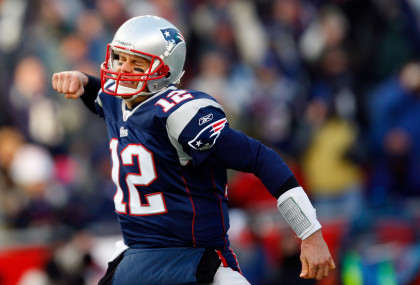 Before your head explodes reading more about why Brady is better than Manning, let's turn our attention, finally, to Joe Montana. Admittedly, arguing that Brady is better than Montana is the toughest case to make. Montana's regular season stats per season relative to others in his era are a tad better than Brady's in many categories. Montana was also a tremendous postseason quarterback and was even more outstanding in his four Super Bowl victories.
Yet let's refer refer back to the initial list of reasons why Brady is the greatest quarterback of all-time. The fact is that Brady is the winningest quarterback in NFL history- not Montana. He is not only even with Montana in both Super Bowl victories and Super Bowl MVP's, but he also has two more appearances to his credit. This is important to note because Montana played in an era where the NFC was much stronger than the AFC: starting in 1981, the year of Montana's first Super Bowl victory, the NFC had a stretch when they won fifteen of sixteen Super Bowls, including fourteen in a row. This isn't to say that the teams Montana and the 49ers beat weren't very good, it's just that the real Super Bowls were played in the NFC Championship games, making his perfect record in the Super Bowl a little deceptive. That's why it's more impressive that Brady has made six Super Bowl appearances and ten AFC Championship games in fourteen seasons compared to Montana, who appeared in four Super Bowls and seven conference championship games in thirteen seasons as a starter.
Additionally, during his time in San Francisco, Montana usually had better players around him on both sides of the ball. For starters, it helps when you have the consensus greatest receiver to throw to in Jerry Rice. Brady has had his share of excellent targets, but he hasn't had one like Rice for his whole career. I give Montana a ton of credit for at least winning a Super Bowl without Rice in 1981, but Brady won three when his best wideouts were Deion Branch and an aging Troy Brown. He also led the 2006 Patriots to the AFC Championship game when their leading receiver was Reche Caldwell. That's not only a far cry from having the likes of Rice and John Taylor to throw to, but Marvin Harrison and Reggie Wayne as well.
People also neglect the fact that Montana's 49ers always had stellar defenses. While he was the starter, the 49ers average ranking in scoring defense was 4.46; if we exclude the strike-shortened 1982 season, then that average ranking rises to 2.83 (if you don't believe me, then feel free to pilfer through the Pro Football Reference archives). Meanwhile, Brady's average scoring defense has ranked roughly 8th (8.13) over his fifteen years in New England. Of course, it helped Brady early in his career that the 2003 and 2004 teams had terrific defenses; yet in 2011, Brady and the Patriots had the worst defense in terms of yards allowed to ever make the Super Bowl. In contrast, the worst defense Montana ever had on one of his Super Bowl winning teams was an eighth-ranked unit in 1988.
Lastly, it benefitted Montana that he was coached by one of the most revolutionary offensive minds in Bill Walsh. Sure, it helps that Brady has been paired with a future Hall of Fame coach too. But let's not forget that Bill Belichick is a defensive mind first and foremost. Brady has succeeded in numerous different systems with various offensive coordinators ranging from Charlie Weis to Bill O'Brien to Josh McDaniels and an assortment of different receivers, running backs, and offensive lineman. Montana, on the other hand, had a more stable career, as free agency wasn't as prevalent back then. This allowed the 49ers to retain all of their great players like Montana, Rice, Ronnie Lott, Roger Craig, etc.
In conclusion, Brady gets the slight edge over Montana mainly because he has had a more successful career in terms of regular season wins, playoff wins, and Super Bowl appearances. Even though the statistics relative to their respective eras point to Montana being slightly better, Brady still has far greater raw numbers, which doesn't deserve to be discredited because Brady was one of the main reasons the NFL became a pass-first league in the first place. Plus, he's accomplished this all with a slightly weaker supporting cast.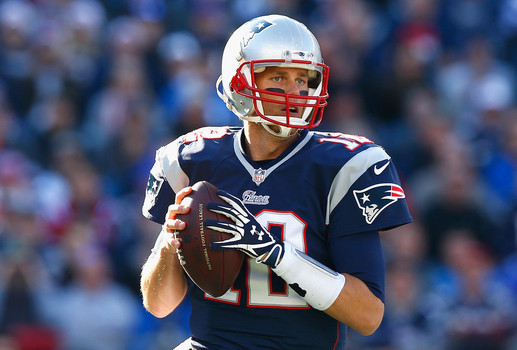 Yet even with all this proof as to why I think Brady is the greatest quarterback of all-time, there's one more thing to take into account: his career isn't finished. At the rate he is going, it's not unreasonable to think he won't continue to be successful for another one, two, maybe even three years. Perhaps he'll play even longer than that. I doubt it, but if he keeps eating his avocado ice cream, who knows?
Imagine if Brady just plays two more years at a high-level, replete with a couple 30+ touchdown seasons, division titles, and AFC Championship appearances- let alone Super Bowl victories. At that point, Montana's claim as the greatest quarterback may slip away. Not only will Brady's postseason resume continue to build over Manning's, but the edge Peyton currently has on him in career stats will narrow. Other greats who once had a case before may not even be remotely comparable to Brady at that point.
No quarterback before has combined over fourteen years of statistical excellence with success on the biggest stages quite like Tom Brady. Whether you can bring yourself to admit it or not, he has a compelling case to be considered the greatest quarterback of all-time. And he's not even finished.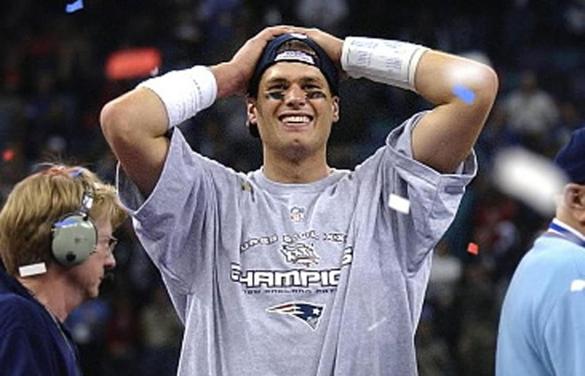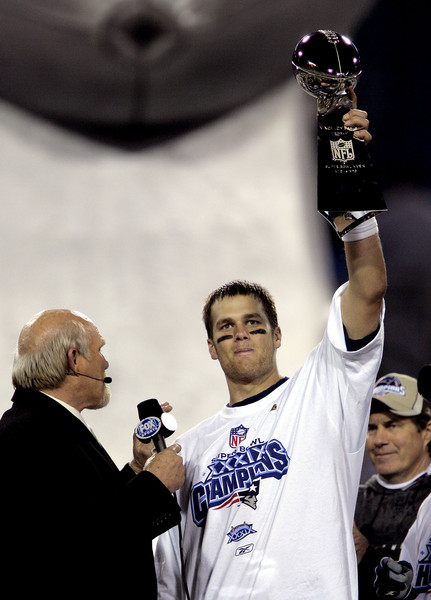 Photo #1: Mark L. Baer/USA Today Sports
Photo #2: Maddie Meyer/Getty Images
Photo #3: CBS Sports 
Photo #4: Jim Rogash/Getty Images
Photo #5: Jared Wickerham/Getty Images
Photo #6: Jim Davis/Boston Globe
Photo #7: Darr Beiser/USA Today Sports
Photo #8: Getty Images North America
Photo #9: USA Today Sports