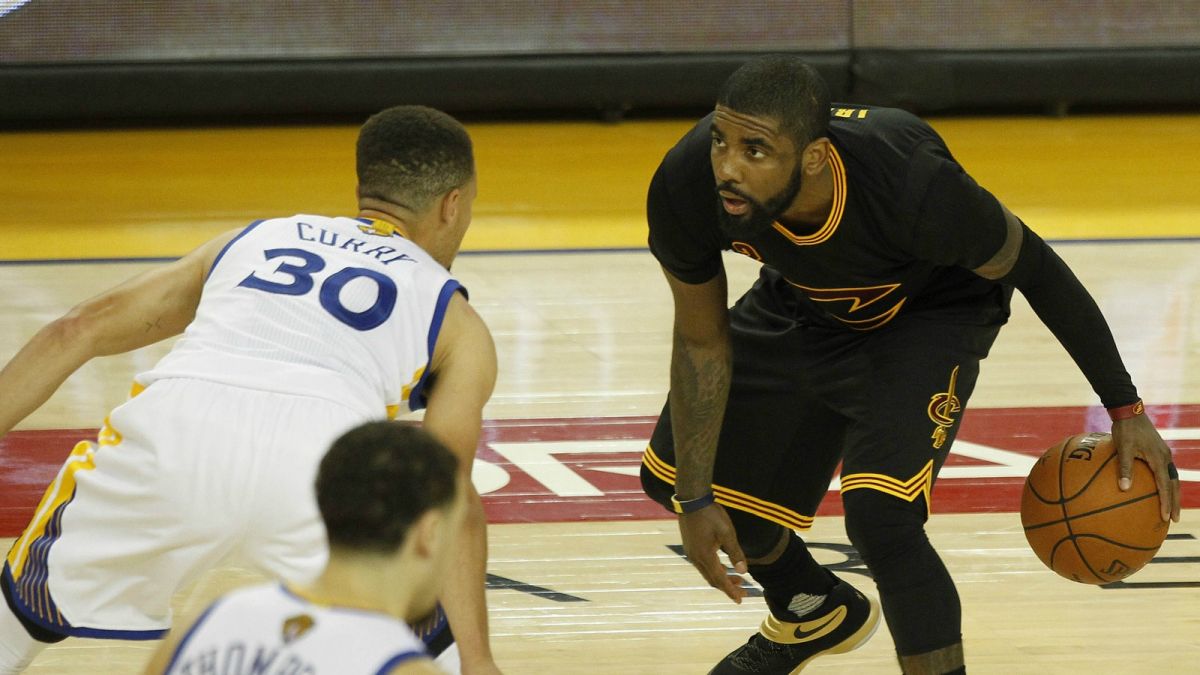 One thing is certain now that the NBA season is over: Stephen Curry can no longer be regarded as the best player in the league. That honor obviously still belongs to LeBron James. But are we sure Curry's still the best point guard in the league?
We know LeBron got the better of Curry in the NBA Finals. But what I hope everyone realizes is that Kyrie Irving did too. While Curry's stats dropped immensely during the Finals, Irving rose to the occasion, scoring 27 points per game compared to his average of 19.6 during the regular season. Statistics aside, it was clear just from watching the series that Irving was far more reliable, far more impactful, and far more clutch than Curry, particularly when it matted most.
So this brings me back to my main question. Stephen Curry may have been the unanimous MVP, but is he even the best point guard in the NBA?
The way I see it, the top five guards in the NBA right now, in no particular order, are Curry, Irving, Russell Westbrook, Chris Paul, and Damian Lillard. The main thing I want to establish is that judging merely by regular season statistics, Curry is the best. He became the first player in NBA history to average over 30 points per game while averaging less than 35 minutes. Among Curry's other notable accomplishments this year, he became the seventh player in league history to join the 50/40/90 club (50% from the field, 40% from three's, 90% from the free throw line) and he shattered his own record for three-pointers in a season. He also finished the year with an absurdly high true shooting percentage of .669, a mark that Michael Jordan, for instance, never came within 50 points of.
Yet where was this production in the playoffs? Curry's scoring output dipped to "only" 25.1 points per game while he shot only 43% from the field. And, as we know, these numbers were even worse in the Finals.
Meanwhile, the other top guards in the league have elevated their play in the postseason. Russell Westbrook went from averaging 23.5 points and 10.4 assists in the regular season to averaging 26 and 11 in this year's playoffs. Irving, as I discussed earlier, saw his scoring average rise from 19.6 to 25.2 in the postseason. Lillard scored more too, including tallying an impressive 31.8 PPG in the Blazers series against Golden State. It would be unfair to compare Paul's regular season and postseason stats from this year because he got injured; but if we went back to last year, Paul also improved his scoring output, although he did see his assists per game decline.
This isn't simply a one-year occurrence, either. These players have consistently played better in the playoffs. Paul's career scoring output and shooting percentages are higher in the postseason. Same with Westbrook and Lillard as well. (I didn't include Irving because he doesn't as much of a sample size given that he was injured for most of last year's postseason)
This isn't to say that Curry has been bad in the playoffs. He was terrific in the 2014-15 playoffs, when his scoring output rose from roughly 24 points per game to 28. However, I'd argue that the opponents he faced during that championship run were weaker than usual, especially once the Warriors met a depleted Cavs team in the Finals.
My point is that when we look merely at Curry's postseason statistics-when he has to face the likes of Cleveland and Oklahoma City as opposed to the ordinary teams he mostly plays in the regular season like Minnesota and Phoenix, the gap between him and the other top guards in the league isn't nearly as wide.
Stephen Curry has started to enter Peyton Manning territory- if he hasn't done so already. Like Curry, Manning was always dynamite in the regular season. Yet the playoffs were usually a different story. Against tougher defenses in more adverse, pressure-packed circumstances, Manning wasn't his usual self. He was still very good most of the time, for sure. But he certainly didn't play like someone you would expect to be the best quarterback in the league based on the gaudy stats he would accumulate in the regular season.
Curry may still be the top point guard in the league. He certainly is a far better shooter than Russell Westbrook, although Westbrook can undoubtedly impact more areas of the game than Curry can. Although Kyrie Irving had the superior Finals, he still needs to produce more of a body of work to officially be better than the league MVP.
And yet I can't help but wonder if Curry is mostly a product of a unique Warriors system that enables him to fire away without hesitating. If other similar players were allowed to chuck up shots like he does, could they not be held in the same light as Curry is now? For instance, if Damian Lillard and Curry traded places, I don't think anything would change. Golden State would have still won the championship last year, they would have had roughly the same amount of wins this year, and they still probably wouldn't have beaten Cleveland. If you don't agree, then watch these highlights and tell me if Lillard doesn't look as good as Curry.
Curry's recent performance in the playoffs has shown us three things. First, his regular season statistics are deceptive because he is not quite the same player in the postseason against better competition. Second, he's clearly not the best player in the game right now; but everyone seems to be on the same page with that statement. Yet what not enough people seem to be discussing though, which brings me to my final point, is that Curry may not even be better than a few of the other elite point guards in the NBA. At the very least, the gap between Curry and the likes of Westbrook, Irving, Paul and Lillard is much closer than it was before the playoffs began.
Photo courtesy of USA Today Sports