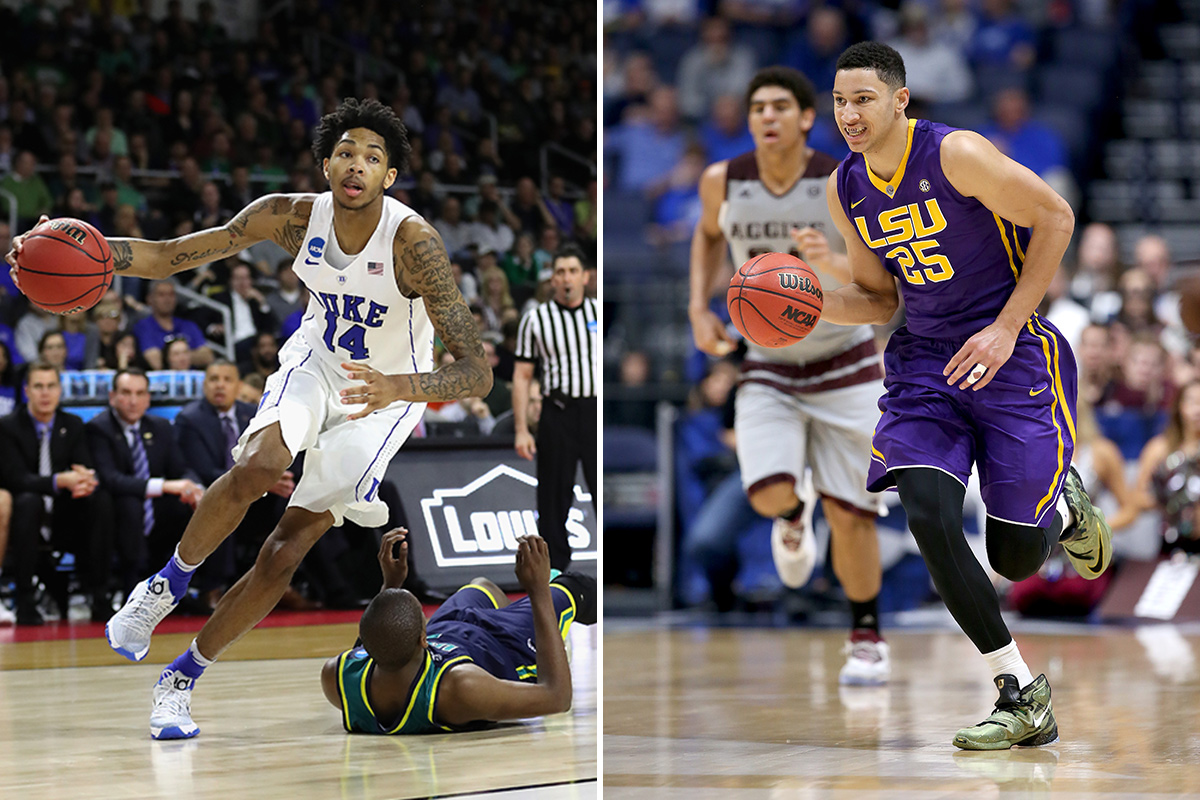 This year's NBA Draft, which takes place tonight in Brooklyn, features two players that many experts believe have superstar potential: Ben Simmons and Brandon Ingram. We already know the 76ers plan to take the 6'10" Simmons, but will he be a better pro than the former Duke standout? A few members of the Check Down staff share their thoughts.
Mando:
Brandon Ingram 
I think Brandon Ingram will be Durant-esque in the NBA. For starters, he has the size (6'9″) that teams preferably want in a franchise player. He also can shoot damn well: he hit 41% of his threes in his lone season at Duke. That bodes well for whatever team drafts him given how the NBA is transitioning away from traditional big men. Moreover, everything I've read about Ingram's character suggests that he has a strong work ethic and a humble personality similar to Durant and Kawhi Leonard.
Ben Simmons will be good. Despite the questions over his jump shot and character, I wouldn't even be surprised if he turned out to be more valuable than Ingram based on how well he can rebound, play defense, and attack the paint. However, I ultimately think Ingram has a much better chance to be a perennial All-Star, which bodes well for the Lakers.
Jmac: Brandon Ingram

Ben Simmons is a dynamic forward who has many good years ahead of him in the NBA. And frankly, right now in 2016, Simmons is probably better than Ingram. However, Brandon Ingram has the higher ceiling because of his versatility. Ingram's also only 18, and that young age is going to give him some time to grow physically and mentally. Plus, with his 6'9″, 195-pound frame, if he can put on some muscle in the next few years, then we're talking about the next Anthony Davis if he can put all the pieces together. We already know he can shoot, but Ingram is going to learn early on that working hard down low is a lot different in the NBA than it was in the ACC. When Ingram gets stronger, he's going to be a rebounding machine that can contend with the bigs of the NBA. And if he can work on his inside game, Ingram's going to be an annual All-Star staple. Oh, and it helps he's an athletic freak.
Ben: Ben Simmons
Brandon Ingram is likely to be a very good pro. He put up great numbers, has room for massive improvement at age 18, and he performed quite well in March Madness, while Ben Simmons watched from home. But let's calm down. Ben Simmons is the clear choice at number one.
Simmons is also a teenager likely just scraping the surface of his basketball ability. And that ability is a lot higher than Ingram's is right now. In almost the exact same number of minutes last year, Simmons took 11.7 shots a game compared to Ingram's 13.4, but while Ingram made just 44 percent of those shots, Simmons made 56 percent, good for a higher scoring output. Of course, Ingram is an excellent three point shooter while Simmons barely ever attempted a shot past the elbow. Kudos to Ingram for his shot, but there's no reason that Simmons can't one day be close to as good a long range marksman if he just puts in the work. Forwards from LeBron James (until this year) to Trevor Ariza to Marreese Speights have developed effective three point shots during their careers, and Simmons already managed a virtually identical free throw percentage to Ingram on nearly double the attempts.
It is a lot less likely, almost impossible, that Ingram will ever catch up to Simmons' point forward ability. The 6'10" Simmons averaged 7.5 assists per 100 possessions last year playing without the greatest teammates at LSU. The number of players his height to do that in the NBA last year? Zero. Simmons can handle the ball on the break, make good decisions and finish in transition when he needs to. Granted, he was not nearly assertive enough last year. He was not a great defender, although he piled up a lot of steals. But he has incredible talent and a unique, virtually unteachable basketball skill set. There will be plenty of time for him to develop on an irrelevant Sixers squad, and if he improves in a few key areas, we are looking at a first ballot Hall of Famer.
All photos courtesy of Getty Images