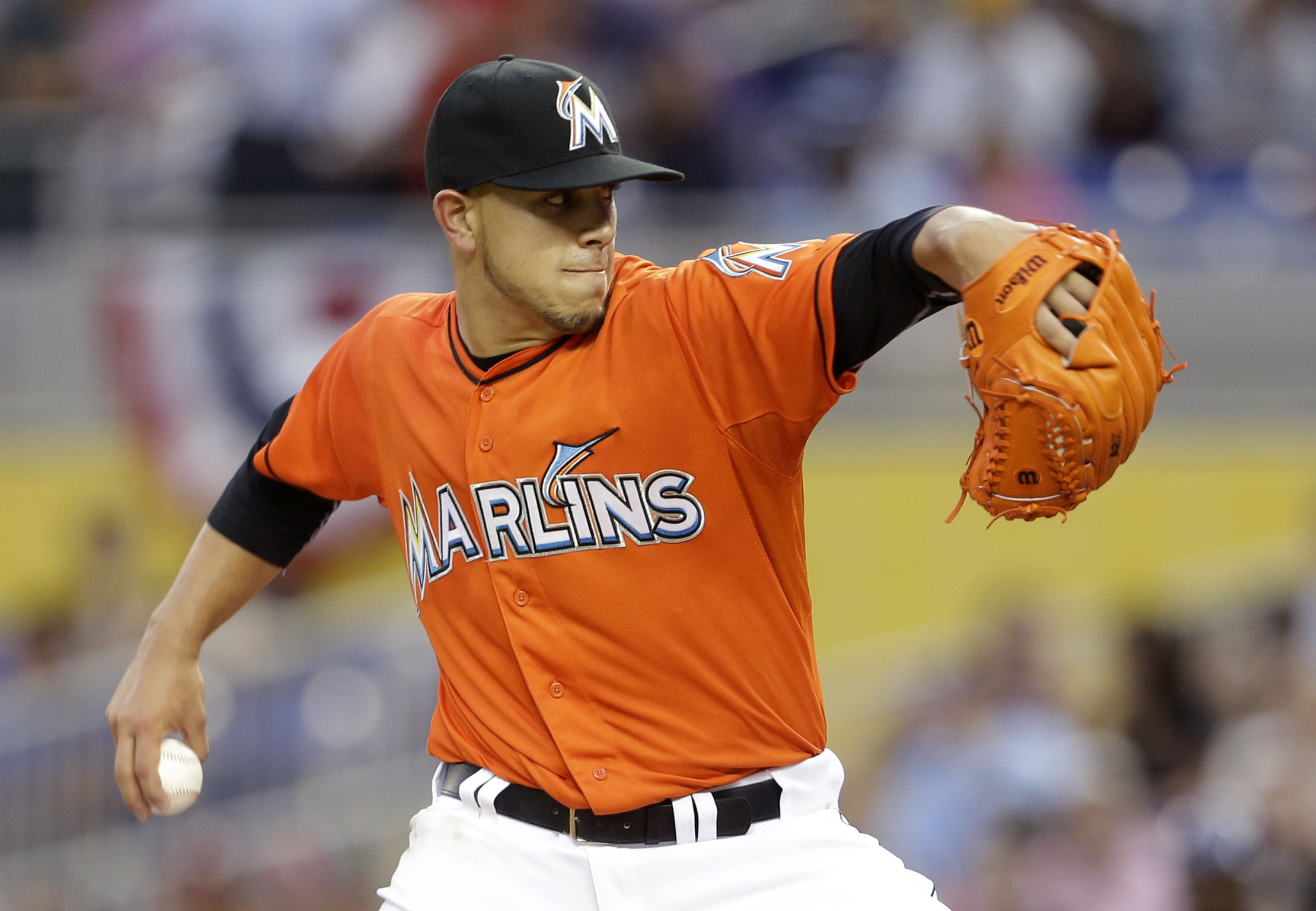 The Miami Marlins have struggled mightily since their last postseason appearance in 2003, as more often than not, they have lacked a true ace that can anchor the starting rotation over the course of a season. With a lineup that consistently ranks among the worst in baseball, this empty void stands out even more.
Enter Jose Fernandez.
The 23-year-old righty carries a 9-3 record into Tuesday night's games, with an ERA of 2.36. He's already racked up 125 strikeouts, and the Marlins are still ten games away from the statistical halfway point of the season. For those that are curious, the all-time record holder for strikeouts in a season is Matt Kilroy, who retired 513 batters by way of the "K" in 1886.
With that in mind, maybe it's a little unrealistic to think about a record-setting season. But as Fernandez increases his sample size (he sat out almost all of 2014 after tearing UCL ligaments in his elbow), fans will likely begin to see Fernandez for what he is–the most talented pitcher in baseball.
What separates Fernandez from other greats in the game right now (Kershaw, Scherzer, Strasbourg, Sale) is his age. Fernandez turns 24 this year, and he's already got parts of four major league seasons under his belt. He also has remarkable depth when it comes to his pitching arsenal. First, you've got the fastball, which averages 94-97 MPH and can climb to 99 even in the later innings. Secondly, Fernandez hurls a wicked "slurve" (a slider-curveball for non-baseball junkies) that averages 80-86 MPH and slices the plate. Fernandez finishes it off with a changeup that can be thrown as high as 88 MPH, and a sinker that has been clocked at 94 MPH. To put it bluntly, Fernandez throws cheddar.
So why does no one care? Ahhh, right. Jose's pitching for the small-market Miami Marlins, who haven't graced the national news since Steve Bartman reached out to Moises Alou's glove at Wrigley Field in 2003. Unless you want to include "Marlins Man," a Miami-based attorney who wears his bright orange Marlins jersey to nationally televised sporting events in an attempt to stand out.
If Fernandez were playing for the Dodgers, Cardinals, or Red Sox, he'd be the talk of baseball. He would absolutely start the All-Star Game, and come October, he would almost surely bring home the Cy Young Award. In Miami, however, Fernandez will have to work a little harder to bring home the bacon.
In a few weeks, all 30 Major League Baseball teams will head to the telephones as trading season begins. Fernandez will certainly be in trade talks, so the Marlins must make a decision: Will we pull it together and make the playoffs around this guy, or will we trade him and fall further into irrelevancy? Because Jose Fernandez deserves to play for a winner. The Marlins (37-34 going into Tuesday night) are right in the thick of the wild-card race, but Fernandez has been a big part of that. If they want to sign Fernandez to big bucks in the future, they'll have to rally around him and pick up the slack. Run support will put Miami in the playoffs, and get this 23-year-old ace the recognition he deserves.