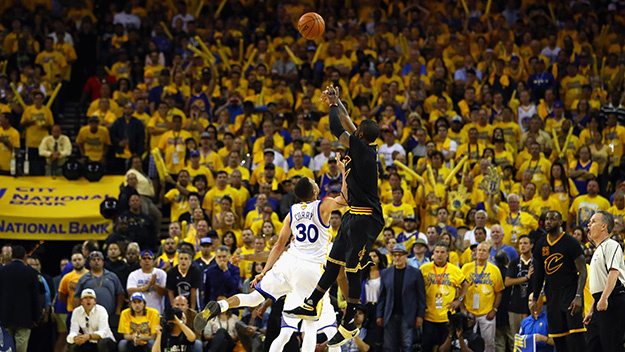 Given the way things began, it seemed like these NBA Finals would be largely forgettable. After the Warriors took not just a 2-0 series lead, but a 3-1 advantage as well, it wasn't a matter of if Golden State would win, but when.
Instead, the 2016 Finals turned into a classic that deserves to be dubbed as the greatest in Finals history. Before I explain why, I know what you're going to say: there were so many blowouts! That may be true. But like any great movie, it's the climax that sticks with you. Moreover, some of the great Super Bowls of all-time weren't the most exciting games for the full 60 minutes. Yet what people ultimately remember is David Tyree making the helmet catch or Joe Montana finding John Taylor in the back of the end-zone. They don't remember the so-so first three quarters.
In last night's Game 7, we witnessed not one or two, but FIVE of the greatest things to ever happen in an NBA Finals. And it all unfolded in the final two minutes.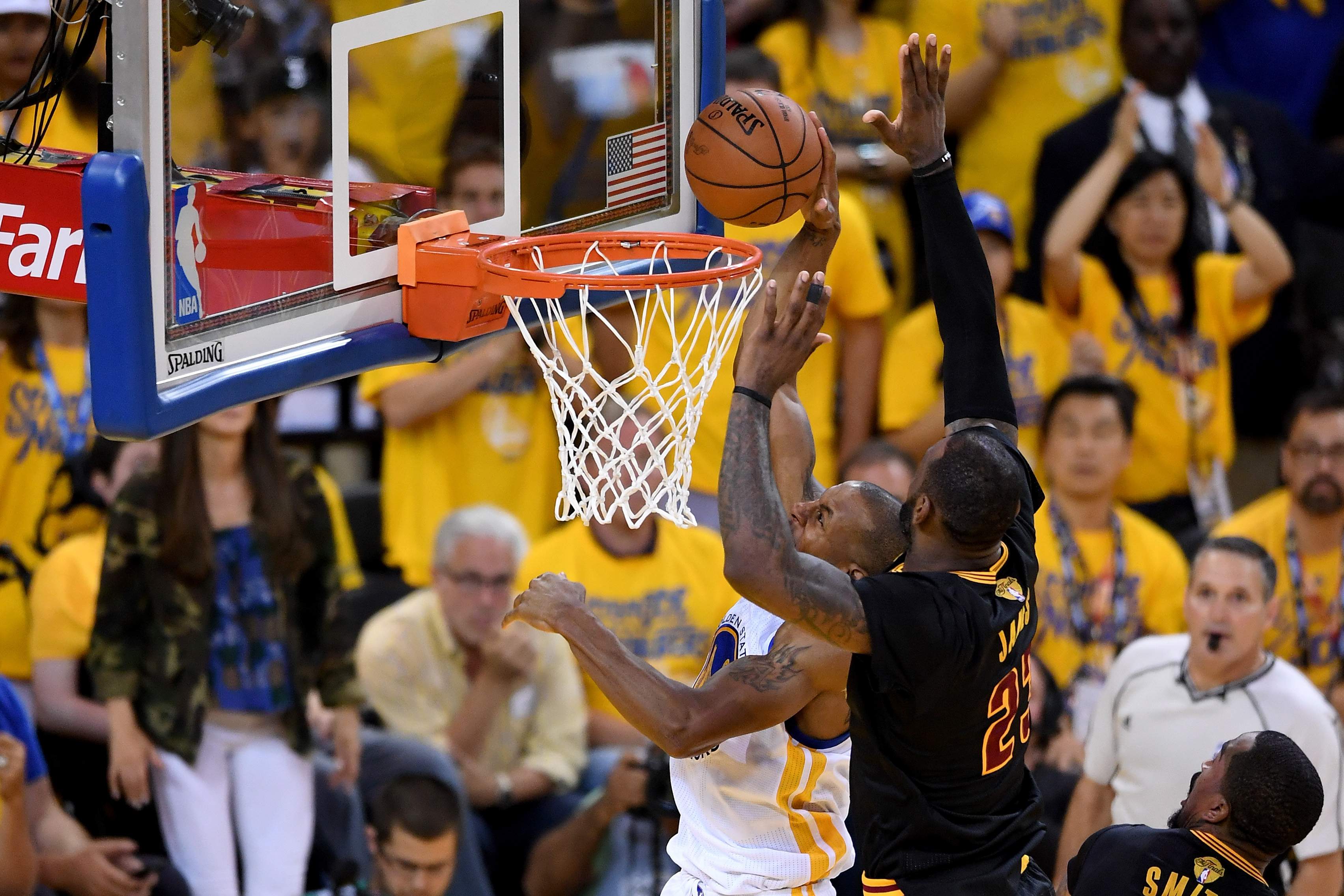 Let's start with the first great moment: "the block." That's all it needs to be known as from now on: "the block." It was not just an impressive rejection at the rim from LeBron, given that he had to track down Iguodala (albeit a gimpy Iguodala) from what seemed like a mile away. But it was the magnitude of the play. Golden State had a two-on-one fast break to take a two point lead with under two minutes to play in Game 7 of the Finals. Forget about LeBron's rejection on Tiago Splitter a few years ago or any other block that's occurred. That was the greatest and most decisive one in NBA history.
Great moment #2: Kyrie Irving's game winner. The magnitude of LeBron's sensational block was one thing, but Irving's shot was on another level. The game was tied with under a minute to play; Irving's isolated with Stephen Curry defending him. And he just calmly steps back and drills a three right in the MVP's face to give the Cavs a lead they wouldn't relinquish.
We could be here all day debating the most clutch shots in NBA history; from Michael Jordan's winner against the Jazz in '98; to Magic's skyhook in '87; to Ray Allen's corner three in '13. I'm not necessarily saying that Irving's was more memorable than those, but it might have been the most impactful. Remember, this was Game 7 of the Finals. If Irving doesn't hit that difficult shot, the entire dynamic changes. The Warriors probably don't feel anywhere near as tight in a tie ball game as opposed to down three. I'd argue they probably would've found a way to win the game if he had missed.
Referring back to some of those other shots I mentioned (which you'll find ranked extremely highly on various lists of the most clutch shots of all-time, by the way), if Jordan missed that shot against the Jazz, they still had another opportunity to win in a Game 7. Magic's shot was certainly a dagger because it put the Lakers up 3-1, but it was "only" a Game 4. As for Allen's shot, I suppose the only thing that it didn't have going for it was that it didn't take place in a Game 7. In short, it's certainly debatable where Irving's shot ranks among the great ones. But it is, without question, the greatest shot to occur in a Game 7 and arguably the most impactful one in an NBA playoff game as well.
Another reason this series was the greatest of all time was that it featured the best Game 7 in NBA history. And there have been some great Game 7's: Heat/Spurs in 2013, Lakers/Kings in 2002, Lakers/Pistons in 1988, Celtics/Hawks in 1985, etc. For starters, this game had higher stakes than all of them, not simply because it was a do-or-die game in the Finals, but because the Warriors were aiming to cap off a historic season while the Cavaliers were looking for their long-awaited first championship. Luckily for us sports fans, we were treated to a nail-biting, back-and-fourth contest that not only came down to the bitter end, but featured moments that will live on for the rest of our lives.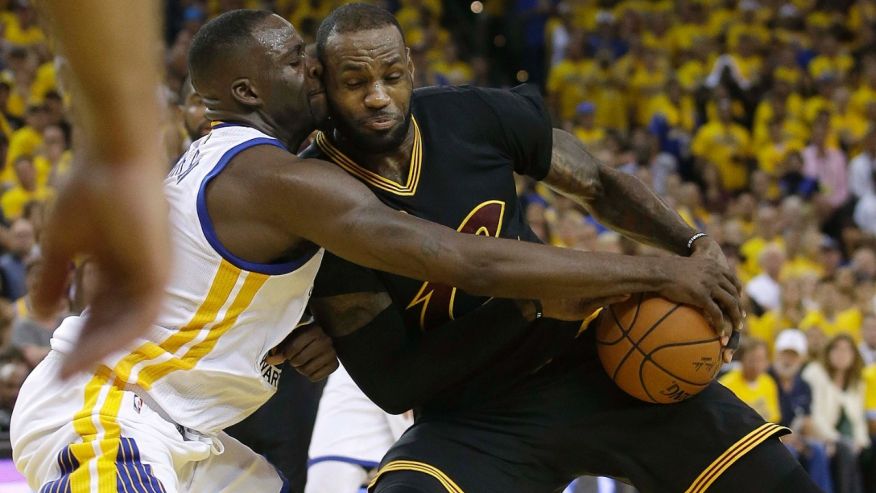 Now I turn to how Game 7's conclusion shaped these Finals as a whole. With their win, the Cavaliers capped off the greatest series comeback in NBA history by becoming the first team to ever come back from a 3-1 deficit. It's not like they came back against a bunch of nobodies, either: these were the 73-9 Warriors. Many have hailed this as the greatest feat in NBA history. I would agree.
Moreover, we also saw the greatest individual performance in an NBA Finals by LeBron James. For the second consecutive year, James averaged over 30 points, 10 rebounds, and 8 assists in the Finals (he's the only player ever to do that, by the way). He also became the third player to ever post a triple-double in a Game 7 with a title on the line. Let's not forget about how impactful he was defensively, either. In Game 7, for instance, Curry shot a mere 1-7 when guarded by James and in Game 6, the Warriors as a team were 0-7 with the King defending.
It's not merely his statistical dominance that stands out. There have been other players who have put up slightly more impressive stats over the course of a Finals (Shaq in 2000, Duncan in 2003, even LeBron a year ago, just to name a few that stand out to me). But nobody has managed to come through in the way LeBron did. He posted numerous triple-doubles and a couple 40+ point performances just to get Cleveland back in the series. Then, when they needed him most, James nearly outscored the Warriors in the fourth quarter by himself, made the biggest defensive play of his career by blocking Iguodala's layup, and then sealed the game at the free-throw line. All this took place in front of the toughest home environment in the NBA against the greatest regular season team in history.
I thought that nothing would supplant the 2013 Finals between Miami and San Antonio for a long time. Yet given the amount of unforgettable moments and history made, I think it's fair to call this year's Finals between the Cavaliers and Warriors the greatest we've seen.
---
Kyrie Irving photo courtesy of Ezra Shaw/Getty Images; LeBron James photo courtesy of Getty Images; James/Green photo courtesy of Associated Press