And just like that, the Cleveland Cavaliers have become NBA champions for the first time in franchise history. As a Knicks and Jets fan, I can't help but be happy for Cleveland fans. After many years of suffering and frustration, they have finally reached championship bliss. It gives me hope that maybe one day I'll get to see Kristaps Porzingis hoist up the Larry O'Brien trophy at center court.
Personally, I think this is the most entertaining NBA Finals I've witnessed in my life. The Cavs completed the best comeback in Finals history, while the Warriors choked away their record setting season. It was a NBA Finals filled with superstar dominance, emotion, and a plethora of unpredictable moments. Now that it's all over, it's time to look at what we have learned from this NBA Finals. Here are my main takeaways from this year's finals:
LeBron James is a Top 5 Player of All-Time
I'll start with this one because not only is it probably the most notable storyline leaving this year's final, but it's also the one that pains me the most to write about. This was a pivotal moment in LeBron James' career. If he lost this series, he would have had a 2-5 NBA Finals record, something that would have seriously tarnished his reputation. But now, at a more respectable 3-4, LeBron James proved he is among the game's best ever. He averaged 29.7 points, 11.3 rebounds, and 8.9 assists per game in this year's Finals and recorded only the third triple double in a Game 7 of the NBA Finals. As of right now, I place him fourth all-time, behind MJ, Magic, and Kareem. Although, I can cite a couple small reasons why I would place Magic and Kareem before LBJ, I'll go with the main one: championships. Kareem and Magic won six and five championships respectively to LeBron's three. However, don't be surprised when it's all said and done that LeBron doesn't move into the number 2 position behind, of course, His Airness.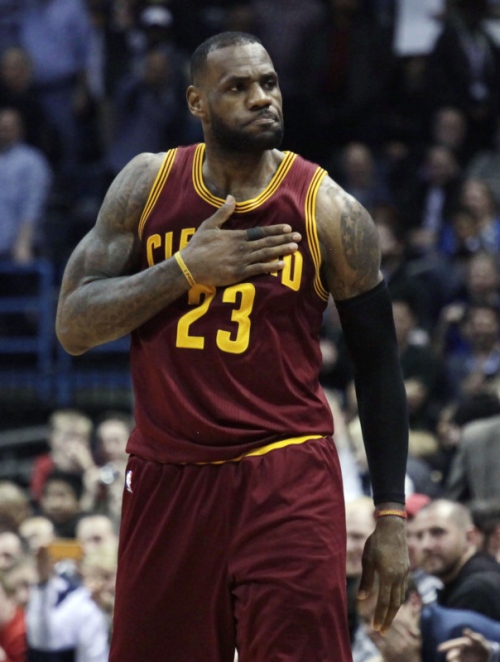 Kyrie has Officially Become a Superstar
If there ever was any doubt about it before, its official now: Kyrie Irving is among the league's elite. Kyrie displayed his superb offensive prowess this series as he averaged 27 points per game on 47% shooting. His ball handling skills made Steph Curry, who is a very adept defender, look like a baby deer learning how to walk. And let's not forget his big time shot in Game 7 that ultimately won Cleveland the series. To have the guts to shoot a step-back three pointer in that situation proved to me that Kyrie Irving is a cold blooded killer. At only 24 years old, I'm excited to see how Kyrie Irving asserts his dominance over the NBA these coming years.
Kevin Love is a Waste of (Cap) Space
Yeah, you can say he played great defense against Steph Curry for that one possession or he had two games of 10+ rebounds this finals; but other than the Kevin Love looked about as bad as Iman Shumpert's hair. Love, who was payed about $22 million this season, played second fiddle to Richard Jefferson. Yes, 35 year old Richard Jefferson who was paid $1.5 million this year. Moving forward, Cleveland needs to figure out what to do with Kevin Love. Going into the third year of his five year deal, it is unlikely Love could be traded based on how he has widely underperformed contrary to his salary.
Steph Curry is Different Player in the Postseason
I won't go as far to say Steph Curry is a bad postseason player, because he absolutely is not. He averaged 25 points on 44% shooting, which is good for most NBA players. He even scored 30+ points in all three elimination games against the Thunder. But Curry never really got going in the NBA Finals, which is upsetting considering the level of play LeBron James and Kyrie Irving were at. Bottom-line, Curry needs to take a look at himself in the mirror and see what went wrong this postseason. He went from being an unstoppable regular season player to just a "good" postseason player. As the two-time league MVP, it is your job to carry your team through the playoffs. Hopefully Curry learns from this year's NBA Finals, because it would be a shame for him to continue his postseason struggles and have his career marred by it.

The Cavs Need to Find an Off-The-Bench Scorer This Offseason
Cleveland may have a been a bit spoiled due to the constant production of their two superstars, but this team is still in need of bench production to improve their chances of returning to NBA glory next season. In Game 7, the Cavs' three players to come off the bench combined for 10 points. Obviously this isn't a big deal when Kyrie Irving and LeBron James are playing at such a high level, but you have to be prepared for games when one of them has an off night. A scorer off the bench will provide needed relief for LBJ and Kyrie. After all, bench production has been a main part of Spurs' constant winning formula.
The Warriors Have What it Takes to Return to the NBA Finals Next Year
Although the Warriors produced a choke job that would make the likes of the '04 Yankees cringe, I still believe they were the better team this series. There were multiple times the Warriors had a chance to close out the finals, yet they let all those opportunities slip through their grasps. They have the big men, the scoring ability, the defense, and the deep bench needed to succeed in the NBA. Despite some minor tweaks, the Warriors have a roster that will compete for an NBA Championship for multiple years to come.
The 72-Win Bulls were a Better Team than the 73-win Warriors
It don't mean a thing, unless you got that ring. Time to close the debate on this one. It really is as simple as the Warriors flushed their historic season down the drain when they blew the finals. I think if these two teams played each other, it would be close through 3 quarters. But based on what we saw from the Warriors in the finals, the Bulls would have had their way with the Warriors in the defining moments of the game. Jordan over Curry any day in the clutch.