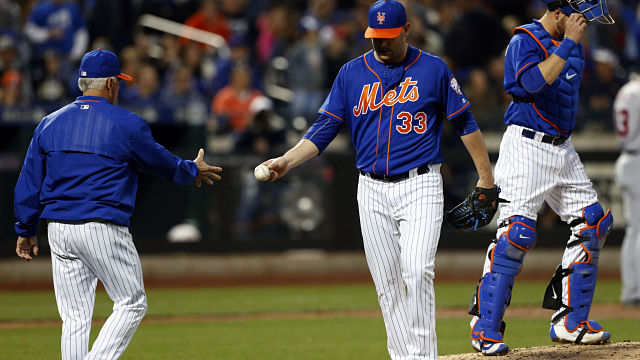 While many of us were watching the NBA Finals and the U.S. Open, the New York Mets uncharacteristically dropped three straight home games to the lowly Atlanta Braves this weekend. It wasn't pretty either: the Mets managed to score only 4 runs in the entire series and were 1-hit on Sunday afternoon by Julio Tehran. In addition to their hitting woes, Matt Harvey dropped to 4-9 on Friday night while Jacob deGrom took the loss on Sunday to fall to 3-4. To make matters worse, the Mets were not only surpassed by the Miami Marlins in the NL East during this time, but they failed to capitalize on two Washington losses to narrow the gap between them and first place.
Despite all this, Mets fans shouldn't be too concerned. At this time last year, the Mets had the same record as they do right now (36-32). What's ironic is that during this same stretch in June, they were embroiled in a seven game losing streak that was even worse than the one they are on now. As we know, New York rebounded pretty well after that on their way to the NL pennant.
Even as the Mets struggle, they still have arguably the best pitching in baseball. According to Fangraphs, the Mets pitching still ranks first in WAR while also ranking first in Fielding Independent Pitching. This comes despite the fact that starters like Matt Harvey and, to a lesser extent, Jacob deGrom have been underperforming.
The good news for the Mets is that there is reason to believe that their starting staff as a whole should pitch better in the coming weeks and months. Mets starters are "allowing" a .313 batting average on balls in play (BABIP), which is the fifth highest mark in the league. While other top pitching staffs like the Cubs, Indians, and Nationals have BABIP's below .290 (in Chicago's case, they have a startling .254 mark), the Mets are grouped with poor pitching staffs such as the Athletics and Rockies in this category. Just so we're all on the same page, most baseball analytics people agree that pitchers have little control over what happens once the ball is put in play. Given how good the Mets pitching staff is, this disparity suggests that they have been largely unlucky this year, which indicates that we could see some regression to the mean as the season progresses.
However, Mets fans shouldn't get too comfortable for a few reasons. First, New York's offense has been mediocre so far. Some may even say that the their lineup has been downright awful  if you only look at batting average (29th in MLB at .234). I wouldn't go that far because they do rank 16th in slugging percentage. Plus, we've seen teams succeed in the playoffs without exceptional offenses before. Yet, without question, it would help if the Mets bats caught fire in the summer like they did last year.
But what really should concern Mets fans is their defense. They didn't have a team full of Gold-Glovers last year en route to the World Series; but they've dipped this year according to Fangraphs, falling from 17th in defense last year to 26th this season. While Mets fans wonder what's wrong with Harvey and deGrom, this is the real problem. I mentioned earlier how the Mets pitchers could expect to see their BABIP improve given that they have one of the strongest pitching staffs in baseball. The emphasis, however, is on the word could. If the Mets don't improve their defense, perhaps by acquiring a couple better defenders at the trade deadline, then their pitching staff may continue to underperform. New York can't afford this because they already have a lot of work to do to catch the Nationals in the NL East, meaning that they will likely be vying among three or four other teams for one of the wild card spots.
I'm not one to overreact based on a few games, which is why I wouldn't be too worried if I were a Mets fan. With that said, the NL is very competitive once again, which means the Mets-like most teams-should look to acquire a couple players that will sure up their weaker areas, even if it means parting with a starter like Zach Wheeler or, dare I say it, Matt Harvey. If they do that, then they should be dangerous once again come October.
Matt Harvey photo courtesy of Noah K. Murray/USA Today Sports