After last year's misfortune at Chambers Bay, Sunday spelled redemption for Dustin Johnson as he only needed one putt this time on the 18th green to capture his first major championship. Johnson, one of the most consistent players on tour, was one of the biggest storylines coming into this tournament, and rightfully so. In addition to him, Aidan and myself will break down some other notable occurrences from this weekend's U.S. Open.
Dustin Johnson's First Major Victory
Deep breaths: it's over. I think anyone who was rooting for Dustin yesterday was sitting on the edge of their seat for the back 9. It certainly wasn't easy for him, but no one would expect winning the U.S. Open and their first major to be. There were anxious moments down the stretch, as DJ seemingly started struggling directly after he was notified that his possible penalty stroke from the 5th hole would be reviewed after his round. Every golf fan, including myself, watched on and couldn't help but think of the 2010 PGA Championship where he unknowingly grounded his club in a hazard leading to defeat, and the 2015 U.S. Open where he 3-putted to hand the tournament to Jordan Spieth.
I was convinced for a few moments that this was going to end ugly for Dustin. With some help from the field, he created some separation coming to the last few holes, which he cemented with the shot of his life on 18, sticking it right by the pin. That shot avoided the complete disaster that would have been a one-stroke advantage leading into the ruling, that could have potentially send DJ into a playoff. The fans, the USGA, and the game of golf breathed a sigh of relief knowing that conversation would be completely irrelevant to the outcome. You could ask anyone, Dustin is one of the most talented players on the tour, and everyone was just waiting for his first major. It wasn't a matter of if, but a matter of when. Who knows where this will take Dustin Johnson's career, but for now, he is a major champion.
More Close Calls from Familiar Names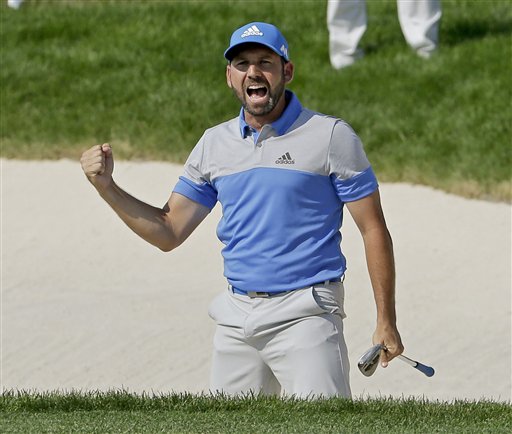 As major championships usually do, the quality of the leaderboard was top-notch. Many proven major champions and players battling for their first moved up and down the board all day. Most notably, Jim Furyk, the 46-year old grinder and 2003 U.S. Open Champion shot a final round 66, proving that finesse is a serious part of competing on difficult and fast golf courses. Irishman Shane Lowry was the only player to play his first three rounds at par or better, but faltered to a runner-up finish. Scott Piercy made a run of his own, but finished three back. Sergio Garcia, along with Lee Westwood as some of the best players without a major, had a surge going but couldn't get to the 4-under mark. A number of other major champions like Zach Johnson, Jason Dufner, Jason Day, Graeme Mcdowell, Louis Oosthuizen, and Adam Scott, all couldn't quite muster the momentum to put a low round together. Then there's Bryson DeChambeau, whose first major as a professional did not go too horribly, as a top-15 is extremely respectable. The biggest disappointment for me was the 10-over 80 posted by Lee Westwood; he's now played in the final round of the first two majors of the year with the eventual champion.
Another Serious USGA Misstep
The golf world buzzed about the 2015 U.S. Open last year for many reasons. The players and competitors, mainly, about the conditions of the greens and the lack of accessibility of the golf course to patrons and fans. Many players ripped the USGA (United States Golf Association) for the lack of championship-caliber greens and for the fan's inability to get close enough to the action in order to have an enjoyable tournament experience. This year, the USGA almost nearly balls'd it up again. An official interrupted D.J. midway through his round (he was tied for the lead at the time) that he may have been in breach of a rule that he went over with an official regarding a ball moving at address that wasn't caused intentionally by Johnson. Many players and sportscasters had serious issues with this, likewise with me. Dustin was trying to win his first major after numerous close calls, especially with the heartbreak of last year's 3-putt to hand the trophy to Jordan Spieth. Why put all that negativity into a competitor's head? If the outcome hadn't been what it is, the USGA would have A LOT of explaining to do.
A Review of the Course
Not too shabby, huh? Talk about easy on the eyes, Oakmont looked to be in absolute mint condition this week, as expected for the U.S. Open. Despite the absolute washout on Thursday, the course managed to stay difficult throughout the 3 main days of play. I thought it especially started to show its teeth on Sunday, as the players scored more than a full stroke higher on average then round 3. Mother nature works in mysterious ways, as all of the rain followed by 3 beautiful days seemed to have done the impossible, make the rough at Oakmont even tougher. Inaccuracy off the tee was a huge difficulty for the players this week, proving to be typical for any U.S. Open venue. As a TV viewer, it was almost painful to watch countless balls vanish into the thick grass and see players desperately try to advance them from there. However, the main obstacle players faced this week was easily still the greens. Personally, I was amazed at the sheer size of them. Players were hitting 100+ foot putts, leaving them dumbfounded on where they would end up. The speed of the greens, increasing throughout the tournament as they dried out, provided the boys with a unique challenge of playing a course that was completely different then what they practiced on. It was hilarious to watch players gingerly tap their ball and watch it meander away, leaving longer putts and even chip shots coming back. While we may not have gotten to see the toughest that Oakmont can offer, it held its reputation as one of the toughest courses in the world.
Andrew Landry: Unsung Hero
The 624th ranked played in the world contending in a U.S. Open is the definition of what the tournament is all about. It gives anybody the chance to qualify and compete with the best in the game. With a flawless opening round 66, Landry put himself on the world stage in his first major championship. While he fell off during the final round, never feeling or looking comfortable, Landry stands as a statue for all the aspiring young players and young professionals with a simple mantra: "If I can do it, anyone can do it". Hats off to Andrew Landry; this showing should bump that ranking up a bit.
The main difference between this year's and last year's open? Dustin Johnson only needed one putt on 18 rather than three. Congratulations to the 116th U.S. Open Champion.