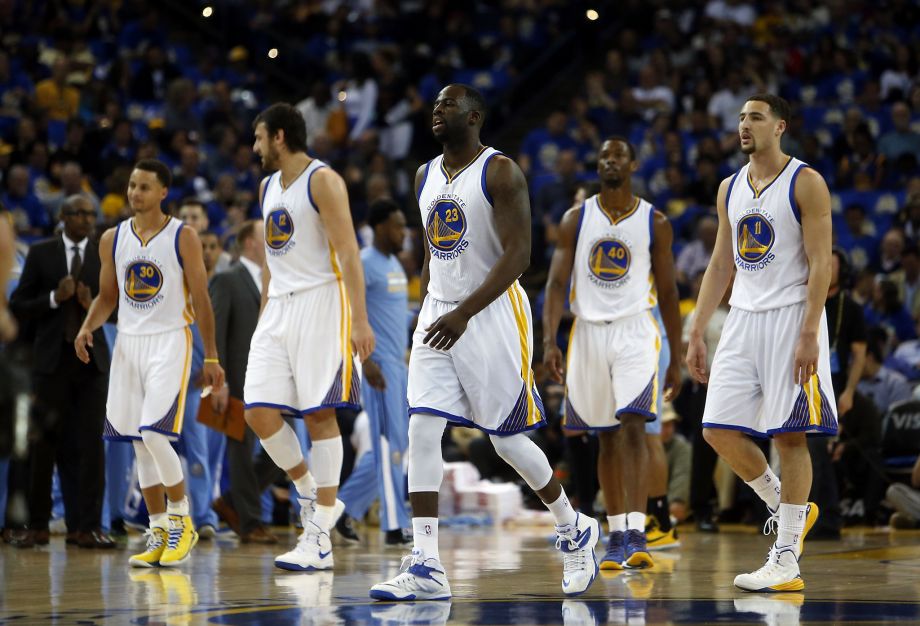 Suspended for one game due to excessive flagrant fouls and rough play, Draymond Green left a big-time void for the Warriors in Monday night's Game 5 loss to the Cavaliers. It was an obvious reminder of how team-oriented the Dubs are as well as how they mirror what many old-school teams used to be like. The Warriors are structured similarly to the great Lakers and Celtics teams of the 1980s, which is something we haven't seen in the league because of a recent trend that has taken over the league.
Over the last 20 years or so, we've seen epic free agency deals mold mediocre teams into champions almost instantaneously. Whether it was Shaq combining with Kobe in 1996, the formation of the Celtics "Big 3" in 2007, or LeBron's taking his talents to South Beach in 2010, these signings turned cellar-dwellers into champions.
 The Golden State Warriors have chosen to take the road less traveled. It's a road that has remained largely vacant since Magic and Bird hung up their sneakers in the early 90s. You got it, the Warriors have relied on a team building dynamic that stems directly from the NBA draft. Let's take a look at the Warriors' typical starting five from this season, and each player's most recent transaction:
G Stephen Curry: drafted by GSW in 1st round of 2009 draft
G Klay Thompson: drafted by GSW in 1st round of 2011 draft
F Draymond Green: drafted by GSW in 2nd round of 2012 draft
F Harrison Barnes: drafted by GSW in 1st round of 2012 draft
C Andrew Bogut: traded from MIL to GSW in 2012
Remember, this was the starting five for the greatest regular season team in NBA history, and they've been playing together for four years now. Four out of these five have played for the same organization for their entire careers to date. Now, to really gain some perspective on the dynamic of the 2015-16 Warriors, take a look at the starting lineup of the 1985-86 Boston Celtics, widely regarded as one of the top three greatest teams in NBA history:
G Dennis Johnson: signed by BOS from PHX in 1983
G Danny Ainge: drafted by BOS in 2nd round of 1981 draft
F Larry Bird: drafted by BOS in 1st round of 1978 draft
F Kevin McHale: drafted by BOS in 1st round of 1980 draft
C Robert Parish: signed by BOS from GSW in 1980
We see almost an identical situation. Three out of the five starters were drafted by the team, and the other two had plenty of time to gel with the existing talent. Put that together and you get one of the greatest instances of team chemistry in NBA history. Just check out that passing!
How about another 80s powerhouse? The Lakers paved their way to success by drafting smart, as well as accessing other talent years in advance. Here's their typical starting five from their 1986-87 championship season:
G Magic Johnson: drafted by LAL in 1st round of 1979 draft
G Byron Scott: drafted by LAL in 1st round of 1983 draft
F James Worthy: drafted by LAL in 1st round of 1982 draft
F A.C. Green: drafted by LAL in 1st round of 1985 draft
C Kareem Abdul-Jabbar: traded from MIL to LAL in 1975
With a roster as gelled as this, how can you not be successful? And it helps when the most veteran player is 7'2″ and can pop hook shots all night. Sure, Kareem was the only player not to spend his entire career, up to that point, with the Lake show. But he had already been in LA for 12 years.
We've seen chemistry like this in Oakland this season. This Warriors squad is a well-oiled machine that knows how to wear out a defense. Everything they do, they do for a reason. They pass around the perimeter because they know they can nail almost any 3 that presents itself. They pick for Steph Curry because they know he's the best shooter in the league. And they owe this knowledge to time. They've spent the last five-plus years getting used to each other's styles of play. Now those styles are one style, and it's incredibly intimidating to any team that steps in their path.
On Monday night, we learned that this Warriors team is not nearly as effective when one of their main pieces is absent. On Thursday, the Dubs get Draymond Green back, and if they don't take home the hardware at the Q on Thursday, they'll do it at the Oracle on Sunday.
Chemistry can make or break a team. The Warriors rely on it, as they should. Because with a lineup that's this much in sync, it's hard to envision a scenario where that roster isn't parading through the streets of Oakland for the second year in a row.