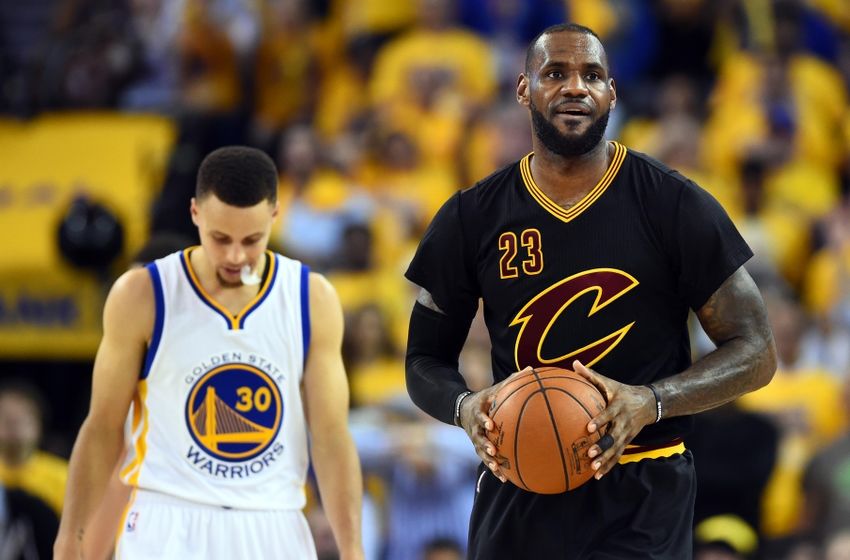 LeBron James has been sharply criticized of late-especially by many of us at Check Down. But whether the Cavaliers win this series or not, his performance last night proved one thing: he is a better player than Stephen Curry. Of the many storylines stemming from last night's game, LeBron James and Kyrie Irving's heroic performances stole the show. They each dropped 41 points, but what I found more impressive was how efficient they were (because I'm nuts about efficiency). James was 16-30 from the field including 4-8 from downtown, which is somewhere he has struggled recently. Irving-who tends to be a bit erratic at times-was even better, shooting 17-24 from the field and 5-7 from downtown. He also led the Cavs with a +20 plus/minus.
I mentioned in one of my latest articles that Kyrie Irving's performance in the Finals solidified his standing as one of the ten best players in the game. That was before Game 5. There's not even a debate about Irving's superstar status at this point.
But the player I really want to discuss is James and, more specifically, how he compares to Stephen Curry. In the buildup to this year's Finals, much was said about his "rivalry" with Curry-the league's two-time defending MVP-and how this series would decide who was better.
Coming into the playoffs, Curry had a legitimate claim as the league's top player. Simply put, he was doing things that had never been done in the NBA before and there was no one even close to him in terms of productivity, as evidenced by how he became the first player ever to average 30 points per game in under 35 minutes per game.
Defenses have tightened up on Curry in the playoffs though-especially in these Finals. After averaging 30.1 points per game in the regular season, Curry is now averaging 25.3 points in the postseason. His shooting numbers are down too: he's shooting .448 from the field and .412 from three-point range as opposed to .504 and .454 in the regular season. In the Finals, Curry has been struggling even more by his standards, averaging only 22.2 points per game and shooting 42% from the field.
Meanwhile, James's numbers in the Finals far outpace Curry's: in typical LeBron fashion, he's averaging 28 points, 12 rebounds, and 8 assists. Let's not forget his numbers from last year's Finals either, when he averaged a somewhat respectable 35.8 points, 13.3 rebounds, and 8.8 assists.
The crazy thing is that James has been largely maligned in most of these Finals games. I suppose it comes down to the fact that James and the Cavs have been trailing the Warriors for the whole series. Sure, James shares some responsibility for many of those outcomes, particularly in Game 4.
With that said, let's acknowledge the reality: the Warriors are the better team. And that's not because Stephen Curry is better than LeBron James. Rather, it's because Shaun Livingston and Leandro Barbosa can come off the bench and produce. It's because Andre Iguodala and Draymond Green play superb defense. It's because Klay Thompson can hit three-pointers from half-court, essentially. And, while LeBron does have help around him, his Cavaliers still trail because he doesn't have enough help around him to beat the Warriors (yes, I'm looking at you Kevin Love and your three points in 33 minutes last night).
I stand by what I said before this series began: another loss in the Finals will end the LeBron vs Michael Jordan debate. In addition, I think it will also call LeBron's legacy into question when compared to other greats like Magic Johnson and Larry-at least for the time being.
But one thing LeBron doesn't have to worry about, even if the Cavs lose, is his status as the game's best overall player. You can claim Curry is the game's best regular season player; you can claim he is the most prolific scorer as well. Yet, in terms of complete dominance, Stephen Curry and the rest of the NBA's elite still look up to the King.