As the NBA postseason comes to its inevitable end with all attention on whether or not LeBron can lead his team to a comeback, I find myself hoping the Warriors end the series swiftly and deny LeBron his 3rd ring. But before I dive into my reasoning for rooting against the greatest basketball player of our generation, I'll provide some quick background information on myself, as this is my first piece for CheckDown:
Name: Marco Baratta
Age: 21
Education: Graduate of Wesleyan University (2 years at Skidmore College before transferring). Studied Film.
Athletic Career: 4-year Division III Outfielder. 3-Year intramural basketball participant. 2-Year intramural football QB (two 2nd place finishes that I'm still beat up about).
Fan Allegiances (In order of joy I'd get from a win):
–Baseball: New York Mets
–Basketball: New York Knicks
–Football: Ney York Jets
–Hockey: New York Rangers
–College Basketball: 1a) Villanova 1b) Duke
–All Other College Sports: Boston College
Random Sports Background: I love bunt base hits. I think a robbed homerun is the most exciting play in baseball, closely followed by an outfield assist. I miss when Tracy McGrady and Baron Davis were stars in the NBA. I think baseball has become too obsessed with advanced analytics. I think Steph Curry's new shoes are actually nice. I do not think Bryce Harper is a great baseball player… yet. I don't like the Seattle Seahawks and I'm pretty sure it's all Richard Sherman's fault. I'd rather watch a NFL game on TV than at a stadium. The more any player celebrates, the less I root for them. I think Home Runs are rally-killers. I don't know enough about soccer or hockey, but thoroughly enjoy watching them both. I'm going to be really pissed off if Torii Hunter isn't a Hall of Famer. And Matt Saracen is my favorite fictional athlete of all time.
Now, about LeBron…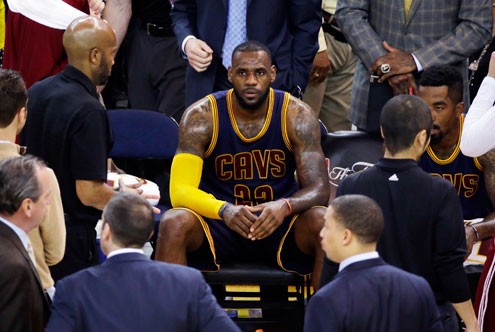 I have never rooted for LeBron James. In fact I'd go as far as to say I've almost always rooted against LeBron James. I'm a Knicks fan, but that doesn't really have anything to do with my stance at all considering the Knicks haven't been in a position to have their heart broken by him but since he joined the league. The reason for my stance on LeBron James is… well…. I don't know. Or at least I didn't until a few days ago.
During Game 1 of the Finals, I found myself getting all too happy every time LeBron drove to the hoop and had the ball knocked out of hands, which by the way felt like it happened every time he drove. I was watching the game with my father and he kept on asking me how I could possibly root so hard against the guy, saying that I really must not appreciate his talent. It was at this moment that I figured out why I don't like LeBron.
My father does not have Twitter, nor Instagram or Facebook. He very rarely visits ESPN.com, watches SportsCenter, or tunes into sports specific TV stations (NBA TV, MLB network, etc.) He judges whether or not he roots for a player based on what a player should be judged on, watching him play basketball. Even as a LeBron "hater," it is impossible for me to deny that the man plays beautiful, unselfish, and team oriented basketball. The reason for my dislike of LeBron stems from everything else, and I mean everything: the cryptic tweets, the hour specials, the seemingly daily articles about him, the social media "blackouts." Everything. The issue here is that I don't know if this is fair to him.
LeBron is not Michael Jordan, and I'm not comparing their talent. What I am comparing is their status as the best player in the game. It begs the question of what the public perception of Michael Jordan would have been if he played in a time where every single moment was dissected and scrutinized by the media. What would he have said if he had access to Twitter and Instagram? I love Michael Jordan. The man was a winner through and through and I find myself watching Youtube videos of his highlights all the time, but all I have of which to base my opinion of him is the games of basketball he played.
To summarize what I'm saying into a short sentence: my "hate" for LeBron is a direct reflection of the time in which he plays. If he was 10 years older than he is, there is no "Decision" special on ESPN and there's no Twitter account on which he sends out ambiguously passive-aggressive tweets relating to teammates (Cough Cough Kevin Love Cough). If LeBron was a free agent in 2000, he is undoubtedly under a microscope in the sports world, but it's a microscope like those used in 6th grade biology, not like the ones used by the world's top scientists. It's not fair to the man. He is focused on like no other athlete in America, and because of today's world, that means off the court as well. In fact, even as I write these words, I am contributing to this. I'm a 21 year-old kid whose résumé in basketball contains two high school varsity letters. My opinion holds no weight in criticizing LeBron, yet here it is on the Internet for anyone to read.
If you strip LeBron of all of the focus, the social media presence (or lack of presence), and the constant coverage, what you end up with is: LeBron James, the basketball player. Any type of competent basketball fan cannot hate on the man's talent as an overall basketball player. So no, the microscope under which he is judged is not fair to him, but that doesn't change the fact that it's there. While my father may not pay attention to LeBron off the court, I (and most other basketball fans) do, and because of that, I root against the man. I find him whiny and immature, I think he cares too much about how the general public perceives him, and I think he doesn't own his teams' poor performances… but I'll be damned if I don't feel lucky to have been able to watch the man play basketball better than anyone else in the NBA for the last 16 years.
Now let's go Warriors.
(A few things I didn't touch on in this article because I think that they're NBA problems, and not solely LeBron problems, and distinguishing between the two is very important: Flopping, the importance of the individual rather than the team, traveling, general softness, & complaining to refs.)