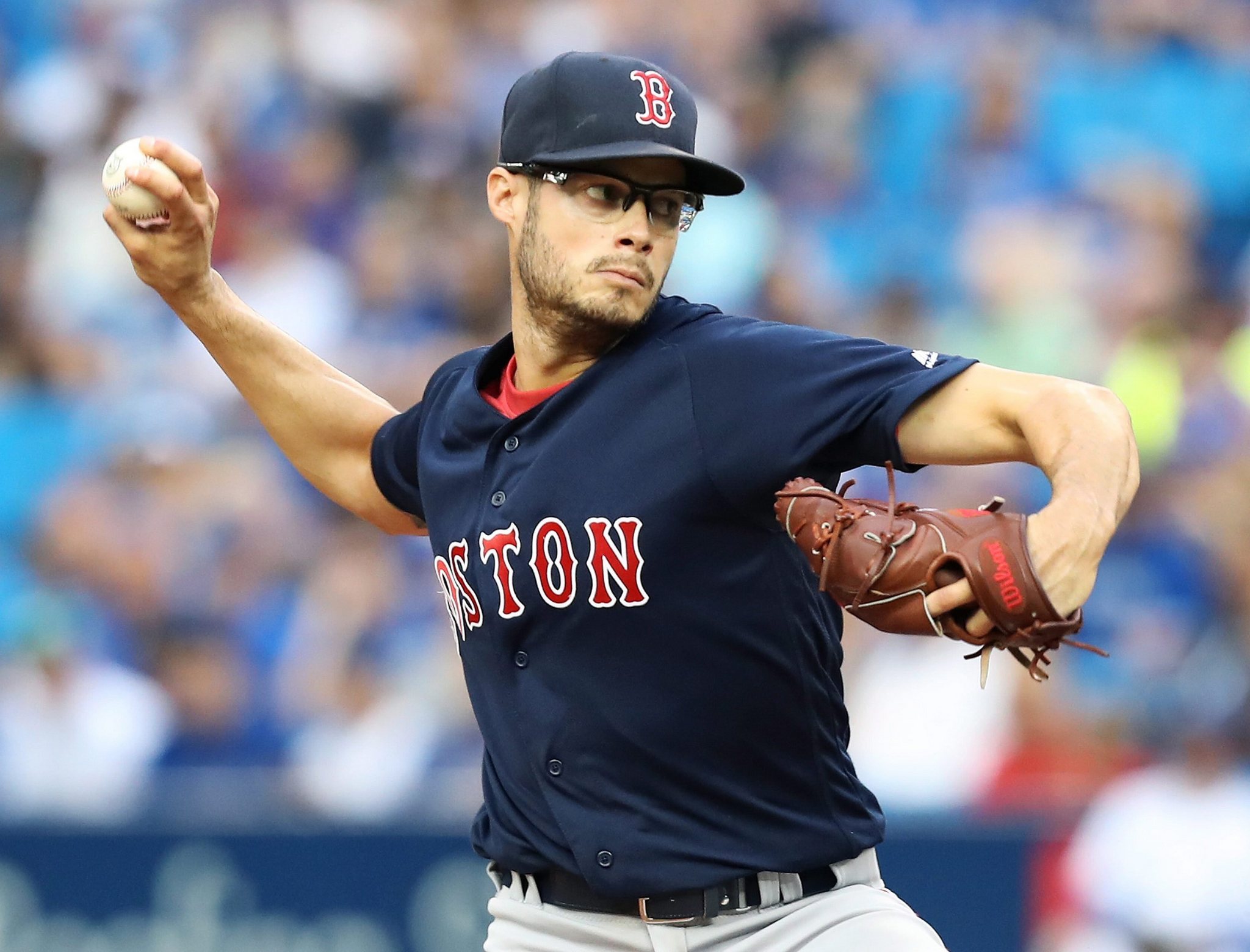 54 games into the season, the Boston Red Sox have a lot to be happy about. They lead the American League East at 32-22, and boast arguably the best offense in baseball. Jackie Bradley Jr. has enjoyed a revival at the plate, courtesy of a 29-game hitting streak that propelled his batting average to near .350 at one point. Xander Bogaerts enters Friday's game with a 26-game hitting streak, and with the way "X-Man" is contributing at the dish, this might be the streak that has the power to knock off Dom Dimaggio as the longest in Red Sox history. At the DH position, 40-year-old David Ortiz is making Sox fans everywhere wish he wasn't retiring at the end of this season (Papi is in the Triple Crown race).
Even with all these good vibes, there's still reason to believe this squad can get better. And the improvements have to start with the rotation:
David Price, despite his 7-1 record, carries a 5.11 ERA into Friday night. He's getting guys out, but he's also winning a lot of high-scoring games. Price does lead the team in strikeouts with 79, and posts a relative low WHIP of 1.22. Hopefully, as the season goes on, Price will limit the damage so the Sox' offense doesn't have to work as hard every night. On top of that, Dustin Pedroia deserves a lot of credit for Price's good performances this season.
Rick Porcello has been a pleasant surprise this year after an ugly 2015. He's 7-2 with an ERA of exactly 4. Second on the team in strikeouts with 62, Porcello has effectively cemented a spot in the rotation at this point. However, Porcello has the potential to go longer in games, similar to Price. This is a guy who ate up innings in Detroit–hopefully he can do the same here when summer rolls around.
Clay Buchholz is now comparable to a dirty word in Boston. The 31-year-old righty was chased from the starting rotation after giving up three home runs to Rockies hitters in an ugly 8-2 loss. Now in the bullpen, Buchholz was able to pick up a win in relief on May 29, but he put the team in bad spots too many times this season. Buchholz is where he belongs now, and if he starts again, it'll be in a different uniform.
Steven Wright has been a bright spot for the Sox this year. Lauded by many as the second coming of Tim Wakefield, Wright might be challenging R.A. Dickey for the title of best knuckleballer in baseball. Wright's ERA is 2.45 going into Friday night, by far the lowest out of any Sox starter this season. Wright has also pitched three complete games this season, so this guy can give the bullpen a break, which is a huge plus for Boston.
Joe Kelly has carried on his Jekyll & Hyde ways since returning from injury in May. Kelly entered the seventh inning of his first 2016 start with a no-hitter intact. Fast forward a week and a half, and all has been forgotten, as Kelly struggled mightily against the Baltimore Orioles, giving up seven runs in a game the Sox would lose 13-9. Kelly woke up Friday morning as a not-so-proud member of the Triple-A Pawtucket Red Sox, and that's where he'll stay until he gets it together.
Eduardo Rodriguez is still working his way into the picture in Boston, but he pitched a great game against Baltimore on Tuesday night. Rodriguez is still making his way back from his knee injury, but his success was certainly reassuring, especially for a homegrown guy who had high expectations going into the season.
This Red Sox team can be the best team in baseball. They're probably already the best team in the American League, at least as far as wins and losses go. However, what separates them from the 37-15 Chicago Cubs is that the Cubbies starting rotation is far more stable. Between Jake Arrieta, Jason Hammel, and others, Chicago takes the diamond with a chance to win every night, no matter how hot the bats are. If the Sox are to make a legitimate run at the World Series title, they'll have to make adjustments within the rotation. They'll have to look at what works, and what doesn't. Who belongs in the No. 2 spot? When should Farrell pull Porcello? These are just examples of serious questions that the Sox will have to ask themselves moving forward.