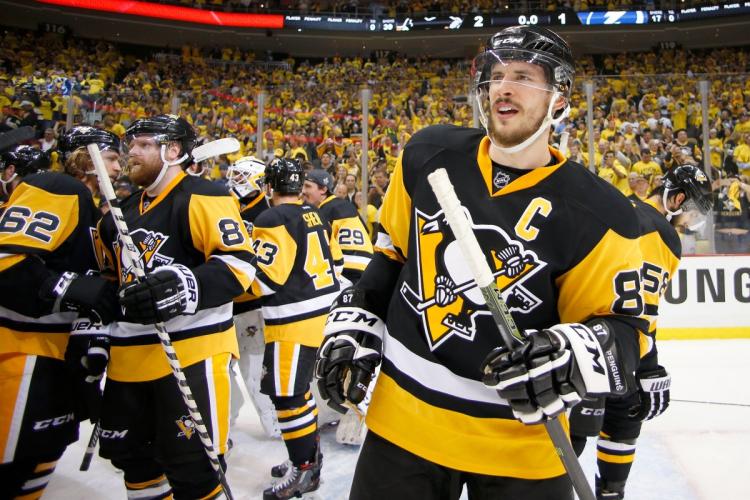 After two straight one-goal games, the Pittsburgh Penguins have a 2-0 lead over the San Jose Sharks in the Stanley Cup Finals. Here are five observations based on what I've seen so far.
This series reminds me of Bruins/Canucks in '11
In the 2011 Finals, the Bruins lost the first two games in Vancouver, each by one goal. Like Pittsburgh is now, the Canucks were favored beforehand, which led many people to declare the Bruins dead after dropping the first two.
But Boston bounced back in a resounding way once they returned home, outscoring the Canucks 12-1. One would have thought that Vancouver would have been able to steal one of those games considering that the Bruins had trouble scoring in Vancouver. Yet it turned out to not be an indication of what was ahead.
San Jose might be able to do what the Bruins did considering they are a terrific 7-1 in the "Shark Tank" this postseason. And you would think that maybe their luck will turn around as well considering they hit four posts in Game 2 (more on this later).
But it also reminds me of Kings/Rangers in '14
On the other hand, this series might go the way of Kings/Rangers in 2014. Los Angeles managed to slip past the Rangers in overtime in both Games 1 & 2 on their way to taking a 3-0 series lead before ultimately winning in five. In each game, the Rangers lost due to a few defensive mishaps that proved to be the difference. This reminds me of a couple of the goals-the Kessel goal last night in particular-that the Sharks have allowed. So while there's hope that San Jose responds with back to back victories in Games 3 &4, the Penguins are absolutely capable of taking at least one game in San Jose. And if that's the case, the Sharks will look back on two games they let slip away early in the series.
Pittsburgh's speed has kept San Jose off the power play
San Jose has only been on the power play three times in two games. That's unreal. The Penguins are a very disciplined team, but the Sharks were fourth in the NHL in drawing penalties during the regular season. Moreover, as I pointed out in my Stanley Cup Finals preview, the San Jose power play is superb. Their lack of man-advantage opportunities is probably the main reason why they are down 2-0.
So how do you explain it? Before the Finals began, all everyone talked about was the Penguins speed. Speed, speed, and more speed. I thought people were overhyping that edge, but it has been a big factor thus far. Pittsburgh's speed has allowed them to stay ahead of the play, and this explains why San Jose has been unable to draw any penalties.
Martin Jones was great in two losing efforts 
I was skeptical of Jones before this series began. Yet he's been really solid so far. Jones has faced a lot of pressure from Pittsburgh in the first two games: in game one in particular, he faced 20 high-danger scoring chances from the Penguins and still managed to keep San Jose in the game. In game 2, he was stout again even though Pittsburgh dominated in zone time. San Jose better hope that they haven't squandered two great Jones performances because it's not like he is Martin Brodeur.
San Jose must replicate their Game 2 performance 
The Sharks deserved to win Game 2. They hit four posts! Plus, after a very shaky Game 1, San Jose limited Pittsburgh to just six high-danger scoring chances in Game 2 as compared to 20 the previous game. I'm not in the Sharks locker room, so I'm not sure what adjustment they made specifically; but it would serve them well to replicate their Game 2 performance in the following games. If they can do that, this series is far from over.