Before we get started on my least favorite Harvard Graduate not named Barack Obama, I would like to introduce myself. My name is Josh Brown (@JoshBrownie7 -All Social Media). I will be a senior at Skidmore College and began my career at Check Down on WSPN 91.1. I play baseball at Skidmore and will also be playing all summer in the Perfect Game Collegiate League for the Glen's Falls Dragons. (Please visit, it's just me and Game of Thrones up here) The 50-game schedule will prevent me from writing as many articles as the LeBron James (not Steph Curry) of Check Down, Mando, but ultimately I hope you find my writing entertaining at the least. The last thing you need to know about me before reading my writing is I am heavily biased regarding the following; The New York Jets, LeBron James, The New York Mets, The New York Knicks (who suck), swinging at the first pitch (take one and go down 0-1 to Kershaw, I DARE YOU), never bunting (EVER), and shooting more threes.
Now that you have met me let us get to the man with the 12-15 million dollar beard, Ryan Fitzpatrick. As a lifelong Jets fan and season ticket holder, I will use inclusive words like "we" to express myself when referring to the Jets. I am not on the roster but am fully convinced I help control the outcome of the game from Section 118. I'll be honest with you, life is miserable. This team has created a sick trend of rising to the occasion against quality teams (New England- Week 16) only to break your heart and blow the season against garbage teams. The Buffalo loss in week 17 was probably the deepest depression I felt leaving a stadium since leaving Heinz Field following the AFC Championship loss to Pittsburgh in January of 2011. The best way to breakdown my feelings regarding Fitzpatrick's current contract situation start with analyzing our losses from last year.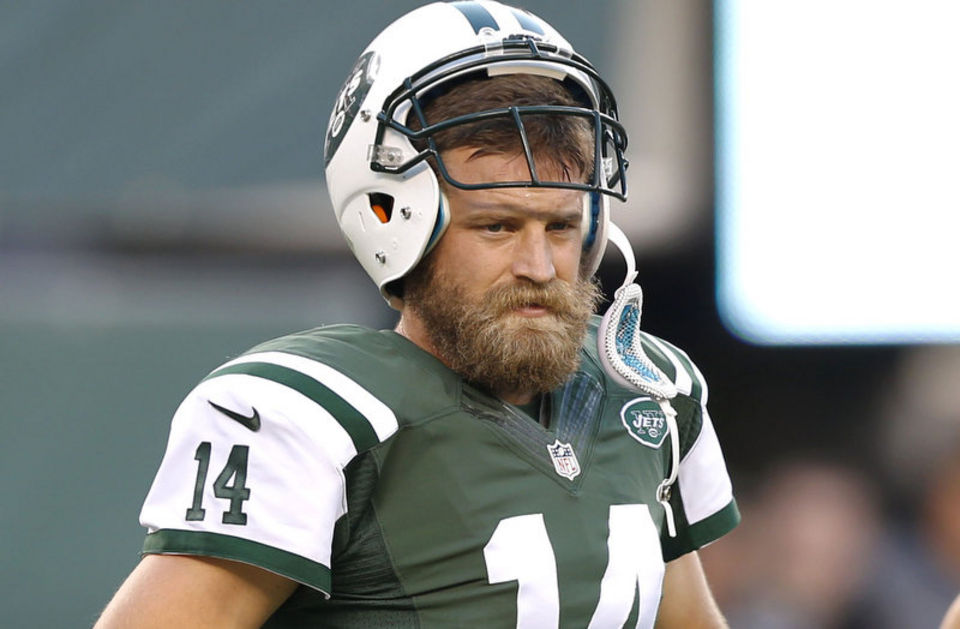 I know it's a year later but lets take a look at our losses from 2015 (Jets fans never let go). We finished 10-6 and just one game away from becoming the 6 seed…
Week 3: 24-17 loss to Philadelphia. We turn the ball over 4 times and Special Teams falls apart, we allow 21 points in the second quarter (Sproles 89 yard punt return TD).
Week 7: 30-23 loss to New England. You can't expect to win this game a lot but Marshall had a key drop in the end zone in the fourth. We allow 14 points in the fourth quarter and Marshall jumps offsides to end the game following an onside kick recovery.
Week 8: 34-20 loss to Oakland. Fitzpatrick tears ligament in thumb, Geno Smith is handed keys to the Escalade. *This loss helps give Fitz all the leverage he needs.*
Week 10: 22-17 loss to Buffalo. Thursday Night Football vs. Liposuction Rex (Donald Trump style nicknames are encouraged), the game comes down to a incomplete pass intended for Kellen Davis on fourth and goal. Forget about targeting Marshall or Decker, we've got Kellen Davis whose last successful tight-end delay was at recess.
Week 11: 24-17 loss to Houston. Fitzpatrick throws a pick to end the game, but let's not forget we showed up heavily unprepared and got lit up by T.J. Yates. Hopkins has 118 receiving yards along with 2 TD's. Nick Mangold leaves after first quarter with hand injury and thus Fitzpatrick gets sacked 3 times following Mangolds departure.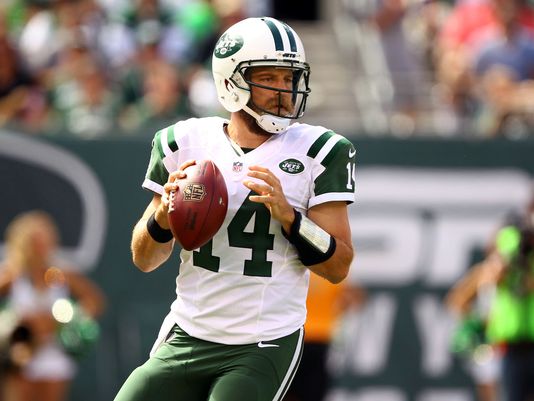 Here is where it gets interesting, at this point in the season The New York Jets go on a 5 game winning streak to put them a game away from drawing Cincinnati in the playoffs, who we historically own (AJ McCarron is starting at QB). Am I looking too far ahead? Probably, but assuming we roll through Cincy we are maybe a play away from heading to Denver and giving old Peyton a run for his money in the Divisional round. As we all know this isn't how the story unfolded.
Week 17: 22-17 loss to Buffalo. If you think I am going to make an excuse for Fitzpatrick in the loss to Buffalo you are wrong. He threw three interceptions in the fourth quarter, the worst pick being when we were in field goal range and could have taken the lead 20-19 at the end of the fourth quarter. We would then put our defense back on the field with all the momentum in the world. This is what is sticking in the heads of so many Jets fans who have become fed up with Fitzpatrick during this time. It certainly sticks in my head, so here is my official statement.
BOTTOM LINE:
GIVE RYAN FITZPATRICK AN INCENTIVE LOADED 12-14 MILLION- 1 YEAR DEAL.
*The Jets had one loss over a 7 point defecit in 2015 , and that was when Geno Smith played.*
Is Fitz overvalued? Yes, he could have had 30 interceptions last year, he threw so many scary balls. Is he asking for too much? Yes, he is not worth this much and the Jets obviously don't think so either. But you have to give it to him for a number of reasons. The Jets have said earlier today they are unwilling to give him a 1-yr 12 million dollar deal. You can't in anyway tell me those 6 losses last year were all on Ryan Fitzpatrick. If we had made the playoffs he would have gotten a 3 year- 30 million dollar deal for "getting the Jets to the playoffs." As New Yorkers, we are so easily swayed by the last taste left in our mouth. This is the Week 17 loss. We completely overlooked the other 10 wins Fitz got us. Only in the NFL could a guy break the single season touchdown record in franchise history and not get resigned (Fitz holds the record with 31 touchdowns) . We need this deal done, Brandon Marshall and Eric Decker (who both had CAREER YEARS in 2015) only have a few years left in their prime. Fitzpatrick has just hit his prime due to situational success having the weapons he does. (Hence the 'curious case' title 😉 )
Last year was fun to be apart of. Jets fans got to watch fun football being played throughout the season. It was the first time we threw the ball DOWN the field since we had a guy named Vinny playing Quarterback. I would rather be in the race and have my heart broken every year than be the Cleveland Browns of the NFL. You don't need a Harvard Education to dare a team that is built to win now into letting Geno Smith become the starter. -@JoshBrownie7