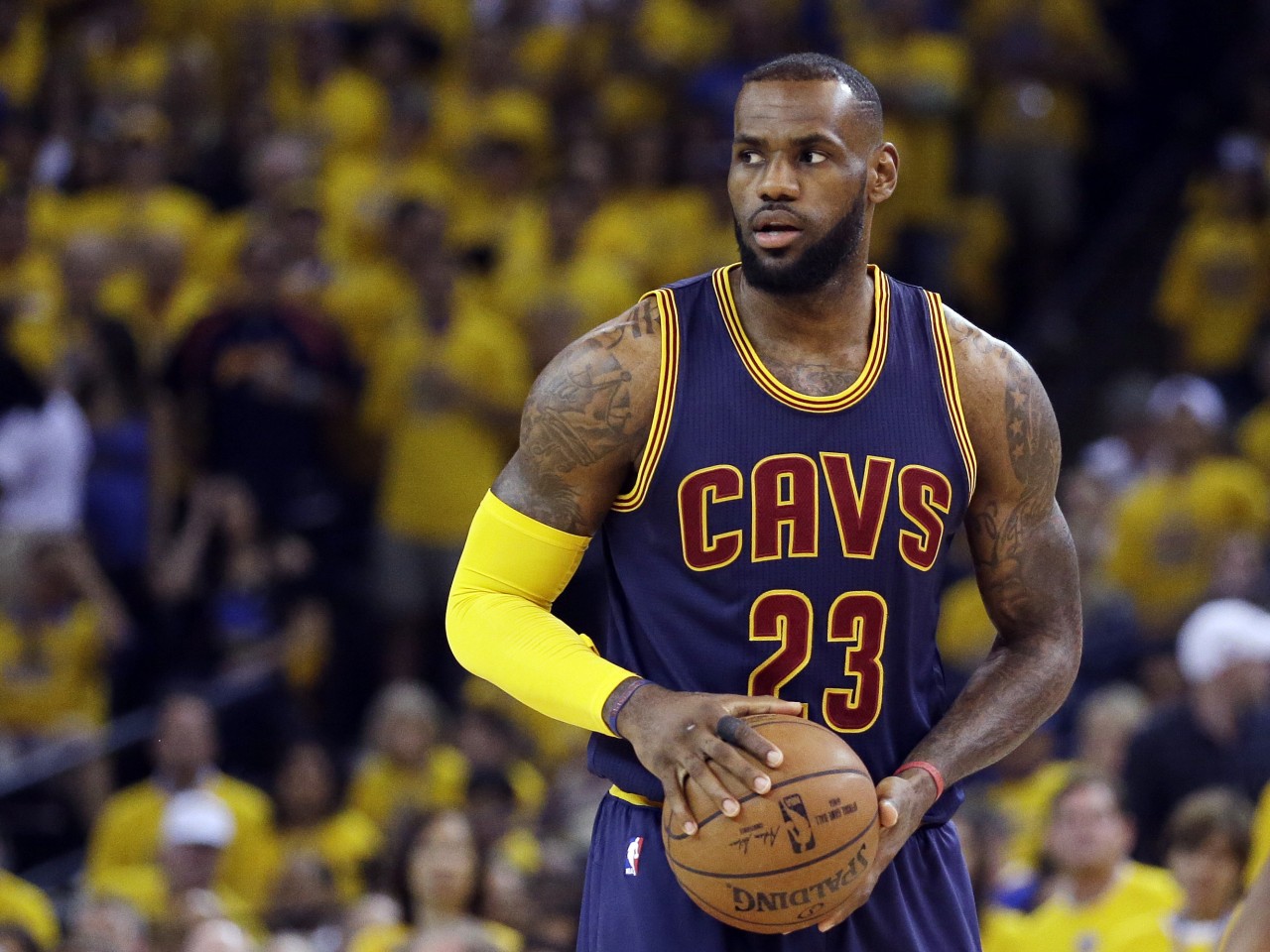 There is more on the line for LeBron James in this year's NBA Finals than ever before.
That might seem odd because it's not like he's still searching for that elusive first championship. At this point, it seems like LeBron has cemented his status as an all-time great. He has now been to six straight Finals; he has won multiple MVP's; he's got two rings and he even has quieted many doubters with numerous clutch performances over the past few years.
But this year's Finals rematch with the Warriors is the biggest watershed moment in James' career to date. At 31 years of age, LeBron's opportunities to capture titles as the focal point of the team are dwindling. It doesn't have as much to do with LeBron's performance declining, but it has everything to do with the reality that the Golden State Warriors-the NBA's next dynasty-are not going away. It has to do with the reality that Kevin Durant, wherever he winds up after this summer, is still in his prime. And even though they have transitioned away from their old Big Three to a new nucleus, the San Antonio Spurs are not going away; and, in time, the Minnesota Timberwolves with Karl-Anthony Towns will be big time. After a long reign at the top, the landscape of the NBA is changing and LeBron's days of dominance are coming to an end.
That is unless he has something to say about that development in this year's Finals. With a win over the Warriors, LeBron James will further his legacy to a point where a legitimate conversation about whether he is better than Michael Jordan can finally take place. Sure, a third win will "only" bring LeBron's record in the Finals to 3-4. That pales in comparison to Jordan's 6-0 record on the biggest stage. That record, however, is obviously deceptive because one of those losses came in 2007, when LeBron took a Cavs team whose second leading scorer was Larry Hughes to the Finals. Michael Jordan couldn't take a team to the Finals unless he had another Hall of Famer on it. LeBron essentially took a team their single-handily. Let's not forget what happened last year either, when LeBron's Cavs did not have Kyrie Irving and Kevin Love against a 67-win Warriors team. So while LeBron's record in the NBA Finals is deceptive, I do concede that he will never be able to equal Jordan's 6-0.
Yet while Jordan will always have the edge over LeBron in terms of his NBA Finals record, Jordan will never equal LeBron in terms of on-court value. Before LeBron James left the Cavs after the 2009 season, he had led Cleveland to back-to-back 60+ win seasons and a Finals appearance. Then he left for Miami. The Cavaliers collapsed the following year, winning only 19 games.
Before James joined the Heat, Miami hadn't made it out of the first round in four years. With LeBron, they appeared in four consecutive NBA Finals, winning two. LeBron leaves to head back home to Cleveland and the Heat go from being a mini-dynasty to missing the playoffs the following year.
While LeBron's talents were on South Beach, the Cavaliers had the second fewest wins in the NBA. Now that the King is back in town, Cleveland is now in their second consecutive NBA Finals after four dreadful, Lebron-less years.
Meanwhile, Michael Jordan took already very good teams to historic heights. That is impressive, no doubt. It's part of the reason why Jordan is the G.O.A.T, as of right now. But the fact is that when Jordan retired from the Bulls after the 1993 season, Chicago went from 57 wins to…55 wins. That's not anywhere near the drop-off LeBron's teams have had after he left.
LeBron not only owns the on-court value argument, but he compares very favorably to MJ in terms of MVP's and All-NBA appearances as well. That is why, with a win over this Warriors team-which would confirm that LeBron can come through when it matters most like Jordan so often did, a case can finally be made for LeBron being as great as Jordan.
But a loss would just about destroy the LeBron vs Jordan argument. At 2-5, the excuses would wear thin for "King" James. All-time greats don't need to justify their  blemishes, because there usually aren't many. But with James, he already has numerous weak spots on his resume. His Miami Heat were overwhelmed by the San Antonio Spurs in 2014. He was awful, by superstar standards, in a shocking Finals loss to the Dallas Mavericks in 2011. His Cavaliers were upset in two consecutive seasons as the top-seed in the East in 2008 and 2009. It makes you wonder what James' narrative would be like if Ray Allen hadn't hit that miraculous three-pointer in Game 6 against the Spurs in 2013. And yet, I'm willing to overlook most of LeBron's blemishes if he can lead the Cavs to a win over the greatest regular season team of all-time.
You can never take away what LeBron brings to a team in terms of value and you can't take away his individual accomplishments; but in terms of how he stacks up against the all-time greats-MJ, Magic, Bird, Kobe, Duncan, Chamberlain- LeBron's 2-5 record in the Finals would severely damage his legacy. And at least compared to Jordan, it would be damaged beyond repair.