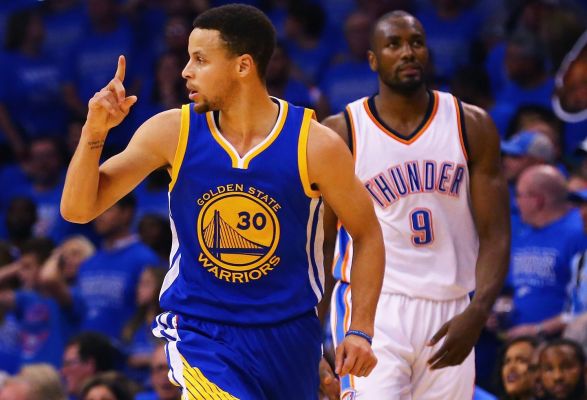 That's it. Call off the dogs. After squandering a chance to close out the Golden State Warriors on their home court Saturday night, the Oklahoma City Thunder must travel back to Oakland in a do-or-die Game Seven. I'm sure many are saying the Thunder are done. They may be right.
Having picked Oklahoma City to win this series in seven games, I don't want to write them off. But man am I tempted to. Why would I think about jumping ship? Because it's the way the Thunder blew it in Game 6. Blowing a lead you had the entire game is one thing. But carelessly turning the ball over repeatedly with under two minutes to go like they did was unacceptable. According to ESPN's Chris Broussard, the mood in the Thunder locker room after the game was "dejection." And now they have to regroup for a win-at-all-costs game in what might be the toughest home environment in the NBA.
In addition to the Thunder's damaged psyche and the Warriors home-court advantage, there are obviously a few other reasons to back Golden State. For starters, I think they have their mojo back. This is something I thought they regained after their Game 5, which is why I expressed some concern for Oklahoma City before Game 6. In that same article I wrote, I also mentioned how the Warriors were simply the better team in nearly every facet. I said that the longer this series goes, the greater chance Golden State would have to win. And lastly, it was pretty obvious that the Warriors won on Saturday thanks to a superb shooting performance from Klay Thompson and some clutch plays down the stretch from Stephen Curry. Meanwhile, they received next to nothing from their bench. While it's safe to assume that Thompson probably won't break his own record for threes again tonight, I expect the Warriors to get more help from their role players.
Let's not completely discount the Thunder's chances tonight, though. Just like how the Warriors should expect more from their bench, OK City shot a dismal 13% from three-point range the other night. If they simply have an average shooting night in Game 7, they can certainly win the game. Also, while I don't trust many of the Thunder's role players in a game like this, I bet Kevin Durant and Russell Westbrook will show up. They are superstars, and I have a hunch they will be even more motivated to make up for what went wrong in Game 6.
With that said, there are too many reasons to like the Warriors tonight. If I wasn't already tied down to my "Thunders in seven" pick, I'd definitely take Golden State. I know I will probably sound like a dick, but I guess whatever outcome happens tonight, I'm a winner!