In 2006, I legitimately watched upwards of 120 Mets games. The team was built for a championship. They had both young, homegrown talent, and older, veteran leaders, and I was a fanatic. Carlos Beltran was a serious MVP candidate, Carlos Delgado hit 38 homers, and David Wright was an RBI machine and just one year away from being a 30-30 player (Sigh, remember those days?). There was a great pitching staff and supporting cast in the likes Paul LoDuca, a slightly aging Pedro Martinez and Tom Glavine, Cliff Floyd, Billy Wagner, and Shawn Green. The team had 3 All-Star game starters and 6 All-Stars. They were a star-studded team that took a heart-breaking loss in the NLCS (The image of Beltran's knees buckling for the final out of game 7 is forever engrained in my brain).
But for all the veteran talent and leaders that that team had, their heart and soul, the battery that kept them going for 162 games and deep into the post-season, was #7, Jose Reyes. Watching him that season was watching a 23-year old man play baseball every single day with the energy and joy of an 8-year old kid.
That energy is the main reason that I could not be more excited that the New York Mets brought him back.
Before I explain why none of these are the glaring red flags that people think they may be, here are what people believe to be the glaring red flags of signing Jose Reyes:
-Attitude Issues on the field
-Decrease in statistical output
-Lack of dynamic energy noted above
-Injuries
-Off the field Issues
I'll address one of these right away because it is the one off the field issue: his domestic abuse allegations. I'm going to make it very clear that this is a big red flag. Plain and simple, it's something that cannot happen. Not in the athletic world, not in the world. Period. He and his wife seemed to have figured everything out and moved on, though. I have no problem with the Mets giving him a second chance because of that. If he has any other incident, however, the Mets must make it clear in no uncertain terms, that he'll be released swiftly and without reconsideration.
With the injuries, it's just something that you have to deal with and hope for the best. If they gave him a massive contract, it'd be a different deal, but they're signing him for the MLB minimum. I can't complain.
In terms of the statistical "issues," lets look at Reyes' stats since he left New York in 2011. From 2012-2015, he's actually been a .286 hitter. That is very good considering the BA leader for the Mets right now is Cespedes at .288. Have the triples and stolen bases gone down? Yes, absolutely. But you have to keep in mind that they really only started to decline when he moved to Toronto. Why does that matter? 1: Turf is terribly hard on the knees. Reyes, admittedly, said he realized he needed to run less if he wanted to play injury free deep into his career. 2: Toronto's fences are shallow all around, particularly in the gaps. That makes it very hard to hit triples. I'm not saying he's going to give the Mets 7 triples and 25 stolen bases in half a season, but the speed production will be better on grass at Citi field than it was in Toronto and Colorado.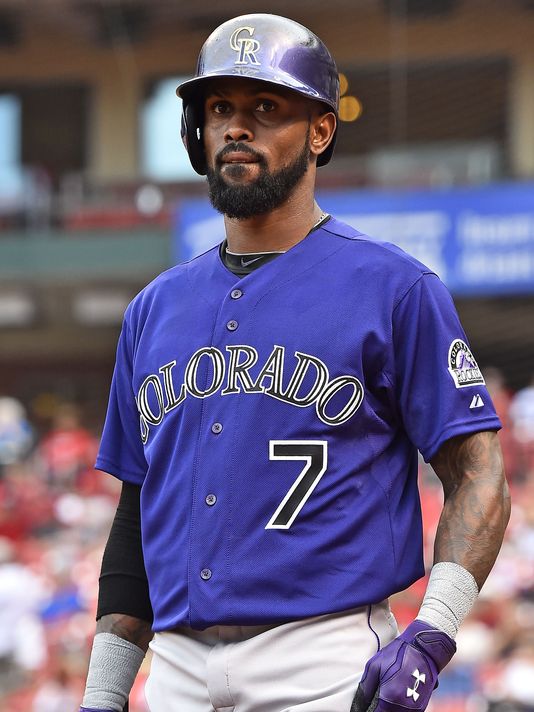 Speaking of Colorado, lets talk about Reyes' attitude issues. Reyes, also admittedly, shouldn't have spoken poorly about the Rockies upon arrival, but you have to look at things in his perspective for a moment. He was screwed over by the Marlins. They told him he was going to be one of the centerpieces of an up and coming franchise that was going to make every effort to win with him there. Then, only a year later, they traded him away and blew up the blueprint. That's called lying to someone. He found a home in Toronto and became close with Bautista, Encarnacion, and the rest of the Blue Jays team. Then, in the middle of a season in which he was actually playing quite well when healthy (.285/.322/.385 out of the leadoff spot) and in the pennant race for the first time since 2008, the Blue Jays traded him to one of the worst teams in the NL. He went from the thrill of the pennant race he'd been chasing for 7 years, to playing out the rest of the season for a team that really just wanted to get rid of Troy Tulowitzki. I'm not saying he was right to complain and let it affect his game, but it would be lying to say that those things didn't happen.
If you followed Jose Reyes on social media, as I did, over the past few years, you know that he frequently reminisces about his time in New York. He even liked an Instagram picture I posted and tagged him in in 2014 with the caption "Please come back to the Mets @Lamelaza7". It was fairly easy to tell that he loved his time in New York. And now he's back. He has a home here, he was brought up through this system, one of his best friends, David Wright, is still on the team (DL), and he is back in a possible pennant race. Whatever energy may have slowly died off for the Marlins, Blue Jays, and certainly Rockies, will without a doubt be back.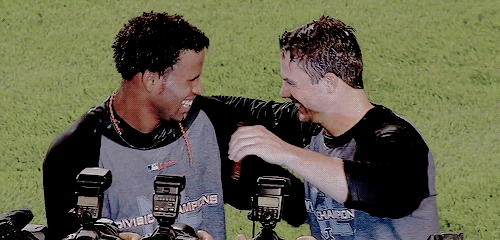 It's pretty simple. This was a low-risk, high-reward situation for the Mets. You hope that he provides the spark that that this team has been missing offensively. You hope that he brings the same level of energy he had from 2005-2011. But if he doesn't, they signed him for the major league minimum, so you can't really complain.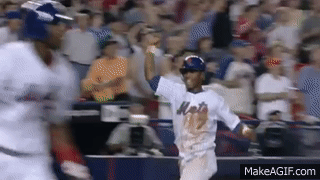 Either way, he was my favorite player on the team for years and I'm excited to see him back in a Mets uniform flying around the bases and playing the game like a kid.