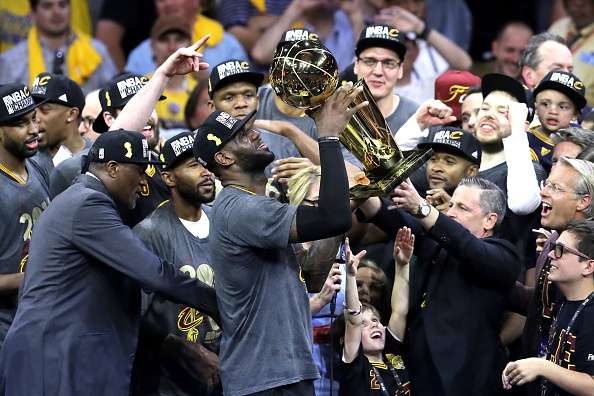 Now what? That's the question many are asking after LeBron James-the most polarizing athlete in sports-and his Cavaliers somehow went into Oracle Arena twice and upset the heavily favored Warriors.
All hail the King! All hail the King! But it's not just the city of Cleveland that's showering LeBron James in praise for bringing a championship to his home city. It's everyone. Surprisingly, there are still a couple mental cases out there who are unwilling to admit the truth-that LeBron is above reproach. They just can't seem to accept the reality that you can't hate LeBron anymore. He's not only lived up to the hype: you can argue he has surpassed it. Six straight Finals. Four MVP's. 40 point games followed by 40 point games followed by triple doubles in the Finals. With his team facing elimination!. So much for not being able to come up big in the clutch. And of course, the icing on the cake, he now has a third title that came against a team vying to be known as the greatest of all-time.
Lucky for everyone reading this, we have just received exclusive footage from a couple renowned LeBron haters on the Check Down staff confronting this reality. Here's Fronte's reaction below:
And Marco's:
Meanwhile, over at the Josh Brown residence…
I'm assuming that after all the LeBron haters out there come back from their week-long bender, they are going to need to go back to the drawing board. Simply put, they need a new athlete to despise.
Wait, why can't we still hate LeBron? Well, I suppose you can, if you want. I'm not stopping you. For the record, I've never been much of a LeBron guy either. I've always enjoyed seeing him lose more than I liked seeing him win, but that's mainly because I'm a Celtics fan. The problem is that, as I alluded to before, there's really not much to criticize him for anymore. You still want to knock The Decision? Get over it man, that was like 8 years ago.
It's time to move on from LeBron. That's why I'm here to walk you through the selection of your next most-hated athlete.
What makes an athlete detestable? I suppose there are a number of things. Some of them are simply random; I can't explain those. Additionally, you will obviously hate the best player on a rival team (a Jets fan hating Tom Brady, for instance). But if we're talking broad-sweeping hatred, there are a few key elements.
First, there needs to be a lot of hype around the athlete. LeBron is a perfect example of this because he was on the cover of Sports Illustrated when he was still in high school. That sparked a lot of controversy. Why is he "the chosen one"? Why isn't "the chosen one" immediately winning championships? This guy sucks, he's not the next MJ!
Next, they have to find ways to annoy you. LeBron has gotten on people's nerves by flopping, getting coaches fired, and being passive-aggressive on social media. Oh yeah, and for taking his talents to South Beach.
Then they'll need to do something that leads to a lot of criticism. It can't be something O.J. Simpson or Aaron Hernandez big-that will simply lead to unified hatred. It just has to be something very controversial. LeBron, as we know, had The Decision; Tom Brady had Deflategate; Tiger Woods had the whole mistress thing.
The last thing the athlete needs to have is a loyal, passionate, and unrelenting fanbase. For instance, I'd follow Tom Brady into the gates of hell if he needed me to. So when someone like Fronte brings up bullshit like "I think Peyton's better, he's got the stats!" I won't stand for it. This makes hating an athlete more fun because it means something to hate the guy. It also fuels your fire even more to know that there are some people who are firmly against your position.
To review, we're looking for these qualities:
Athletes with a lot of hype
Athletes who find ways to be annoying
Athletes who have done something in particular in the past that is controversial
Athletes with a passionate fanbase that will defend them at all costs
Here are some of the more obvious athletes you could choose to hate now:
Tom Brady
Hype? Check. Annoying? Some say he gives contrived interviews. Controversy? Deflategate, unfortunately. Passionate fanbase? You're looking at him.
Alex Rodriguez
Hype? He came into the majors when he was a teen. Annoying? Uhh…yeah. Controversy? Steroids. Passionate fanbase? Some people don't have a problem with steroid guys.
Floyd Mayweather
Hype? He's undefeated in the ring. Annoying? He drops a grand for someone to shave his already bald head. Controversy? Domestic violence. Passionate fanbase? Not sure about this one, but I guess people don't hate him enough to not watch him box.
Tiger Woods
Hype? Yes, he was a golf prodigy. Annoying? He throws temper-tantrums. Controversy? He cheated on his wife with half the country. Passionate fanbase? Many people say golf will never be as interesting without him.
Johnny Manziel
Hype? He won the Heisman in college and said he was going to "wreck the league" on draft day. Annoying? He's friends with Drake. Controversy? Where do we begin. Passionate fanbase? I can't fathom why, but people still love Johnny Football.
---
The problem with each of those athletes I mentioned is that the hate-train has already left the station. That's why if you're really looking for someone to replace LeBron, you'll need to jump on a new bandwagon early. So, without further ado, here is The Hateful Eight. No, not that awful Tarantino movie, but a list of the eight athletes you might consider hating now that you can't hate James.
8- Jose Bautista
Primary Hate Quality: Controversy
Joey Bats has really stirred the pot over the past year. First, he had his infamous bat flip during Game 5 against the Texas Rangers. Then this year, against those same Rangers, he instigated one of baseball's best brawls in a while after he took Rougned Odor out at second base. I'm not sure Bautista is prominent enough throughout the country to make for a great villain, but he is certainly one of the better guys to hate in baseball, especially if you're somebody who complains about players "not playing the game the way it is supposed to."
7- Ben Simmons
Primary Hate Quality: Hype
It was just reported that the 76ers have told Simmons he will be the number one pick in this year's NBA draft. Get on the Simmons-hate bus while you can. He already has a reputation for being recalcitrant. Combine that with the nonsense some people are saying about how he is going to take over the league and we might just have the next Dwight Howard or Rajon Rondo on our hands.
6 Josh Norman
Primary Hate Quality: Controversy
Usually receivers create the most drama in the NFL, but for once it's a cornerback. At any point in time, Norman might fight his quarterback during a practice, engage in a Twitter feud with Odell Beckham Jr, or bring a bat with him as a form of intimidation. There isn't really an in between with the new Washington corner- either you hate Norman or he is your favorite bad guy.
5 J.J. Watt
Primary Hate Qualities: Hype; Annoying; Passionate Fanbase
If you think about it, Watt isn't that much different than LeBron. Both are dominant at their respective sports, which means they are subject to criticism whenever they don't perform well. But that isn't the main reason Watt might be worth hating. It's the way he acts by always putting on a good show for the cameras and on social media. Some people can't get enough of that, but I've noticed that others are starting to feel quite differently. If you do decide to hate Watt, you better be prepared for some heated debates.
4 Russell Wilson
Primary Hate Qualities: Annoying; Passionate Fanbase
Russell Wilson really lost me when he participated in his own joke regarding his game-ending interception in Super Bowl XLIX. How do you even root for him if you're a Seattle fan after that? Sure, he has that whole "I'm a short quarterback" thing going. But that might make him even more annoying because you never hear the end of it. Moreover, he has been in the news for some absurd reasons like deciding not to bang Ciara (because that makes him a better person?) and claiming that he drank a special water that prevents concussions. What cult does Wilson belong to? On top of all this, you could argue that he is merely a product of the great supporting cast around him.
3 Cam Newton
Primary Hate Qualities: Hype; Controversy; Passionate Fanbase
A lot of the controversy surrounding Newton is unwarranted (most of his touchdown celebrations). Some of it, though, is legitimate. Another thing to know about Newton is that for all the people willing to write op-ed columns asking for public apologies over his antics, he has some people firmly in his corner. Upon leaving Super Bowl 50 on a train back into San Francisco, my dad made the mistake of casually announcing to fifty-odd depressed Carolina fans that the only good thing to come out of their loss is that their quarterback should come out of it more humble. That, ahh, didn't go over too well with them.
2 Stephen Curry
Primary Hate Qualities: Hype; Annoying; Passionate Fanbase
Before getting into Stephen Curry, are the Golden State Warriors not the NBA's version of the Seattle Seahawks? Both quickly ascended to dominance, claimed a championship, and then lost the following year in heartbreaking fashion. They are led by guys everyone loved at first because they epitomized the underdog story (Curry and Wilson), but now people are starting to turn on them. They also each have brash superstars (Draymond Green, Richard Sherman) and, in their own ways, each squad revolutionized their sport with their particular playing styles.
Now back to Curry. My oh my has his stock fallen. It's not just due to his lackluster Finals performance either. Little things from the way he chews on his mouthguard to the way he warms up for games by kicking basketballs (has anyone else noticed him do this or am I the only one?) have made Curry either hilarious to watch or infuriating. But don't tell that to Warriors fans, or anyone else who defends the three-point revolution.
1 Bryce Harper
Primary Hate Qualities: All of the Above
Harper is the closest thing we have to the old LeBron James. He was on the cover of Sports Illustrated before he was even drafted. He's offended many with his "make baseball fun again" campaign. You can tell a lot of players and umpires in the MLB have a problem with him too. Yet on the other side of the coin, many don't view him as a cocky prick, but as a messiah here to save baseball from dying a slow death. You'll either love Harper for this mission to make the sport more entertaining or despise him for his unbridled douchiness. It's this dichotomy that makes Harper the most qualified to be the next most maligned athlete in America.
All photos courtesy of Getty Images