Ever. You have my word. This is the last time I will ever discuss LeBron on this site.
I'm tired. I'm tired of hearing about how great he is, about how you hate him, about how he's the best player on the planet. I just don't care anymore, it's not like anyone is changing anyone else's mind on the guy at this point anyway. I'm just tired of LeBron James, good or bad. I almost didn't publish this after I had written it because I'm not sure I'd want to read another piece about him, but I did anyway. So here it is. As I sit on a plane en route to San Francisco, the city that just had their dreams of a back-to-back titles ruined by Lebron James and the Cavaliers, I will write my last piece ever on LeBron James. There will still be enough in the world without mine, anyway.
If you read my last piece on Lebron, you know that I don't like him or root for him. I understand and appreciate how amazing he is at basketball, and he certainly proved that even further in this series. However, I think he is immature, self-absorbed, and cares far too much what people think about him. And here's the best part about this piece: I don't have to write all that much opinion. In his post-game on-court interview with Doris Burke, LeBron showed everything that I dislike about him in a 2-minute interview.
Here is the transcript and video of LeBron's post-game-7 interview:
Video Link (Via ESPN.com)
Doris: LeBron, as soon as that buzzer sounded, your emotions let loose. Can you describe what you're feeling right now?

LeBron: I set out a goal two years, when I came back, to bring a championship to this city. I gave everything that I had. I poured my heart, my blood, my sweat, and my tears to this game and… against all odds. Against all odds. I don't know why we wanna take the hardest road. I don't know why the man above gave me the hardest road but… it's nothing that the man above don't put you in situations that you can't handle. And I just kept that same positive attitude… Like instead of saying 'why me?' I was saying 'This is what he wants me to do.' And uhh…. CLEEEEEEVELANDDD!! This is for you.

Doris: LeBron, you did what no other team had been able to do, coming back from a 3-1 deficit in the finals. And to do that, you had to win twice in a place that proved too much for so many teams. What'd you find in game 5 here?

LeBron: I was just locked in. I had to change my approach a little on how I approach the game. I wasn't that good in the first two games here in this building. I watched a lot of film, detailed it out, changed my blueprint, and (we?) was able to put together some spectacular games after being down 3-1. History. We in the record books. We the first team ever to come back from a 3-1 deficit. This is special.
He said "I", "me." or "my' 22 times. 22 times. He only spoke 195 words. That's basically every tenth word.
He said "we," "us," or "team" 4 (possibly five) times, and once was with a negative connotation ("hardest road"). Doris Burke said "team" in her questions more than he did in his answers.
Things I couldn't believe actually came out of his mouth:
-The answer to the whole first question.
-"CLEVELAAAAAAND!!!!" Dude, grow up and stop trying to make things dramatic. Garnett yelled when he won because Adidas paid him to (Allegedly, I should say that for legal purposes). He was (is) also out of his mind.You're just trying to convince us all you care about your city more than your image.
-Him finally mentioning his team at the end of the second question
(I was going to put specific quotes here, but I ended up quoting almost the whole thing.)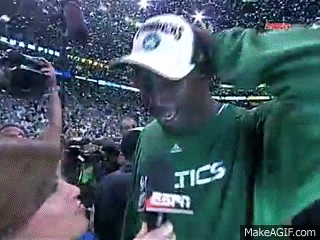 I am going to make this abundantly clear in case you couldn't pick it up from the transcript: "LeBron the hero. Brings title to Cleveland" as the headline is the only thing that LeBron cared about. This series was about him changing the perception of himself. He NEEDED to change from the man that left Cleveland to the man that came back and brought them a title. That's why he wrote his letter when he made the decision to come back. That's why he played so well this year. And do not try to say that he was emotional during the interview and not thinking clearly, because that only helps my argument. This was pure emotion, and thus pure truth. He talked about himself because he cares about himself and his perception above all else.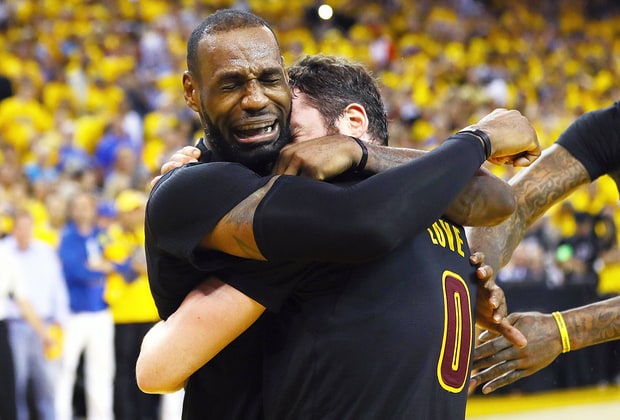 After such a spectacular 48 minutes of basketball where even I, at points, found myself thinking I would feel terrible for whichever team lost, it legitimately made my stomach uneasy listening to him speak in that interview. To be as self absorbed as he was is incomprehensible to me. To not mention the man that hit the game winning shot, to make everything all about him and how he prepared and adjusted, how he made good on his promise. He didn't care who was on his team or who helped him win. It didn't matter to him if he won with Kevin Love or Kevin Hart, Tristan Thompson or Christian Bale (I know those are different first names, but it was the best I had). All that matters to him is that he was the one that redeemed himself after leaving. He, LeBron James, did it.
So congratulations to the whole Cleveland Cavaliers team, who haven't gotten enough credit for stepping up in games three through seven. They were certainly carried by an outstanding and historical performance by LeBron, but he did not win the championship alone by any means.
And Congratulations to the city of Cleveland. You finally have your championship. Just know that LeBron James did not win it for you. He won it for himself, and is using you to change the perception of him.
Now on to a beautiful summer of baseball…