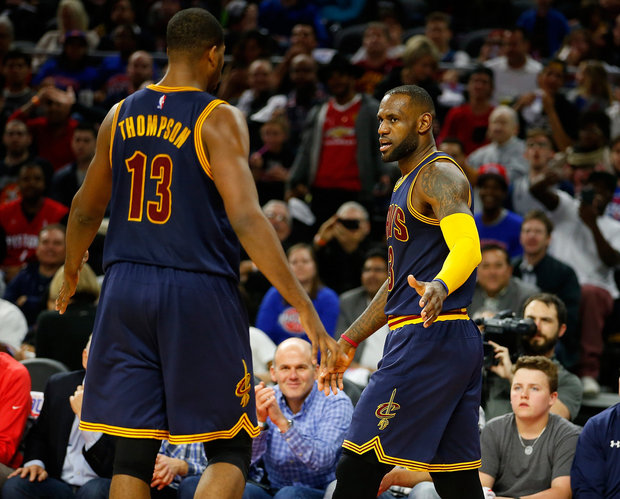 I love the term "stranger things have happened." I use it often, particularly when I think a team has a chance to come back even though they are down by a seemingly insurmountable amount of a points or when a deficit in a playoff series seems to be too large to overcome.
Yet I didn't use this expression to make a case for the Cleveland Cavaliers after they were blown out in Games 1 & 2 of the Finals. I certainly didn't say it after their loss in Game 4. The series was over, I thought. The Bay Area could begin planning another parade.
I suppose I ignored the ominous cloud in the distance amid the glorious, sunny day at the beach many Warriors fans were enjoying. The storm seemed too far away. No reason to pack our things just yet. Let us treasure the moment.
Then Draymond Green receives a one-game suspension for Game 5. Maybe we should leave a little earlier than expected. Sure, if you want to catch a few more waves, that's fine. We're OK, says the typical Warriors fan as the first drop of rain plops down on their skin moments later.
Game 6. The Cavs jump out to a huge early-lead. Stephen Curry and the Warriors get into early foul trouble that they will never escape. Now the sand dunes are starting to whirl with the wind. A couple of umbrellas suddenly jolt out of the ground and roll away. The storm is definitely here. The question is whether the Warriors will survive it.
The expectation is that they will, which makes sense. After all, these are the 73-9 Warriors we're talking about. They've come through in big moments similar to this before, and it helps enormously that they are playing at home. Not only are the Warriors spectacular at Oracle Arena (98-8 over the last two seasons, including playoffs), but home teams in closeout games with an NBA title at stake have gone 19-3 since 1980.
Moreover, it's been rather obvious that Golden State has played better at home in these playoffs. In the last two rounds against Oklahoma City and Cleveland, they've averaged 107.5 points and allowed 96.5 at home; on the road, they've only averaged 101 points while allowing a staggering 114 per game. They also seem to get off to better starts at home as well. Their point differential in the first quarter at home over these last two rounds is +17. On the road, it's a horrific -49.
I'm sure Cleveland wishes this game was at Quicken Loans Arena; but it's not. That's not a death sentence for them, though. I think the Cavaliers have a very good chance Sunday night to complete what might go down as the greatest playoff comeback in NBA history.
The Cavaliers seem to have found a better defensive formula in recent games. They've held the Warriors to 39% shooting since Game 2, which is down from their typical 48.5% in the regular season. Sure, Stephen Curry and Klay Thompson have had their moments, particularly in Game 4. But for the most part, Cleveland has done a good job at limiting quality looks for them. This has forced the Warriors to rely more on their supporting players, who haven't stepped up. The combination of Draymond Green, Andre Iguodala, and Harrison Barnes have shot roughly 36% since Game 2. It makes sense strategically for the Cavs to force that trio, rather than the Splash Brothers, to beat them. Lately, it's been working.
Cleveland has also been dictating the rebounding battle. This brings me to Andrew Bogut, who, as we know, is out with a sprained knee. Would he have been able to prevent Tristian Thompson from dominating the glass in Game 6? Not completely, but he certainly would've helped. But that's not the main reason why his absence is meaningful. I think back to  when the Celtics lost Kendrick Perkins late in the 2010 Finals against the Lakers. He wasn't nearly as big of a loss as Kevin Garnett or someone of that magnitude obviously, but it adjusted Boston's game plan. It forced players to take either a larger or unfamiliar role. Similarly, losing Bogut has forced the Warriors to adjust their usual way of doing things. In Game 6, it forced Steve Kerr to give more minutes to Anderson Varejao, who isn't an offensive threat. More importantly, not having Bogut left a void underneath, which made things easier for Thompson (15 points, 16 rebounds).
The one benefit of losing Bogut is that it led Kerr to start the Warriors famed "death lineup" of Curry, Thompson, Green, Barnes, and Iguodala. Yet seeing more of the death lineup might be a huge benefit for LeBron James, Kyrie Irving, and company in Game 7. That's because I don't think Andre Iguodala is healthy. He left Game 6 multiple times, apparently with a tight lower back. This not only inhibited his ability to stop LeBron James, who Iguodala often guards when he's on the floor, but it inhibited the Warriors as a team as well, seeing as James had another 40+ point performance.
The two days of rest should benefit Iguodala. However, he had this same amount of time-off in between Games 5 & 6 as well, and that did no good. Given the way James has erupted over these last two games, this may be in part because of Iguodala's deteriorating health.
If he isn't 100 percent, then I don't see how the Warriors slow down LeBron. That's a huge problem because even if Iguodala is at full-strength, he and the Warriors still might not be able to contain him. James has notoriously been superb in closeout games, so there's little reason to think he won't have another outstanding game Sunday night. In short, I trust LeBron more than I trust Stephen Curry on this stage. That helps Cleveland immensely because it's always beneficial to have the best player on the floor.
The Cavs will undoubtedly need other things to go their way in order to win this game. It will help if Kyrie Irving chips in 30 points, if J.R. Smith makes the Warriors pay from deep when he's left open, and if Kevin Love does something. Unfortunately for the Cavs, the reality is that they'll have to hope Curry and Thompson don't bring their A-games. If that happens, it's unlikely to think Cleveland can win. With that said, Cleveland has come too far to let its city down. I expect them to give the Warriors another battle at the very least, making this Game 7 one of the best NBA games in recent memory.
Stay tuned for Check Down's predictions for tomorrow's game, which will be released Sunday morning.
Photo Courtesy of Getty Images North America