Ever since their most recent World Series win in 2003, the Miami (previously Florida) Marlins have made some of the worst decisions in any franchise's history. After respectable showings in 2008 and 2009, they've consistently been at the bottom of the NL East. Even though their showing signs of improvement this year, their transaction history and overall performance as an organization have made the Marlins my least favorite team in professional sports based on their wasted potential. There are countless reasons why I believe this; I'm going to cover a few.
The Marlins have had numerous star players come through their organization, only to  impatiently let go of them if they had a slightly below-average season or if they were expecting a pay-raise. Let's run through a list of these players, with their years with the Marlins in parentheses.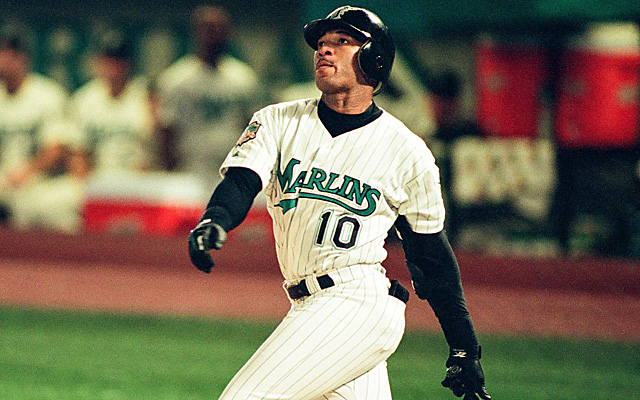 Gary Sheffield (1993-1998)
Sheffield was one of the big bats on Florida's first World Series team, but apparently the Marlins didn't consider the future 500-home run hitter to be someone worth keeping. After being traded during the 1998 season, Sheffield went on to appear in five more All-Star games and finish in the top three of the MVP voting twice with the Braves and Yankees.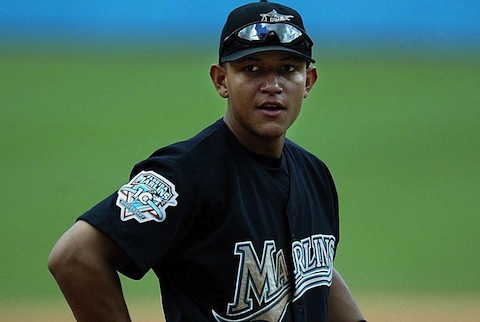 Miguel Cabrera (2003-2007)
The future Hall of Famer helped the Marlins to a title in his rookie year in 2003. He then went on to have multiple 30 home run seasons with a batting average above .300 before the Marlins decided to trade him in the 2007 offseason for an assortment of players that included Andrew Miller (who didn't stick around long with the Marlins) and Cameron Maybin. Since then, Cabrera's been a 5-time All-Star, 2-time league MVP, and 4-time batting champion in addition to winning the triple crown in 2012.
A.J. Burnett (1999-2005)
Burnett had moments of brilliance in his six years with the Marlins, throwing 7 complete games (5 of which were shutouts) and a no-hitter. Plus, he was only worth about $3 million at the time. Yet the Marlins didn't think he was worth an additional investment. He continued to be a very-good pitch even up until last year, when made an All-Star appearance.
Juan Pierre (2003-2005)
Pierre, who led off for the 2003 Marlins, was an unsung hero in most organizations he played in. He consistently batted around .300 and was reliable, playing in all 162 games from 2003 to 2007. The Marlins jettisoned him without hesitating.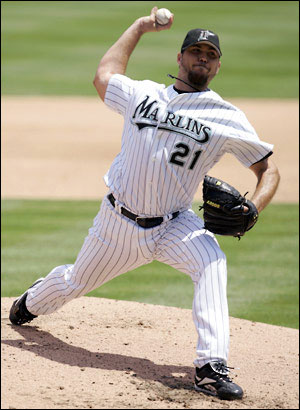 Josh Beckett (2001-2005)
Beckett averaged nearly a quality start every outing in his last two seasons in Florida while rarely allowing home runs. After being shipped out of town in 2005, Beckett went on to post a 20-win season, throw a no-hitter, and win ALCS MVP award en route to his second World Series ring with Boston in 2007.
Mike Lowell (1999-2005)
Lowell was an excellent defensive player and a 3-time All-Star during his time with the Marlins. He was worth well above his 4-year, $32 million contract when he was traded to Boston in 2005. Like Beckett, Lowell went on to even greater success, winning the World Series MVP award in 2007.
Hanley Ramirez (2006-2011)
Ramirez is the guy they acquired for Beckett and Lowell, and he was very productive in his time with the Marlins: baseball-reference has him rated as the best player in franchise history. Yet the Marlins decided he wasn't worth the money either, so they shipped him to Los Angeles.
Dan Uggla (2006-2010)
Along with Ramirez, Uggla was the other part of the Marlins 30-HR infield tandem. But after averaging 30 home runs a season in his 5 years in Florida, the Marlins were out-big by the Braves for his services by a mere $3 million. He went on to hit 36 home runs for them the next season and make the NL All-Star team.
Anibal Sanchez (2006-2012)
After bursting onto the scene as a rookie by throwing a no-hitter, Sanchez was a productive pitcher for the Marlins. Once again, they didn't stick with Sanchez long enough because he went on to lead the American League in ERA after he was shipped to the Tigers.
---
The reason for numbing your minds with countless examples is to emphasize how much talent was given up on by this organization. What makes it even worse if you're a Marlins fan is that they could have kept most of these guys with just a little bit more of an investment. I'm not an expert on professional sporting contracts, but I do know that signing Miguel Cabrera to a 11 million/year contract would probably have been a smarter idea than signing Giancarlo Stanton, currently batting .194, to a $ 325 million deal over 13 years.
The decision making by the Marlins front office has been conducted with impatience, thoughtlessness, and a lack of faith in the talent of their players. So how do the Marlins improve their decision-making? Simple: trust the guys they put on the field. Dee Gordon let the league in hits last year. Although he took PEDs, the Marlins should invest in him because he is a talented player. Pay Jose Fernandez more than 2.8 million a year! He can throw 99 mph and he recently rattled off 8 straight wins, striking out double digits in 4 of them. Keep these franchise players, Miami, and you'll find yourself not as far back in the NL East as you normally have been.