There's been a lot of talk recently about the overwhelming challenge that Oakmont Country Club presents and how the best players in the world have reacted to the course in their preparations for the 116th United States Open Championship. Phil Mickelson, a 6-time U.S. Open runner-up has said that Oakmont is, "the hardest course we've every played". Jordan Spieth predicted that the winner would be over par. Well, I disagree.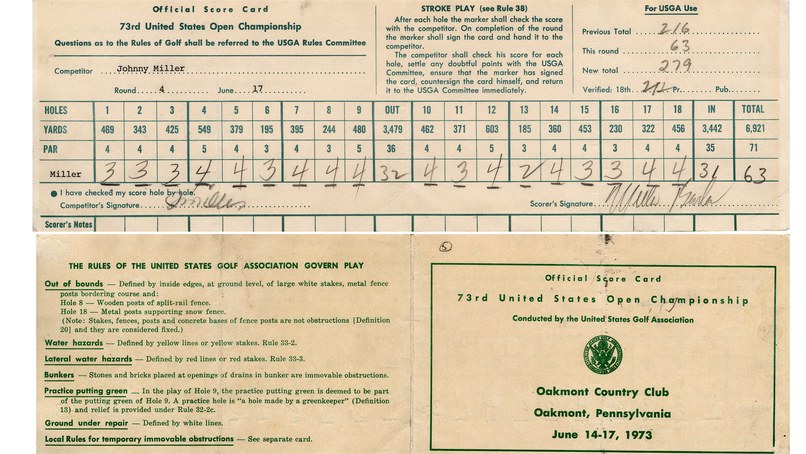 Johnny Miller's scorecard from his 8-under 83 at Oakmont in 1973
In 1973, Johnny Miller shot a 63 in his final round at Oakmont to win by 1 at a 5-under par total. In 1983, Larry Nelson won at 4-under, and Ernie Els took the trophy at 5-under in 1994. While the golf course, the equipment used by the players, strategies and preparations have evolved and increased over time, I have a problem with not believing that the best players in the world can adapt to change and subtlety. The results in 2007, however, suggest that Oakmont has become far more challenging and throws my statement completely out the door. This year, however, I firmly believe the winning score will be below 280 for four days.
The U.S. Open is open to pretty much any highly-skilled player on the planet. Any amateur with a relatively low handicap or professional player can attempt to qualify. 156 competitors are vying for the trophy this week. Not one of them will break par for four days, huh Jordan Spieth? I'm writing this as I hear that play has been suspended for the first day of competition (about 5:00 pm on Thursday), and sitting atop the leaderboard at 3-under is a professional named Andrew Landry who qualified via local and sectional qualifying. He's ranked 624th in the world. I'm a firm believer that someone… SOMEONE in that 156 player field will break par. Whether it's an unsung traveling professional, a fearless amateur like Aaron Wise or Charlie Danielson, defending Masters Champion Danny Willett, or World No. 1 Jason Day. Someone's gotta do it.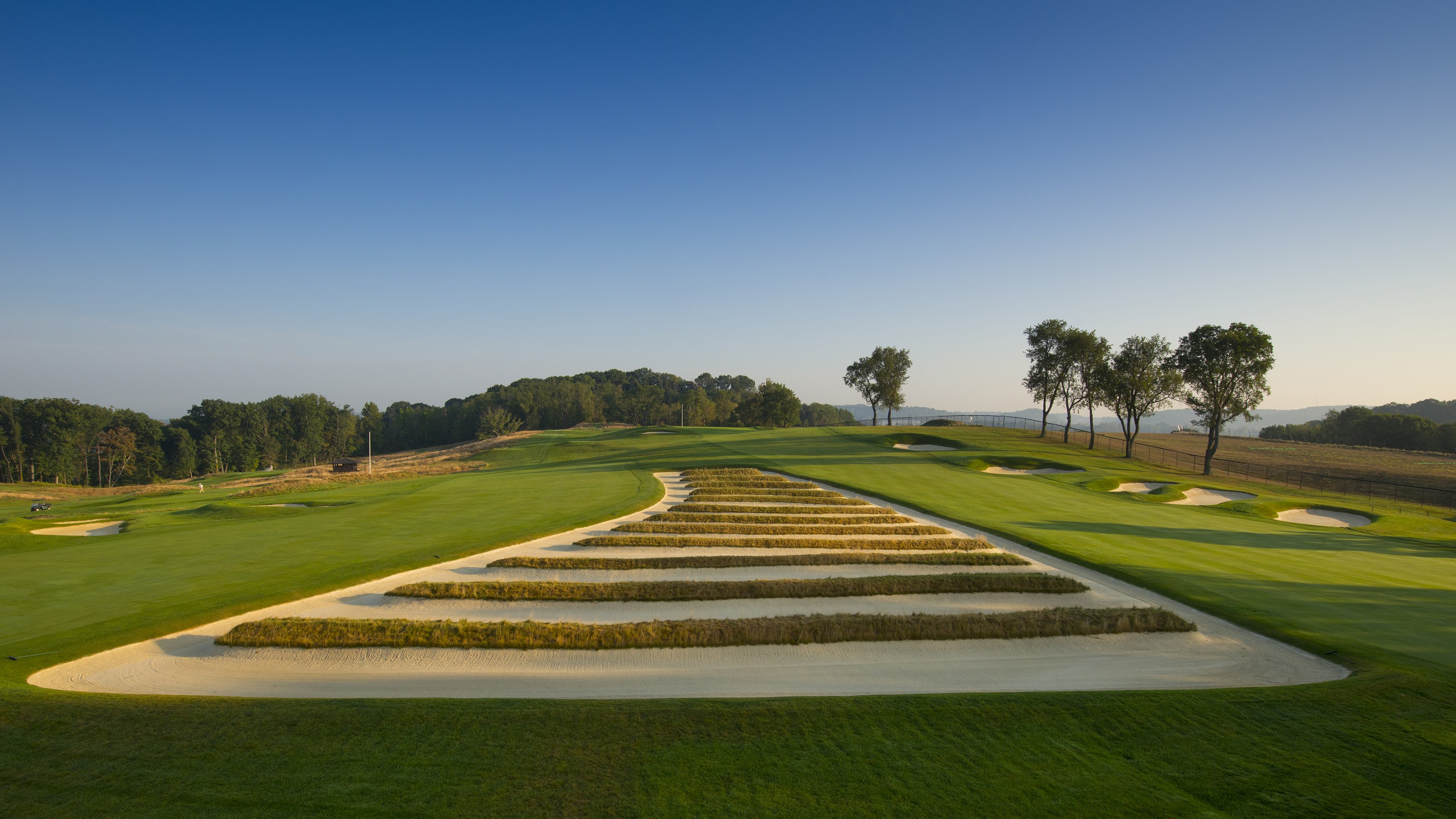 Oakmont's 3rd Hole | Par 4, 426 yards (3-wood, short iron or wedge for most players A.K.A. recipe for birdies)
The rough at Oakmont is supposedly extremely penalizing. Justin Thomas and Rickie Fowler both posted on social media videos of themselves dropping balls from no more than 4 feet from the ground into the rough, and the golf balls are nearly unseeable. That may suggest some issues with score, but let's also remember that the best players in the world hit fairways, especially on a pretty wide-open golf course where there is significantly less stress on driving the ball on your exact line. At Merion Golf Club in 2013, the golf course played under 7,000 yards, considered short for a U.S. Open, and Justin Rose won the tournament at 1-over par. The fairways at Merion did not allow for many misses, and Rose, a proficient driver of the golf ball, was able to win the tournament with his ball striking alone. Oakmont, only about 3,000 yards longer, and much shorter than Pinehurst, the site of the 2014 U.S. Open (won by Martin Kaymer at 9-under par, who shot 65-65 in the opening 2 rounds), is much more open and should succumb to long and accurate hitters like Dustin Johnson, Justin Rose, Rory McIlroy, Brooks Koepka, and Lee Westwood. Bogeys will undoubtably be made, but the birdies are out there for the consistent drivers and great wedge players.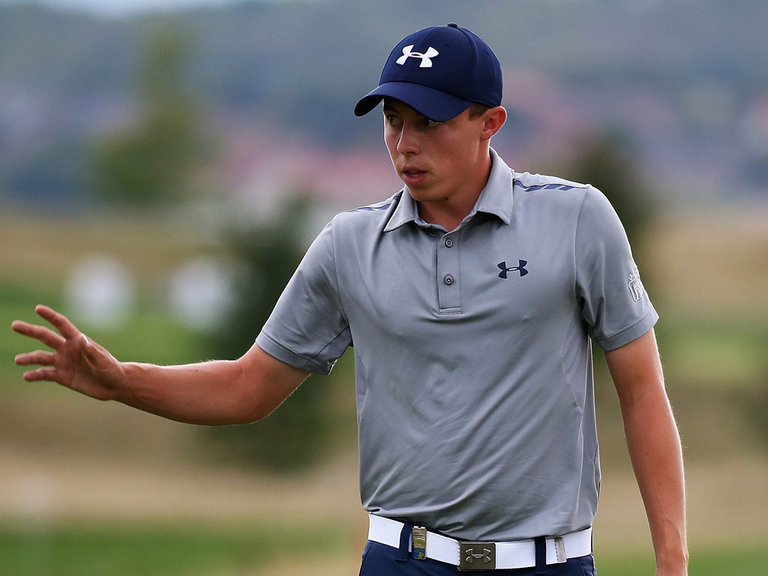 2013 U.S. Amateur Champion Matt Fitzpatrick shouldn't be slept on this week.
As I'm watching the highlights of this first round so far, I've looked through video highlights of at least 5 hole-outs. Matt Fitzpatrick jarred a bunker shot, a few iron shots were knocked in by Lee Westwood, Denny McCarthy and Shane Lowry, and a tough greenside chip went in courtesy of Danny Lee. I've seen plenty of putts of great length made as well on these extremely quick and firm greens already. Sure, these are only a few shots from the tens of thousands of shots that will be hit on the golf course this week. My point: There are birdies out there for those who prepared well and know how to deal with the greens.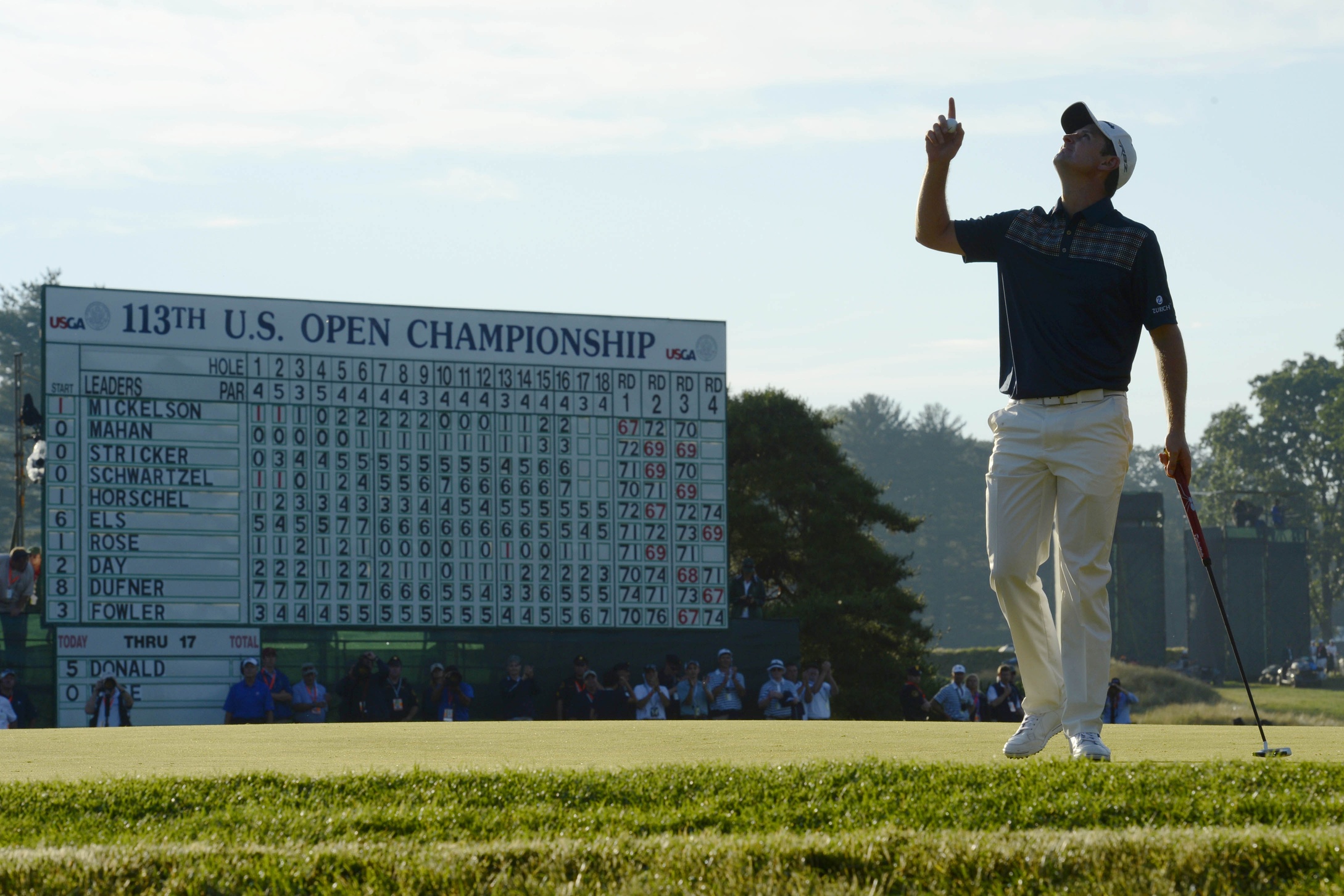 Justin Rose's already proven U.S. Open-quality golf game could carry him this week.
Last year's Open at Chambers Bay was hard for me to guess on; I predicted an over-par winner, and those predictions were quickly eliminated after two quick-fire 65's by Dustin Johnson and Henrik Stenson in the first round. The main concerns heading into last year's tournament were the greens and the undulations on the golf course. Sure enough, the pros found a way to score. At a windy Pebble Beach in 2000, Tiger Woods dominated the field and won by 15 strokes at 12-under par.
If Billy Horschel is confident to wear those pants, he must be confident in his golf game too.
"The professionals said so, though!",  you might be saying. Based on statistics, there is no reason for a great driver of the ball like Brooks Koepka to not have a great putting week. There is no reason for Billy Horschel, an incredible ball-striker who hit all 18 greens in the second round of the 2013 U.S. Open on his way to a 3-under 67, to not have a good week off the tee. There is no reason that Lee Westwood, consistently a threat in majors for the past decade, and a great iron player, to not have a miraculous short game this week and make some pivotal putts like he did earlier this year at Augusta. There is no reason a great wedge player like Zach Johnson can't hit a lot of fairways and make a bunch of putts (Like he did last year at St. Andrews *cough*). These professionals are better than you think. Golf is unpredictable, though.
I've thrown around a bunch of names here and I urge anyone picking favorites or betting on the leaders come Sunday (or Monday if we're lucky enough for a playoff) to choose a great driver of the ball with above-average putting statistics who has shown consistent iron play either this week, in majors, or this season. You're reading an article written by Lee Westwood's #1 fan, so I'm pulling for him or anyone of that description. We'll see who the USGA crowns after 72 holes of play. The quality of golf this year has been stunning and I expect no shortage of it this week.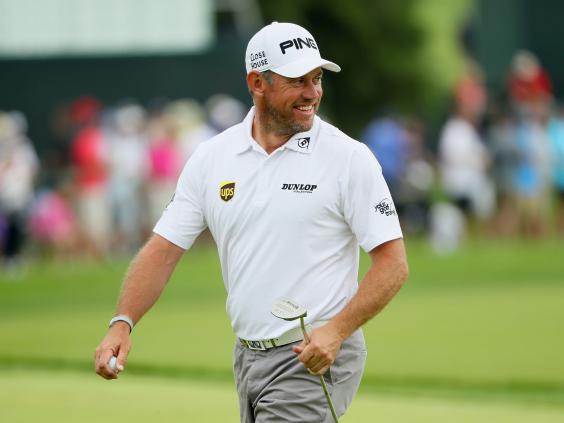 Hoping to see Westwood smiling with the trophy come Sunday.