Before I begin the bulk of this article, I'd like to introduce myself as a new member of the Check Down team. This being my first article, I'm excited to be analyzing and covering sporting phenomenon that I'm interested in, while also delving into topics that confuse but also intrigue me. I'm excited to see what the sporting world gives me and my writing. Now onto the good stuff.
Following a Game 4 incident with LeBron James, the league office of the NBA announced that Draymond Green has been given a flagrant foul, which results in a Game 5 suspension. Draymond Green has been notorious these playoffs for being involved with 'dirty' plays and committing some rather aggressive fouls. It became of great worry to the Warriors organization and Coach Steve Kerr that Draymond was too emotional out on the court, and that he needed to tone back and be extremely careful with his not-so-even keeled temper.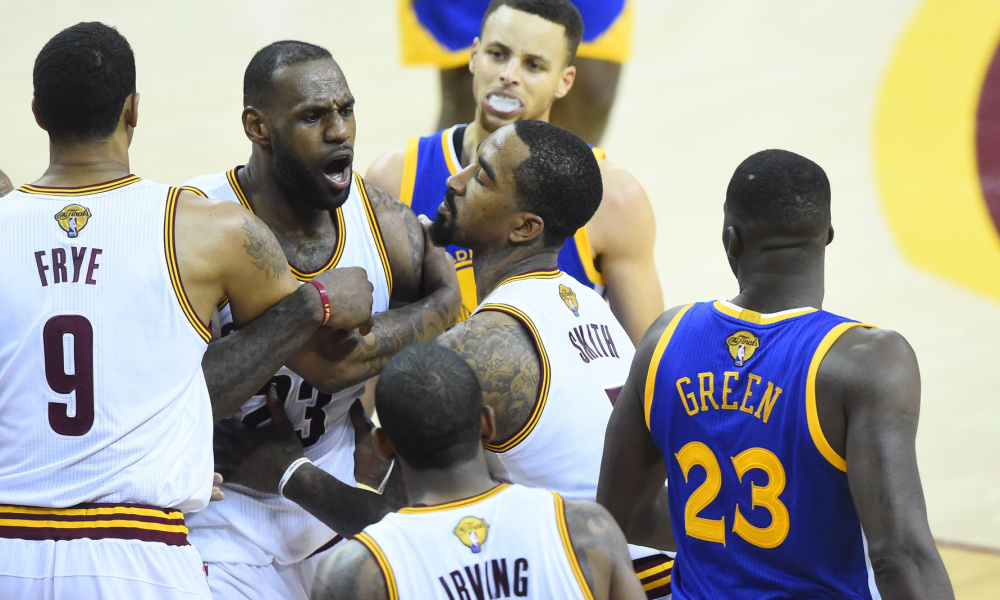 Draymond Green is at the centerpiece of almost every Warriors offensive formation. From starting as a perimeter forward with Andrew Bogut at the center position to playing center himself in a offensive scheme dubbed "small-ball" with Stephen Curry, Klay Thompson, Andre Iguodala, and Harrison Barnes. With all the Finals MVP talk still up in the air and very wide open, I would've said Draymond Green without a doubt after his dominant performance in Game 2. With these two extremely dominant offensive schemes and many others now compromised, the Warriors must default to a Green-less strategy. There are a few proven ways the Dubs can succeed in Game 5. If they do, my case for Draymond Green as the Finals MVP needs to go back to the drawing board.
1. Shaun Livingston and his Mid-Range Jumper
One of the biggest dark-horses on a Warriors bench full of said dark-horses, Shaun Livingston and his 12-18 foot jumper that he buries from outside the paint at a stunning 64.7% and from the baseline at an even better 65.2% (Stats found from shot charts at Vorped.com). Normally, Draymond Green or another player would drive to the basket and dish it back out to Livingston for a wide-open look. Now, the Warriors will have to move the ball better in order to get mismatches. If Livingston can manage to draw Kyrie Irving or Matthew Dellavedova, two guards whom Livingston has a significant height advantage over, the mid-range jumper may be a key part to a Game 5 win and a Championship.
2. Big Men on the Bench
Former No. 1 overall pick Andrew Bogut's current role in the NBA is to start for the Warriors and play about 18 minutes per game. He's 7 feet tall and sometimes reaches double-digits in points. He's paid more than Steph Curry. With a 3-point shooting Warriors team, his role becomes extremely insignificant. However, in a do-or-die situation for the Cavaliers, LeBron James will be looking to take over the game and perform frequent drives in the paint. My guess is that himself and other bigmen Festus Ezeli and Marreese Speights will get more playing time at Oracle Arena in Game 5. I would hope to see Speights get the most playing time; he plays solid defense and shoots 3's and a relatively high percentage for a center. This opens up every part of the floor for the Warriors to score on. With Speights on the floor, I envision an extremely hard-to-defend Dubs squad with the loudest home crowd in the NBA.
3. Allow Harrison Barnes the Opportunity for an MVP Performance
My next pick for Finals MVP after Draymond Green? Harrison Barnes. He is the only player on the Dubs who I have seen score on EVERY open look he's gotten. He consistently grabs boards (8 rebounds in both Game 3 & 4) and can shoot the lights out when he gets going. Most of Draymond Green's three-pointers have come from wide-open looks; I would like to see a small-ball Warrior's line-up with Harrison Barnes taking over Green's role and putting Shaun Livingston on the floor as the 5th man. Barnes will get his wide-open looks and also have opportunities to score in the paint, which he has also shown consistency and toughness in doing. I think if Harrison Barnes is the leading scorer outright, or right behind the Splash Brothers, he'll be the Finals MVP.