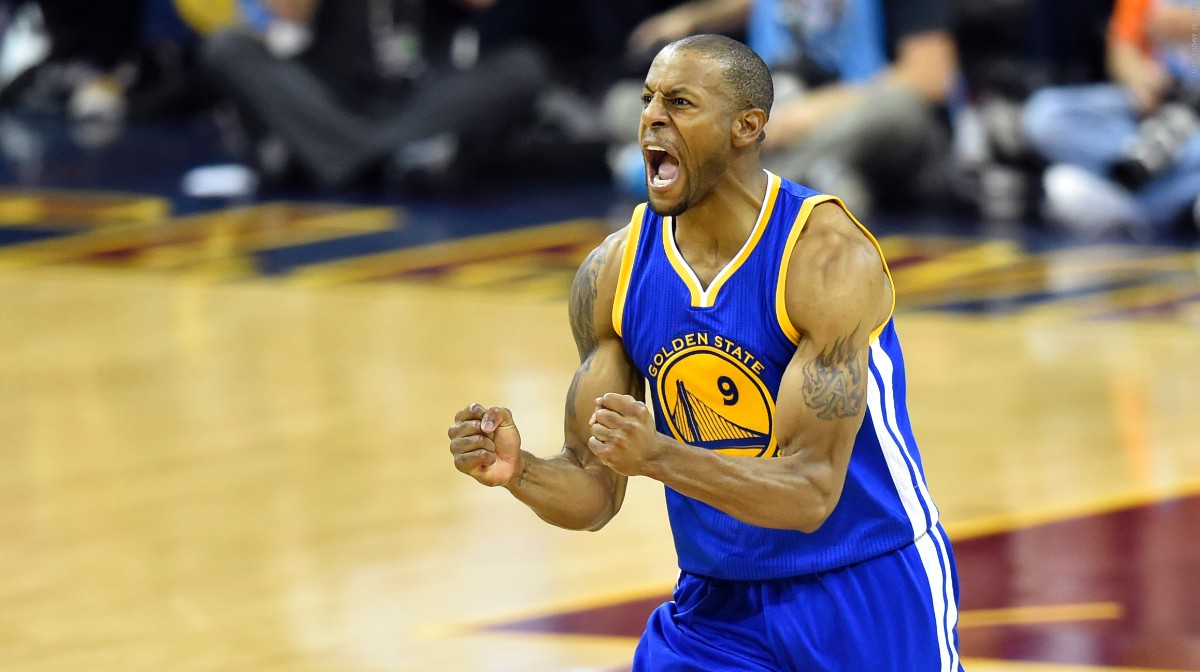 After an uncharacteristic 30-point loss in Game 3, the Golden State Warriors used a 12-1 fourth quarter run to take a 3-1 series lead over the Cleveland Cavaliers. And with that, this series is over.
The Cavaliers had their opportunities. Even though he tailed off in the fourth quarter, Kyrie Irving had another marvelous performance, pouring in 34 points on a very respectable 14-28 from the field. Moreover, Tristian Thompson, at times, was unstoppable underneath. It was these two players, with help from LeBron James, that propelled Cleveland to a five-point halftime lead. The Cavs managed to carry that momentum into the fourth quarter, but things went awry from there.
What went wrong for Cleveland in Game 4? Well, it certainly didn't help that they shot only 58% from the free-throw line and went cold shooting when it mattered most. But once again-and I'm sure I'm going to sound like a broken record-this game came down to three-point shooting. Though the Cavs had a higher field goal percentage than the Warriors, there was nothing Cleveland could do to slow down Golden States's long-range assault. As a team, they set an NBA Finals record with 17 made three-pointers, and yet what I found more impressive was the fact that they hit more three's than two's.
For the first time in this series, the Cavs let Stephen Curry and Klay Thompson find open space on the perimeter. Those two made them pay: they were both prolific and efficient- a deadly combination. Curry was 7-13 from three-point range and while Thompson was only 4-9 from downtown, he was a perfect 7-7 from the free-throw line. In addition to Curry and Thompson, I thought Harrison Barnes had the most crucial three's in the game. He got the Warriors going early with two three's in the opening minutes and then sparked their fourth quarter surge by hitting a three to put them up one for good and then another dagger to put them up nine a few minutes later.
Barnes' Game 4 performance was the latest in a string of key contributions from various Warriors role players. We know how much of an impact Andre Iguodala has had on the defensive end in every game and we all remember what Shaun Livingston and Leandro Barbosa (who, as an aside, didn't play last night- which I found odd) did in Games 1 &2. It's these contributions from the Warriors "other" guys that has been the key difference between these two squads. The only Cavaliers bench guy who has been even remotely effective is Richard Jefferson, yet even he fell back to Earth last night with a meager three points.
Even though Golden State outpaces Cleveland in terms of depth, the stars on both sides still must be held accountable. We know the Warriors stars stepped up in Game 4. But as for Cleveland, their superstar wasn't productive when it mattered most. Aside from a string of stat-padding buckets in the last minute of the game, LeBron James' fourth quarter performance last night was reminiscent of his disappearing acts in Game's 4 and 5 of the 2011 Finals against the Mavericks. In an eight minute stretch from the 10-minute mark to the 2-minute mark of the fourth, James was a mere 0-2 from the field. During this time, a two-point Cavs lead turned into an eight-point Warriors lead.
Yet the story coming out of last night's game was how LeBron doesn't get any calls. Can we please stop the nonsense? The referees let both teams play last night and it wasn't one-sided by any means. If anything, I'm shocked LeBron didn't receive a technical for stepping over Draymond Green.
Moreover, I wonder who receives blame for LeBron taking only two shots in the fourth quarter. Is it LeBron's fault? It can't be- it never is. But is it Tyronn Lue's fault? He's not going to be blamed because he's the chosen head coach by King James. I bet if David Blatt was still coaching, he would be taking the fall. With no one else to blame, I guess it's the referees who are at fault. I suppose it's just inconceivable that the Warriors are simply the better team.
Looking Ahead to Game 5
The Bay Area can start planning another parade. I noted in one of my recent articles the success of home teams with a chance to win a championship in the MLB, NBA, and NHL. It bodes well for the Warriors that NBA teams in these close-out situations at home have gone 19-2 since 1980. That's why I like Golden State to cap-off a historic regular season with their second consecutive title.
Yet there's plenty more to be interested in besides the outcome of Monday's game. In particular, I'm interested to see which Warriors player steps up to claim Finals MVP. Through four games, I really couldn't tell you who the MVP is now. There is recency bias with Curry, but he's really only had one great game. Guys like Klay Thompson, Draymond Green, and Shaun Livingston don't have enough of a body of work over the course of the series to make a great case for Final's MVP. I suppose that leaves Andre Iguodala as the leader going into Game 5. He leads the Warriors with a +54 plus/minus and even though he hasn't been a force on the offensive end, he deserves credit for containing LeBron James in this series.
As for Cleveland, I'm interested to see how their two stars perform. I'll start by talking about Kyrie Irving, who I think has had a terrific series aside from a clunker in Game 2. Without a doubt, Irving has solidified himself as one of the ten best players in the game. He simply has handles like no other and he's nearly as good of a scorer as other elite guards like Curry and Russell Westbrook. A strong performance in Game 5, even in a losing effort, will be a nice closing for him as he heads into next year.
Then, of course, there's LeBron James. Game 5 won't be an unfamiliar position for LeBron, who's faced elimination situations like these before. I'm not going to say that LeBron has quit in those moments; but in the past two seasons, it seemed to me that LeBron checked out in Game 5 against San Antonio in 2014 and in Game 6 last year against the Warriors. It seems like LeBron knows when he's beaten. After the loss in Game 4, I'm sure this thought has already crossed his mind.
Even though there are still many storylines to watch in Monday's Game 5, it is disappointing to know that it projects to be rather anti-climactic end to an otherwise terrific NBA season. But here's the good news: with another win, get ready to hear everyone in the sporting world's opinion on whether the Warriors are the greatest NBA team of all-time.