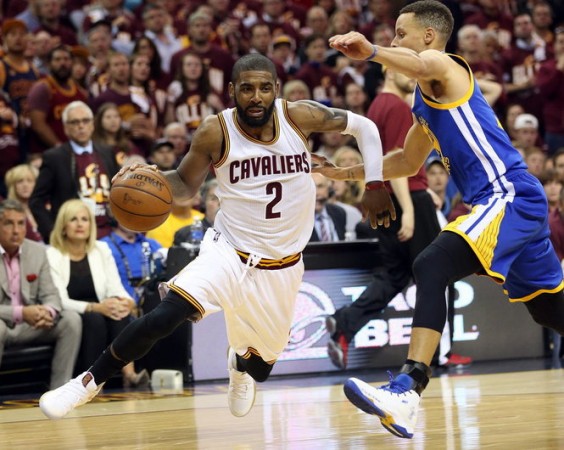 After two dismal showings in Golden State, the Cleveland Cavaliers bounced back in Game 3 with a resounding win. I can't say I was really surprised by this outcome even though I did think the Warriors were going to win Game 3 because I was very hesitant about that prediction. Yet if you told me the Cavaliers would win by thirty points, I would've said you're dreaming.
You could tell it was going to be Cleveland's night when they jumped out to a 9-0 lead. In my view, it all started with their defense. About halfway through the first quarter, the prolific Warriors only had four points! And in the first half, Stephen Curry was held to just one measly basket while Klay Thompson was held without a single point (granted, he did get injured late in the second quarter).
On the offensive end, the star for the Cavs was Kyrie Irving. He caught a lot of heat after their blowout loss in Game 2 for scoring only 10 points, so perhaps that explains how he came out with a 16-point first quarter in which he shot the lights out. Additionally, I'd be remiss if I didn't mention LeBron James, who had a rather "ordinary" 32 point, 11 rebound, and 6 assist performance, and J.R. Smith, who was a very efficient 5-10 from behind the arc.
However, you could make the argument that none of those three players were the key to Cleveland's victory. Maybe it was Kevin Love- or a lack there of. Now, I'm hardly the kind of person that jumps to conclusions after only one game…but Cleveland's success last night without Love is revealing. Without Love, Kyrie Irving and LeBron James combined to take 51 shots last night. In Games 1 & 2, Irving and James shot the ball a combined 43 and 31 times respectively. No Love equals more shots for Irving and James, and you have to think that makes the Cavs offense more dangerous.
I also wonder if the Cavs benefitted from not having Love on the floor from a defensive perspective. The Warriors were unstoppable offensively in Games 1 & 2, yet they couldn't get into any sort of rhythm last night; and we know Love is maligned for his defense. So taken together, the Cavs might be better off without Love on both ends of the floor.
It was a crucial change to the starting lineup that propelled the Warriors over the Cavaliers in last year's Finals when Andre Iguodala was inserted into the starting five before Game 4. Given how effective the Cavs were in Game 3 with Richard Jefferson starting at small forward and LeBron James at power forward, Tyronn Lue should not start Love even if his concussion symptoms subside before Game 4. Simply put, Lue shouldn't tinker with what went right in Game 3. Even though the Cavs are on the verge of stealing the momentum of the series with another victory, they are also one loss away from this series being just about over as well. There is no reason for Lue to have faith in the rotation he trotted out in Games 1 & 2 given the outcome of those games and he has no time to worry about whether Kevin Love's feelings will be hurt.
With that said, if Tyronn Lue were to start Love in Game 4, I don't think that will necessarily make much of a difference. Let's be rational: swapping Richard Jefferson for Kevin Love in the starting lineup isn't a huge deal. The real reasons why the Cavs were able to blow out Golden State were because they played with more intensity and assertiveness. Plus, it helped that Kyrie Irving got hot early and that LeBron James played like he is capable of. If the Cavaliers can replicate those elements in Game 4, they'll have a good chance to win no matter if Love starts.
Final point. I said it before this series and I'll say it again: this series comes down to three-point shooting, not whether or not Richard Jefferson or Kevin Love starts for the Cavs. The team with the higher three-point shooting percentage has won each of the last eleven meetings between these teams dating back to last year's Finals. And for that reason, I wouldn't be too worried about this series if I was a Warriors fan. Golden State has proven over the course of the regular season and in this year's Finals that they are the best shooting team. So even after this loss, there is no reason to think that Golden State will continue to shoot 27% from three-point range and there is still no reason to not like the Warriors to close this series out in six games.