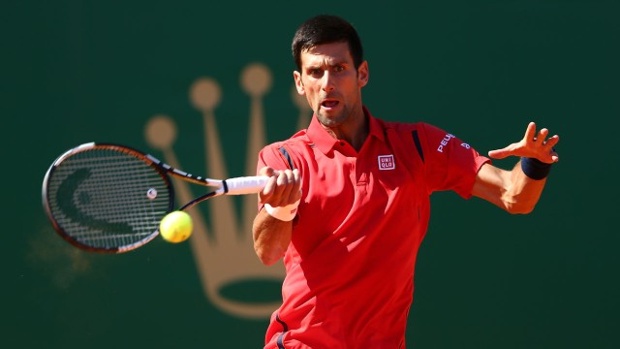 The stakes will be high for the number one tennis player in the world when he takes the court Sunday at Roland Garros. That's where Novak Djokovic will look to become the eighth man to capture a career Grand Slam. He'll take on Andy Murray, who is appearing in his first French Open Final.
Djokovic was the favorite entering the tournament and he is the favorite again Sunday. But this isn't surprising considering Novak has been atop the tennis world for quite a while now. He already surpassed Roger Federer and Rafael Nadal a year or two ago; but I suppose it helps Djokovic that these two icons are now in later stages of decline as well. Both players withdrew from this year's French Open- Federer with a back injury and Nadal, later, with a bad wrist.
Judging by how quickly the 30-year old Nadal and many other "older" tennis players have fallen in the past, people are speculating that the 29-year old Djokovic doesn't have many more prime years left. That's why this upcoming final is so crucial to his legacy. Yet to think that Novak will slow down any time soon is absurd. He's shown no signs of decline at all and he's regarded as one of the fittest players on tour. Plus, with all the nutrition and fitness knowledge these days that Djokovic supposedly adheres to, it looks like he might take a page out of Tom Brady's playbook and dominate into his mid-to-late thirties.
But I'm less interested in talking about how much longer Djokovic can remain the best player in tennis. Instead, I think he warrants attention right now as the most dominant athlete in sports today. As we know, a win Sunday would give him the career Grand Slam. It would also move him into fourth place all-time on the career Grand Slam list. Yet what's more indicative of Djokovic's recent success is how he has won half the majors played since 2011, winning nearly twice as many as Federer and Nadal combined. Moreover, he was a French Open upset away last year from completing the calendar-year Grand Slam. That hasn't been done in nearly fifty years in the men's game, and it's something Djokovic will likely have an opportunity to achieve again in 2016.
Djokovic embodies consistent excellence at the highest level. And while he is clearly the greatest tennis player in the world right now, there are few athletes who are the consensus best player in their particular sport. So if Novak Djokovic isn't the most dominant athlete in the world right now, then who is? I don't think there is a case to be made for any player being clearly superior in the NFL, NBA, MLB, or NHL (with all due respect to the following: Tom Brady, Aaron Rodgers, J.J. Watt, Stephen Curry, LeBron James, Clayton Kershaw, and possibly a few others). I suppose an interesting argument could be made for either Lionel Messi or Cristiano Ronaldo. After all, both have been dominant for quite a while in the world's premier sport. Yet if the two are vying for top player status amongst each other, isn't it impossible to declare that one of them is the clear-cut best footballer in the world?
I did, however, think of two notable athletes that have compelling cases in this debate. The first is Usain Bolt- the world's finest sprinter. He initially broke the world record in the 100 meter dash at the 2008 Olympics and he's hung on to the record since. No one's really come close to breaking it, either. The only thing that detracts from Bolt's case as the most dominant athlete in the world is that he really only races once, maybe twice a year. Djokovic, in contrast, played in 17 tournaments last year. I don't want to detract too much from Bolt's case as the world's best athlete because he definitely could be. But it's certainly harder to consistently be the best throughout a given year as opposed to one or two meets.
The other athlete in the same league as Djokovic in terms of dominance, ironically, comes from the same sport: Serena Williams. Like Djokovic, Williams was on the cusp of a calendar-year Grand Slam of her own recently. Even though she came up short, Williams is still unquestionably the queen of tennis.
However, the problem with Williams' case as the most dominant athlete is simple: on a historical level, Serena hasn't really played anyone that good. Djokovic, meanwhile, has dethroned two of the greatest tennis players of all-time in Roger Federer and Rafael Nadal. So, at least compared to Djokovic, Williams isn't quite as dominant.
Does Djokovic need to win the French Open for my argument to be validated? In my view, he doesn't have to. He still rolled to the finals and he'll still be the heavy favorite to win Wimbledon and the U.S. Open later this year. But I will concede that it would likely diminish his case for being the greatest athlete in the world in the views of others.
And that's why a French Open title could be so pivotal for him. The time has come for Djokovic to receive even greater recognition beyond the world of tennis. So while we know a victory will ascend him further into tennis lore, it should also open up a discussion for him being the world's premier athlete.