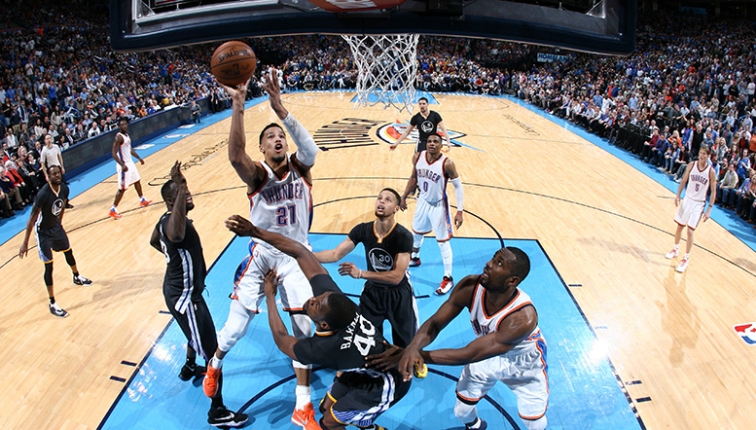 The biggest game of the NBA season is tonight, as the Golden State Warriors and Oklahoma City Thunder will square off in Game 7 of their Western Conference Final series. The winner tonight will move on to face the Cleveland Cavaliers in the NBA Finals.
Golden State is looking for its second consecutive appearance in the finals, while OKC is shooting for its first finals birth since 2012, and just their third since winning the 1979 NBA title as the Seattle SuperSonics.
If this series has been any indication, we can pretty much guarantee that tonight's matchup will be a close one. Here's what each team will have to accomplish to taste victory.
The Thunder will win if…
Steven Adams can stay out of foul trouble. Adams has been OKC's go-to guy on the glass, averaging almost nine rebounds a game during the series thus far. He has shown his capability to shoot off a rebound, but Adams particularly shines while kicking the ball out to three-point-land. If Billy Donovan can draw up plays that successfully get Durant, Westbrook, and Co. open from long range, it could be a long night for the Warriors.
Russell Westbrook and Kevin Durant can get hot at some point. They don't have to be on their game for all 48 minutes, but these two stars could benefit from a torrid shooting streak. When one of these two is having trouble hitting shots, the other can pick up the slack, but wins don't come easy in that scenario. Hopefully for OKC, Billy Donovan can take a page from Steve Kerr's book and set up numerous pick-and-rolls to get open looks for Nos. 0 and 35.
They can wear down the shot clock. The longer OKC takes to shoot, the longer each possession will be. It sounds awfully simplistic, but if the Thunder can keep the ball out of the hands of Steph and Klay, it could limit Golden State's offensive production long enough to preserve a win.
The Warriors will win if…
Andrew Bogut has his best rebounding game of the series. The Warriors haven't had a consistent rebounder this series, and it has hurt them a bit. Just imagine if the veteran Bogut could pull down ten or more boards tonight. Sure, it would provide much needed points in the paint for the Dubs, but it would also take a ton of pressure off the Splash Brothers (and after Klay Thompson's gargantuan performance in Game 6, you have to wonder how much he has left for Game 7.)
The bench can contribute. The starters have to be tired after an exhausting comeback in Game 6. We haven't seen overtime yet this series, but the postseason in general can be very draining. Expect guys like Andre Iguodala and Festus Ezeli to play increased minutes tonight, as the Warriors take pressure off their starting five.
Three-point-land is kind to them. Let's be honest, the Warriors bread-and-butter is finding open three-pointers as efficiently as possible. It's how they got here, and it's how they'll advance to the finals if they can be successful from deep. It's time for the Splash Brothers to make their biggest splash yet, in their biggest game of the season.