This article was originally published in the latest edition of The Morning Mando.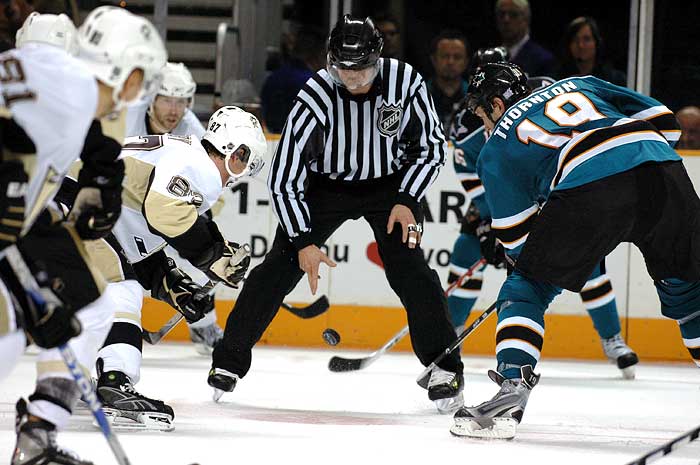 Once again, we have a Stanley Cup Finals matchup that practically no one saw coming. The Penguins being here isn't much of a surprise. After a slow start to the season, the Penguins turned things around after interim coach Mike Sullivan took over and they have thrived since. Even though the Tampa Bay Lightning gave them all they could handle, I'm sure many expected the Penguins to be here after ousting the top-seeded Washington Capitals.
The San Jose Sharks are a more interesting case. I've always thought of the Sharks as the Georgetown Hoyas of the NHL. They'll have great regular seasons and end up with a fairly high seed in the playoffs; and then, just when you expect them to make a deep run, they'll falter to an eight-seed or blow a 3-0 series lead.
But this is a different Sharks team. Many expected the Los Angeles Kings to defeat them in Round One; yet the Sharks won that series with relative ease, setting the tone for what was to come. They then took down the Nashville Predators in seven games and dispatched a very good St. Louis Blues team in six, notching two impressive three-goal road victories in the process.
Pittsburgh may have the big names, but San Jose can play. So while I organize my thoughts as to how this series will play out over the weekend, here are the top four storylines you should be watching for when the Cup Finals begins on Monday night.
Long-Awaited Cup Appearances from Both Teams 

Sure, San Jose has waited twenty-five years to appear in it's first Cup Final, which is tremendous because the energy in San Jose's SAP Center should be turned up to eleven. But Pittsburgh, meanwhile, has had a rather long wait of their own to get back on this stage. After beating Detroit in the 2009 Stanley Cup Finals, Sidney Crosby and the Penguins were assumed to be the next NHL dynasty. That didn't materialize. Injuries to Crosby and Evengi Malkin coupled with a shocking playoff loss to the Montreal Canadians in 2010 derailed the first few years after their Cup win. Then the Penguins hit a bit of a snag when coaching changes and disappointing first-round exits had Pittsburgh fans wondering what went wrong. Now the Penguins are back and as loaded as ever. I sometimes knock the NHL because it lacks intriguing storylines with many of its big-name players, but with Crosby and Malkin in this series, that is certainly not the case.

If You Like Goal-Scoring, This Series Will Satisfy You 

Giddy up, hockey fans: the two most prolific teams in this year's playoffs are squaring off. San Jose and Pittsburgh rank first and second respectively in goals this postseason, which should make for a highly-entertaining Final. That isn't some new trend either- the Sharks and Penguins were both in the top five in goal scoring in the regular season too. Better yet, these teams are even more impressive on the power play. San Jose, in particular, has one of the league's best special teams units. Surprisingly, their's is much better statistically than Pittsburgh's, which is shocking considering they have what I believe is the deadliest unit  in hockey with Crosby, Malkin, Kris Letang, and Phil Kessel all bearing down on opposing goalies.

Controversy in Net for the Penguins?

Matt Murray started and won Pittsburgh's final two games against Tampa Bay to clinch the series. Yet former starter Marc-Andre Fleury is back from a concussion. Might this spell trouble for the Penguins? I noted how before Game 6 between San Jose and St. Louis, I was skeptical of the Blues' chances considering they were making another goalie change. At this point in the season, the teams that win the Stanley Cup are set as to who their starting goalie is. Considering San Jose is firmly behind Martin Jones, I wonder if Pittsburgh will make any changes in net if Murray, the presumed starter for Game 1, has a bad game early in the series.

Many Big Names Looking for First Cup

And I'll end this article by talking about some of the marquee players in search of their first Cup. This is something I love about the NHL. More than any other sport, it pays special attention to the veterans who have worked their whole careers to hoist the world's most iconic trophy. While some members of the Penguins, namely Phil Kessel, will be in search of their first cup, the three most notable veterans in this series all play for the Sharks. San Jose center Patrick Marleau was the Sharks' second overall pick back in 1997, and has been their longest tenured player in their history. This will be his first shot at the Cup. In that same draft, Joe Thornton was picked first overall by the Boston Bruins and then was shipped to San Jose in 2005. He has been a Shark since, and after seventeen years in the NHL, Thornton will suit up in the Cup Finals for the very first time. Lastly, there's Joe Pavelski, another long-time Shark who joined the team in 2005 and has endured many disappointing playoff exits with Marleau, Thornton, and other Sharks such as Brent Burns and Logan Couture. On Monday night, he and the rest of the Sharks will begin their quest to bring home their first Stanley Cup title in franchise history.