This article was originally published in the latest edition of The Morning Mando.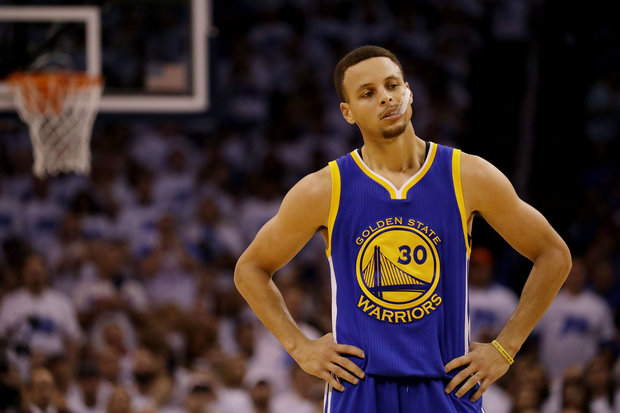 After another resounding win in Game 4, the Oklahoma City Thunder officially have the Golden State Warriors on the brink of elimination. I wanted to say that after their Game 3 win because I was confident the Thunder would take care of business again at home, but I held off because I didn't want to jinx them. I also didn't want to discredit the 73-win Warriors because whenever they have been doubted before, they have proved everyone horribly wrong.
My main observation from last night was the performance of MVP Stephen Curry. He was awful last night, shooting 6-20 from the field and 2-10 from three-point range to go along with 6 turnovers. But those stats, in my view, mask how bad Curry truly was. He looked timid at times, passing up shots he would normally take. He also looked lazy, as evidenced by his 6 careless turnovers, and he looked unfocused, as evidenced by his handful of missed layups. I've heard rumblings that Curry may not be fully healthy. While I'm not doubting that he may not be 100 percent, no one was saying Curry was injured after he erupted in Game 2, so I think the likeliest explanation is that Curry is being completely outplayed by Russell Westbrook and Kevin Durant.
This brings me to how Curry was voted the first ever unanimous MVP. I want to approach this topic carefully because Curry definitely deserved to be the MVP of the regular season. But based on how much better Westbrook and Durant have played than Curry as well as how strong LeBron James has played this postseason (for the most part), I think it's clear that Stephen Curry is not the best player in basketball. I think an argument could be made for Curry as the best regular season player because, generally speaking, the defense in the regular season is not as tight as it is in the playoffs. This is what allows Curry to get free and make a whole bunch of three-pointers.
But in the playoffs, when the intensity ramps up, we have seen that not only has Curry been far less effective, but I'd argue that his playoff struggles could be traced back to last year as well. I had previously discredited those who said the Warriors championship run last year was lucky in the sense that they avoided the three heavyweights in the Western Conference- the Spurs, Clippers, and the Thunder, who were without Kevin Durant for most of last year. But now I am starting to give those Warriors naysayers validity. The reality is that, while Curry was terrific against the likes of Houston and Memphis, those teams, as evidenced by their lack of success this year, aren't very good. Moreover, they also avoided a healthy Cavaliers team in the NBA Finals, and I'm sure we all remember how LeBron James took over the first half of that series by himself and how Matthew Dellavedova (Matthew Dellavedova!) gave Curry fits. In essence, the Warriors lucked out by not having to face the toughest teams in the NBA on their way to their first title, which inflated our perception of Curry as the best player in basketball prematurely.
The point is this: since I believe Stephen Curry has not been great when it matters most, he can't be regarded as the best player in basketball. Is he in the top five? Absolutely. Even having him in the top three is acceptable. But I think it's clear that based on what we have seen in this series so far, I'm taking Durant, James, and probably Westbrook as well over the unanimous MVP.