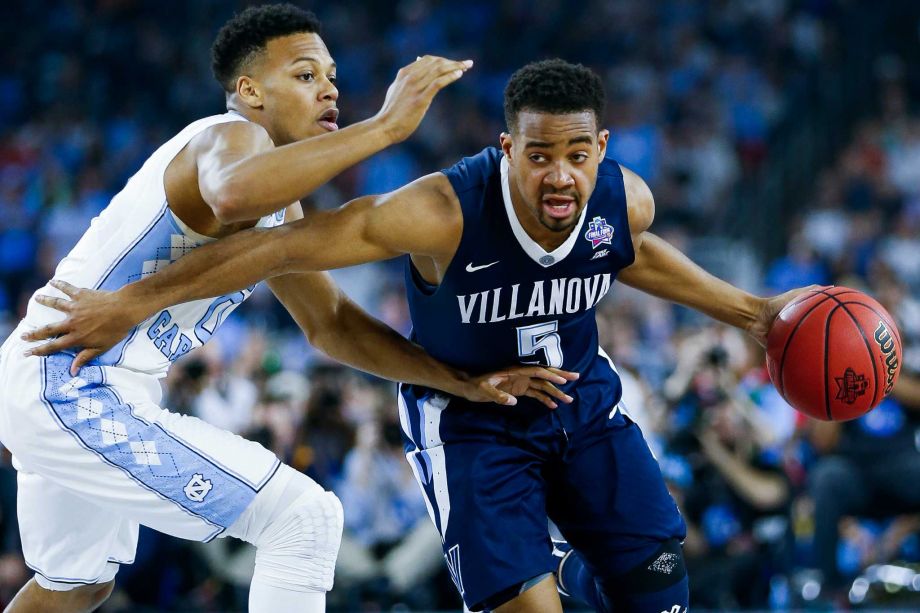 Although Villanova's Phil Booth came off the bench throughout the tournament, you wouldn't have known it if you were tuning into the team for the first time. Booth dropped 20 points, leading the team to their first national championship win since 1985. Booth hit clutch bucket after clutch bucket, including a buzzer beater at the end of the first half which would have been the highlight of the game had Kris Jenkins not hit the most momentous shot in history to conclude the contest. Booth shot the ball with confidence, drove strong to the rim, and made the Tar Heels pay each time he got a touch. He was the unsung hero for the Wildcats, and we were lucky enough to sit down with him and ask him some questions.
Tell us something that not everybody knows about you.
Phil: I love to watch movies in my spare time. I always watch all types of movies. That's one thing I'm really into.
What do you think Villanova's success means for the new BIG EAST?
Phil: I think it's really good, it gives the BIG EAST some more exposure and people will pay attention and watch more games. I think we created momentum for the league, and maybe it will attract more players from all over, get bigger crowds and play for a bigger audience.
Do you think the national championship will lure more blue chip recruits to the main line?
Phil: It might. I don't know if the coaches will change their recruiting style, that's not really my area, but I'd have to think guys would be more interested when they see the team winning, especially a national championship. So I think more guys will show interest but I don't know if the recruiting style will be changed up, I doubt it.
Who wins in a street fight, LeBron James or Floyd Mayweather?
Phil: I'm going with Floyd. He's a professional so I think I'll go with Floyd on that one. I think LeBron could make it close but I'm still going with Floyd.
Describe the 30 seconds after Kris Jenkins drilled "The Shot"
Phil: It's all a real blur for me, just so much excitement, we couldn't believe that he made that shot for us to win the game. Just unbelievable, that shot was just the way we wanted it. It was crazy, just amazing, everybody running around, yelling and screaming. We didn't know what to say. Just one big blur, really.
Jay Wright built a program around 4 year players, how do you think this culture impacted the team's success in the tournament.
Phil: Yeah, we had veteran guys. We had 2 seniors and 2 juniors in the starting lineup so we were a very old and very experienced team. We had guys who had been through a lot. Obviously we know the system very well that we play in. It creates great team chemistry. Guys know each other, where they're going to be, and it helps us play better together when we have that trust and time spent in practice together. So I think it made for more team chemistry and coach gets more trust in people too after all the years in the system, so it works out for everybody.
With the media fixated on premature departures from the tournament in earlier seasons, was there a sense of relief after moving past the first weekend?
Phil: I mean I've only been there for two years so that whole first weekend thing I hear about a lot but I don't have any experience with it besides my freshman year. So, it might be different for guys that were older than me but we were just taking it one game at a time, we weren't worried about that. It's something we would hear about but we just took it game by game, got past the first weekend and then just focused on Miami.
How do you think the team will replace Daniel Ochefu and Ryan Arcidiacono going into next season?
Phil: They're going to be tough to replace, they were two great leaders. We got guys now who are going to be seniors this upcoming year so I feel that they can fill this role, you know, they've been around for 3 years. But replacing Arch and DO is definitely going to be a tough challenge because they were guys that brought so much to the team and the program but I think we have guys stepping up who are ready to mature and fill that void for next season.
What songs would we find on Phil Booth's pregame playlist?
Phil: You'll find a lot of Future songs on there, anything that gets me hyped. Future is on there a lot. Also got some Young Thug, maybe a little 2 Chainz, maybe a little Drake here and there. Anything to get me pumped up.
What other sports did you play growing up?
Phil: I played football. I played my whole life through middle school. That was my thing, I played quarterback, that was one of my favorite sports. I mean so was basketball, but I was really into football. I played baseball for a time too.
After coming off the bench for Villanova, describe what it was like to step up and fill such an integral role on college basketball's biggest stage, a game which many are calling the best ever played.
Phil: In that game, they were so focused on Arch, Josh, Kris and DO, that it left me open a little bit and guys were able to find me. I happened to be open a lot on plays and I was able to make some shots and keep the defense honest. Coach told me they were going to focus on the other guys so if they leave you open, you have to make plays. So I took whatever the defense gave me and they gave me some good opportunities and I was able to make plays in that game.