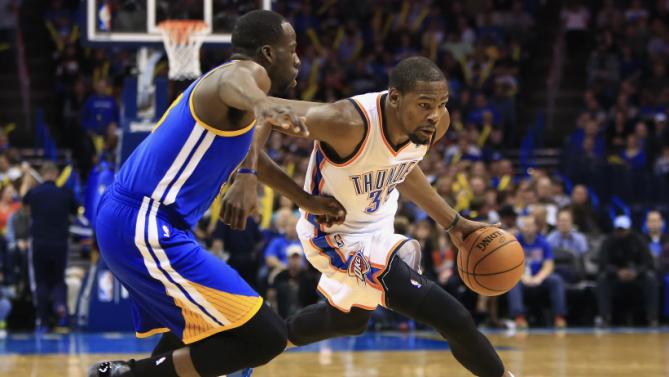 *Record 8-7*
I've been real streaky with my predictions thus far. I go on a little win streak, then I go on a little losing streak. But hey, that's life. So, in an effort to stay above .500, here is what I think will happen tonight as the Golden State Warriors travel to Oklahoma City, with the series tied up at one a piece.
Golden State Warriors @ Oklahoma City Thunder
The Warriors rebounded after its Game 1 loss to defeat the Thunder handily in Game 2, by a score of 118-91. After going 9-22 with 26 points in Game 1, Curry increased his efficiency and went 9-15 for 28 points in Game 2. However, the main storyline for the Warriors in Game 2 was the production from their bench. In Game 1, the Warriors had no bench players in double figures, but in Game 2, Speights, Iguodala, and Ezeli all provided double digit scoring. What made the Warriors one of the most dangerous teams in the league was their ability to have constant production even while resting their starters. As for Oklahoma City, they were out-rebounded by the Warriors 45-36 in Game 2. They allowed the Warriors to collect 15 offensive rebounds to their 7. That's 8 more chances for the most prolific offense in the league. The Thunder were a top rebounding team all year so I expect them to even out the rebounding total for what should be a very competitive Game 3. These two teams are so evenly matched, but I can't bet against a hot Steph Curry, even on the road. I'll be taking the Warriors tonight on the money line in what should be a very entertaining Game 3.
Prediction: Golden State Warriors (-155)