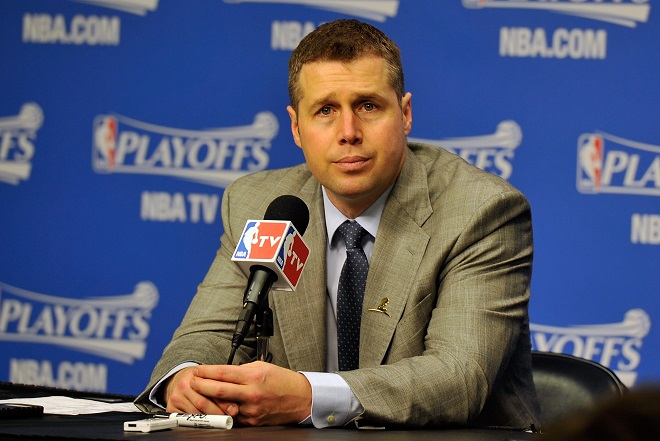 The Indiana Pacers decision to let Frank Vogel walk may have been questionable, but when I first heard of the Memphis Grizzlies choice to fire head coach Dave Joerger, I thought it was deplorable. However, apparently Joerger was trying to work his way out of Memphis, which makes it understandable for Memphis's front office to be ticked off. With that said, this development will set the Grizzlies franchise back and here are four reasons why.
1. Joerger was successful
Joerger amassed a 148-99 record in his three seasons in Memphis, taking them to the playoffs each year. He and the Grizzlies made some noise in the playoffs when they were there, too. In year one, Joerger and the Grizzlies battled Kevin Durant and Russell Westbrook in a hard-fought seven game first round series. Last year, the Grizzlies had Golden State on their heels in the conference semifinals before the Warriors rallied to win. Considering that Joerger can't control the fact that Memphis lacks the star power of other teams in the West, I think he took the Grizzlies as far as reasonably possible.
2. The Grizzlies were easily the most injury-ravaged team this year
The Grizzlies broke an NBA record by having 28 players log at least a minute of regular season action this year. The fact that Memphis even made the playoffs without Marc Gasol, Mike Conley, Zach Randolph and others for large portions of the year is impressive. Heck, the Grizzlies were stuck with Jordan Farmar, who was running point in the Israeli league at the start of the season, as their point guard in the playoffs. Considering all of this, Memphis should have recognized the job Joerger did and tried to reconcile.
3. This is the second coach in a row the Grizzlies have let go prematurely
Before hiring Dave Joerger, the Grizzlies let go of Lionel Hollins even though Memphis was coming off a conference finals appearance. What does it say about their organization that they don't have any commitment to their head coaches, even when they are successful? Now that they fired Joerger after only three seasons, I don't see how Memphis is able to attract another high-quality head coach.
4. Continuity wins in sports, which is something that Memphis lacks
Did it ever occur to not only Memphis, but other sports franchises like the Cleveland Browns who constantly change coaches, that continuity is vital to success? Look at some of the more successful franchises in sports, like the San Antonio Spurs, New England Patriots, and Pittsburgh Steelers. Their coaches and front office personnel all have long tenures in the organization. Alternatively, teams like the Browns, the Washington Redskins, and the New York Knicks are always overhauling their management.
It is naive to not believe that there is some sort of positive relationship between continuity in management and success. Certainly there are other factors that explain why coaches like Gregg Poppovich have hung around for decades and I'm not saying coaches should have long leashes even when they don't perform well. I also acknowledge the argument that you have to win in order to remain the coach; you can't necessarily remain the coach and expect to win.
But Dave Joerger has won and he has been successful, particularly given the personnel he had to work with. And while I expect him to land on his feet in the coming weeks, Memphis's decision to disrupt their continuity by letting go of another quality coach-even if they feel it was justified-will set their franchise back at least for the next few seasons, possibly even longer.