With the Finals over, it's time to re-rank the top players in the NBA, as I did last June. In essence, picture these rankings as a draft of the top players I'd take first to compete for a title next year–and only next year. So this isn't one of those "who do you build around" lists, because if that were the case, you'd see someone like, say, Andrew Wiggins even though he clearly isn't yet a Top 15 player. And in a similar vein, I did my best to not factor career accomplishments into the equation, either. Instead, stats and judgements I've made based on what I've seen over the previous season serve as the basis of my ranking decisions.
15 Klay Thompson, SG Golden State
On one hand, Thompson is lucky to crack my top 15. After all, he ranked a mere 74th in Player Efficiency Rating (PER) this past season. But that's deceptive because Thompson surely had to adjust his role once the Warriors added Kevin Durant. So consider this: Thompson, now Golden State's third scoring option, still averaged over 20 points per game (22.3, to be exact, which was also a career-high) for the third straight season. Compare that to James Harden during his Oklahoma City years, who's season-high in scoring was 16.8 playing behind Durant and Westbrook.
Why am I bringing up Harden? Because when he finally had his own show in Houston, he became one of the most prolific players in the NBA. If put in a similar situation, Thompson clearly is capable of similar things, especially given his shooting ability. Combine that with great on-ball defense, and Thompson slides in just ahead of Karl-Anthony Towns and Mike Conley at #15.
14 Jimmy Butler, SF Chicago
Butler finished 14th in PER this season, and he comes in at #14 here. The 27-year-old seems to be entering the prime of his career, too. He's coming off a year in which he set career-highs in points, rebounds, and assists. And even though his Bulls struggled this past season, he was clearly their most indispensable player, as their offensive rating differential with him on the court was an impressive 11.1 points. He's not in that elite class of small forwards along with LeBron and Durant, but he's not too far off, either.
13 Isaiah Thomas, PG Boston
Full disclosure: the reason I didn't do a more conventional Top 10 list was solely so I could include my favorite player on my favorite team. Objectively, Thomas isn't quite an elite player, and the whole "you can only go so far if your best player is 5'9″" argument is valid. Nonetheless, he still finished 7th in PER last season and ranked third among point guards in offensive real plus-minus, behind only Steph Curry and Russell Westbrook (real plus-mins explained here). Yeah, but he's a liability defensively.  Sure, but there are also only a select few players who can average 28.9 per game as I.T. did last year (3rd in the NBA). And though he may not ever lead a team to a title, he still took the Celtics to the Conference Finals. That's more than enough to land him on this list.
12 John Wall, PG Washington
I wrestled over deciding whether to rank Wall ahead of Thomas for quite a while. Isaiah, after all, holds an edge over Wall in terms of scoring, as he averaged far more points per game and posted a higher true shooting percentage. Overall, though, Wall is slightly  better. He's a superior passer, as 29.5% of Wall's possessions ended in an assist compared to only 18.5% for Thomas. He's more effective on the glass, which makes sense because he's taller. And even though Wall isn't known for his defense, he's certainly better than Thomas, who Brad Stevens often has to hide on the other end of the court.
At 26 years-old, Wall's best years appear to be right in front of him. And after a season in which he set numerous career-highs, made his fourth straight All-Star game, and  had the Wizards on the cusp of the Conference Finals, Wall is poised to keep rising the ranks of the game's elite.
11 Giannis Antetokounmpo, ?? Milwaukee
I put question marks for Antetokounmpo's position, because he is a forward? Or does he bring the ball up enough for Milwaukee to qualify as a point guard? Either way, his versatility has already made him one of the most dominant players in the NBA.
It's no surprise, given his 7'0″ wing-span, that he's an above-average defender. But on the offensive end, the 22-year-old wasn't supposed to be this good, this quickly. He averaged close to 23 points per game last season, and even showed improvement from the three-point line. In short, there's nothing this guy can't do. However, the one thing I question with the Greek Freek right now is his value: Milwaukee's point differential with Antetokounmpo on the floor as opposed to off it was just 1.3 points. So he may not be quite as impactful as people think. Nonetheless, even when you consider that he's only 22-years-old, his numbers are damn good and his versatility is unbelievable. He's likely a Top 10 player by this time next year.
10 Paul George, SF Indiana
There are many similarities between George and the aforementioned Butler. But the 6'9″ George gets the nod. Even in what was a fairly erratic year for the Indiana star (he averaged just 17.8 points per game in February), he still had better numbers on a 36-minute basis than Butler. And as mentioned with Butler, it appears George is settling into his prime, too. He just set a career-high in points per game (23.7) and, most notably, shattered his career-best for field goal percentage (.461). After leading the Pacers to back-to-back trips to the Eastern Finals a few years ago, George will play a pivotal role for another contender, whether it's the Pacers, the Cavs, or even the Lakers.
9 Chris Paul, PG Los Angeles
As mentioned in my previous article, Paul takes a lot of heat because his Clippers continue to underachieve. Sure, Paul has to take some responsibility, but you can't blame  the nine-time All-Star for their woes, particularly since he has continued to put up stellar numbers in the postseason (25.3 PPG, 9.9 APG in LA's quarterfinal loss to Utah) and especially  since various injuries to both Paul and Blake Griffin have decimated the Clippers at the worst possible moments.
Plus, what's often unrecognized is how Paul has arguably remained the best all-around point guard in basketball. This past season, he finished first in defensive real plus-minus among point guards, while ranking fourth offensively in the same category. Even in an era when an elite point guard is expected to be less of a floor-general and more of a dynamic scorer, Paul, who exemplifies what it means to be a "classic point-guard," remains one of the ten best players in the game.

8 Anthony Davis, PF New Orleans
Similar to Paul, the highly-touted Davis must also take some responsibility as the leader of a sub .500 club. After all, the Pelicans have yet to win a playoff game during the former number one pick's tenure. But looking strictly at Davis' numbers, he posts the kind of stats that would allow Robin to have a field day saying, "Holy Unibrow!" At just 24 years-old, he averaged 28 and 12 and finished 4th in the NBA in PER. On top of that, he measured as the sixth most impactful defensive player in the league last season, according to Real Plus-Minus. What else can you ask for? And with more elite seasons on the horizon, it's not a stretch to say that Davis might one day be the best player in basketball.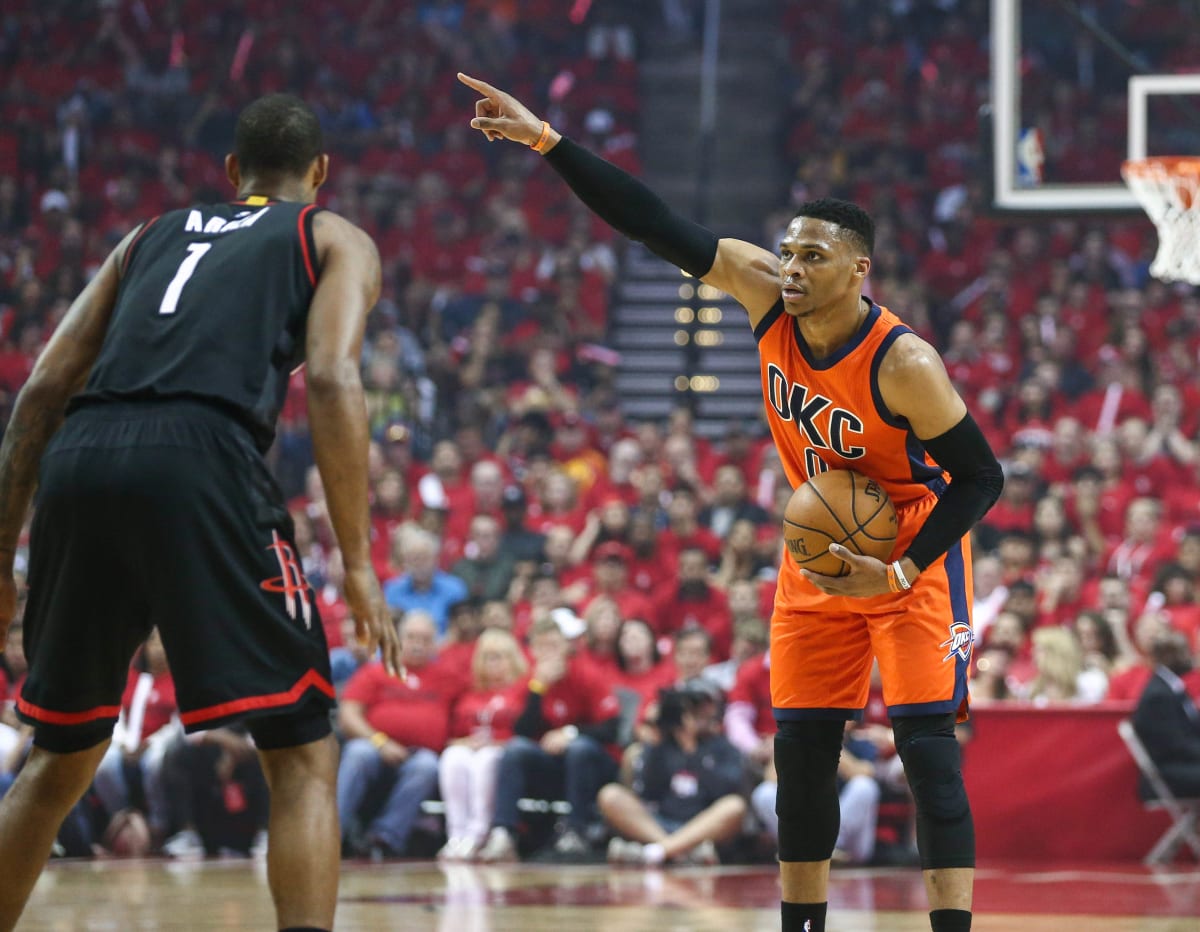 7 Russell Westbrook, PG Oklahoma City
Right here is arguably my most controversial decision. I have this year's likely MVP ranked 7th. Let me explain why. First, it's obvious that Westbrook's aggregate numbers are phenomenal: 31.6 PPG, 10.4 APG, 10.7 RPG; and let's not forget that he finished 2nd in the NBA in steals per game, too.
The problem, though, is that these numbers are deceptive. In the postseason, for instance, Westbrook registered a playoff-high 37.4 points. However, he averaged  eight more shots per game than the player who averaged the second most shots, Damian Lillard. Granted, Westbrook's playoff sample was small (only 5 games). Yet the same pattern existed in the regular season, in which Westbrook also had a sizable lead in shots per game. Most notably, however, was how Westbrook's Usage Rage (USG), which measures the percentage of possessions in which a player has the ball, was easily  the league's highest. In fact, Isaiah Thomas, who finished 2nd in USG, was closer to 24th ranked Jordan Clarkson than he was to Westbrook.
Simply put, Westbrook's stats looked great because he dominated the ball like no other player in the NBA. But there's a second reason why I have him ranked behind a few other elite guards: he's not efficient. The most revealing stat, without question, is how Westbrook ranked just 20th in True Shooting%, which accounts for three-point and free throw shooting, among point guards. That put him significantly  behind many of his All-Star peers, including Isaiah Thomas, Steph Curry, Kyle Lowry, Chris Paul, Mike Conley, and Damian Lillard. In theory, if all these other players shot as much as Westbrook, they would've averaged more points than he did.
Short story long, Westbrook is a terrific player, but his greatness has been skewed by how much control he exerts (rather unsuccessfully, as evidenced by the Thunder's quick playoff exit) over the Oklahoma City offense. Plus, to be in that upper class of the NBA's elite, you have to be more efficient.
Also, no, I don't think he deserves MVP.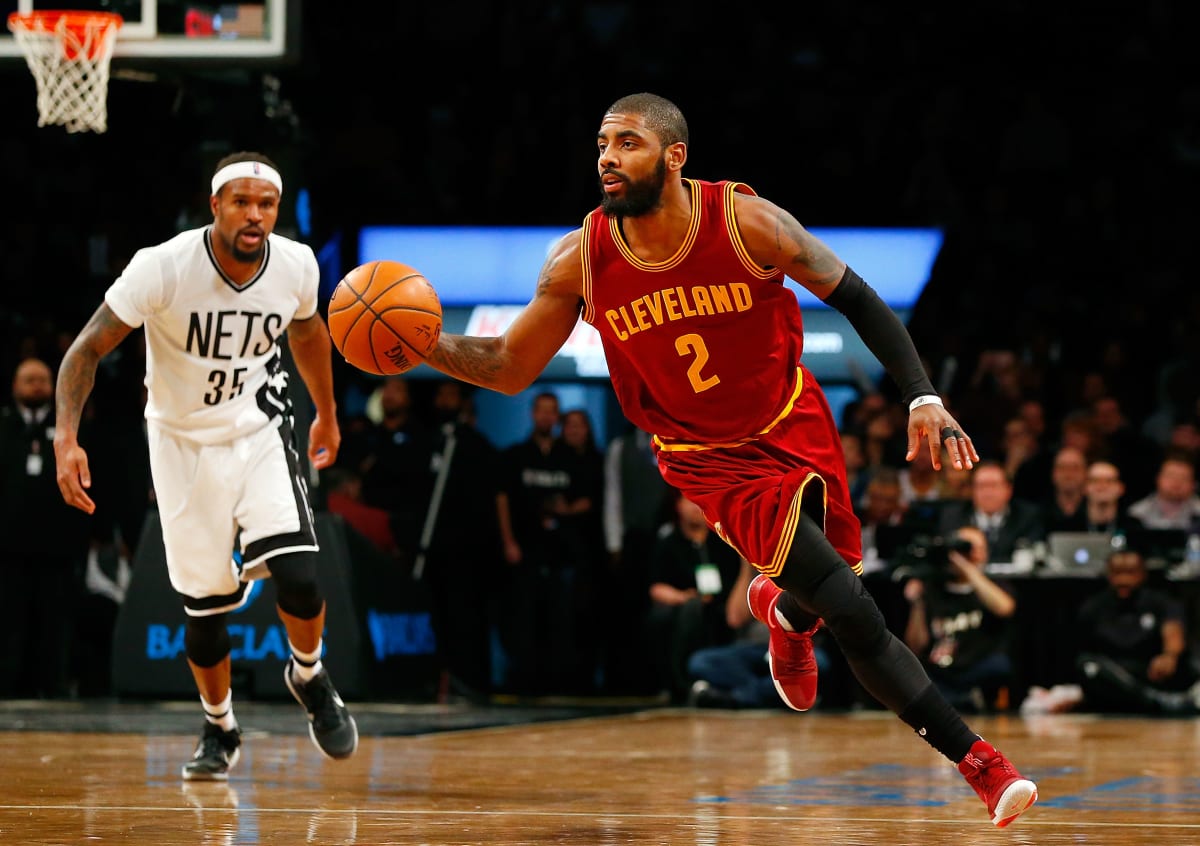 6 Kyrie Irving, PG Cleveland
OK, so I have Irving ranked higher than Westbrook. Some may have a problem with that. And honestly, the argument I initially had planned in my head was supposed to go something like, "I don't care what the numbers say because based on what I have seen over the past two NBA Finals, I would rather have Irving."
But then I ran a side-by-side comparison, and it turns out that the numbers actually support Irving, too. Offensive rating, which measures an individual's efficiency at producing points for their offense,: advantage Irving. Net rating, which is similar to offensive rating, but factors in defense: advantage Irving. True shooting percentage: advantage Irving. Assist to turnover ratio: advantage Irving. Westbrook does have the edge in a couple major categories, most notably PER and defensive real plus-minus; he's also the much better rebounder.
However, in terms of scoring, Irving is clearly more efficient. Plus, the Cavs' star is the better ball-handler and the better decision-maker, even though Westbrook's assist numbers are higher because he dominates the ball more. In short, it's a close call, but I'll take Irving. And if you're not convinced, maybe you will be after watching this video.

5 James Harden, PG Houston
There are few other players in recent memory as dynamic as Harden, who finished in the top three in scoring (2nd), assists (1st), and three-pointer's made (3rd). He also ranked 6th among guards in True Shooting% and fifth among all players in PER. So it's clear that there's a lot to love about the Rockets star. However, perhaps more than any other superstar player, he has a lot of flaws. To start, he broke the NBA record for turnovers in a season. His defense also hasn't made much progress, either.
But here's the key thing to remember about Harden: he's the quarterback of one of the most prolific offenses in history. This year's Rockets finished the season with a 114.7 offensive rating. Believe it or not, that's the 12th highest figure of all-time. And he's done this without a ton of help around him. I mean, Ryan Anderson? Eric Gordon? Lou Williams? All are nice players, but Harden's clearly the only All-Star, let alone All-NBA-caliber player. Nonetheless, this Rockets team is one of the best in the NBA, all thanks to the sensational Harden.

4 Stephen Curry, PG Golden State
Here's all that really needs to be said about Curry: in what many thought was a "down year" for him, up until the playoffs, he still put up over 25 per game on 41% shooting from three-point range. Of course, these high expectations weren't too surprising, considering Curry joined the prestigious "50-40-90" club en route to becoming the NBA's first unanimous MVP a year ago.
But speaking of the playoffs, Curry also confirmed over this past spring that he's the most valuable member of the Warriors. To be clear, Durant, who I'll discuss shortly, is their most outstanding player. Yet in the playoffs, Curry not only had Golden State's highest plus/minus at +14.4 (Durant, for the record, was third at +11.8), but when he was off  the court, the Warriors had a negative point differential (-0.9). No other Golden State player can say the same. Also, let's not forget that Curry led the Warriors on a fourteen-game win streak when Durant was out in March, too.
Without question, the greatest three-point shooter in NBA history, and the most valuable member of one of the league's most dominant teams ever, has a secure spot in my top 5.

3 Kawhi Leonard, SF San Antonio
Leonard gets the slight nod over Curry. He's more versatile, for one thing, and he's also 6'7″ with freakish athleticism and a seven-foot wingspan. In short, he's exactly the kind of player you want to lead your franchise. And based on how Leonard faired this season (25.5 PPG, 3rd in PER) as the Spurs' lead-man sans Tim Duncan, it's clear he's up to the task. Remember: San Antonio was up 20+ on Golden State in Game 1 of the West Finals before Leonard got injured. That isn't to say the Spurs would've advanced past the Warriors had he stayed healthy (they wouldn't have). But anyone who previously questioned Leonard's value–whether it was based on San Antonio's success with him out in the lineup, or because he plays for the best organization in the NBA–was clearly proven wrong after the Spurs were unceremoniously swept. He's undoubtedly worthy of being regarded as one of the league's three best players.
2 Kevin Durant, SF Golden State
1 LeBron James, SF Cleveland
I'll conclude by discussing these two in tandem, because we all just witnessed why both are in a conversation amongst themselves for the right to be regarded as the league's best player. LeBron became the first person in history to average a triple-double in the Finals, while Durant, of course, was unanimously chosen as Finals MVP for his sensational performance.
Yet even though Durant clearly got the better of LeBron in the Finals, it wasn't quite enough to take the best player belt away from James. To explain why, it's best to compare the two throughout the entire playoffs rather than the Finals, since it was only five games. It also doesn't make sense to put too much stock in the regular season since LeBron clearly elevates his game to another level when it matters most.
The playoffs confirmed that Durant is the best scorer in the world right now; however, James is still the better all-around player. LeBron holds the edge over KD as a passer: he averaged more assists, a better assist/turnover ratio, and posted a significantly higher assist percentage. He's more productive on the glass: James averaged more rebounds (9.1 vs 7.9) and had a higher rebound rate (12.8 vs 12.0). And he's the better defender, according to defensive real plus/minus.
Most importantly, LeBron finished above Durant in postseason PER, the most comprehensive basketball stat there is to best measure individual performance. Plus, when we look at scoring, the difference between Durant and LeBron isn't huge. In fact, it's actually a pretty small gap. In the playoffs, Durant's scoring average per 48 minutes was just a tad higher than LeBron's (38.5 vs 38.1). But as you can also see on that NBA player comparison link, it was James who had the slightly higher field goal percentage (56.5% vs 55.6%). And he too shot over 40% from three, even though his terrific percentage still trailed Durant's (44.2% vs 41.1%).
You could argue that KD's situation–you know, playing alongside Steph Curry and company–makes him the most unstoppable force in the game. And if you want to phrase the argument that way, then maybe Durant, who seemingly made every shot he took in the Finals, is the league's best player right now.
But I don't have a short-term memory, so I'm going to break my rule of only factoring in the past year to assemble this list. As great as Durant is, it took him five years to reach the Finals again–and he needed to be on a 73-win team to do it. LeBron, meanwhile, has made seven consecutive trips with two different franchises. And let's keep another thing in mind: flip-flop James and Durant, and the LeBron-led Warriors walk over Durant and the Cavs in the same manner.
LeBron's grip as the league's best player may be loosening, but it's not because of any weaknesses in his game; rather, it's because this younger generation of players–i.e. Durant, Leonard, Curry, etc–is all-time great. Yet even at 32, another season ends with the King still atop his throne.
---
Thompson photo courtesy of Getty Images; Butler photo courtesy of Dennis Wierzbicki-USA TODAY Sports; Thomas photo courtesy of HoopsHype; Wall photo courtesy of Ned Gishman, Getty Images; Giannis Antetokonumpo photo courtesy of Garrett Ellwood, Getty Images; George photo courtesy of Sporting News; Paul photo courtesy of Sporting News; Davis photo courtesy of The Source; Westbrook photo courtesy of Troy Taormina, USA Today Sports; Irving photo courtesy of Complex; James Harden photo courtesy of Troy Taormina; Curry photo courtesy of Noah Graham, Getty Images; Leonard photo courtesy of Soobum Im, USA Today Sports; Durant and LeBron photo courtesy of NBA.com