Two Olympic trips. Five individual national records–two of which in relays. Without a doubt, Andrew Chetcuti is one of the best swimmers from the European island country of Malta.
The now 24 year-old graduate student says he's taking a quick break from competitive swimming to focus on his studies, which we can see is well-deserved. After starting at a young age in Malta, Chetcuti has since come a long way in his career, from joining a club team in Dubai, to competing at the collegiate level for Georgia Tech, and, finally, by representing Malta in both the London and Rio Olympic games. You almost assuredly saw Chetcuti during the most recent opening ceremony, too: He served as Malta's flag-bearer during the Parade of Nations. 
The 5'10, 160 lb Chetcuti specializes in short course events (e.g. 25 and 50 meters), focusing primarily on the freestyle and butterfly. In both Olympic trips, he competed in the men's 100m freestyle; and in London specifically, he set a Maltese national record for the event with a time of 51.67 seconds. After his recent trip to Rio, and before he sees how he feels about Tokyo in 2020, Check Down Sports was able to call him up and get more details on his career as well as his two Olympic experiences. 
DT: How did your actual Olympic experience compare to what you imagined it would be like? 
AC: I was pretty nervous going in. I knew it was going to be a huge event, but it didn't really hit me how big it was until I got to
the opening ceremony. I walked out into the arena and you see how many people are in the crowd, how loud it is. It's, like,
80,000 people watching you. That's when it sunk in how big of an event it actually is. And then when you get to the village and see
all the super-star athletes walking around, you know that this is a big stage.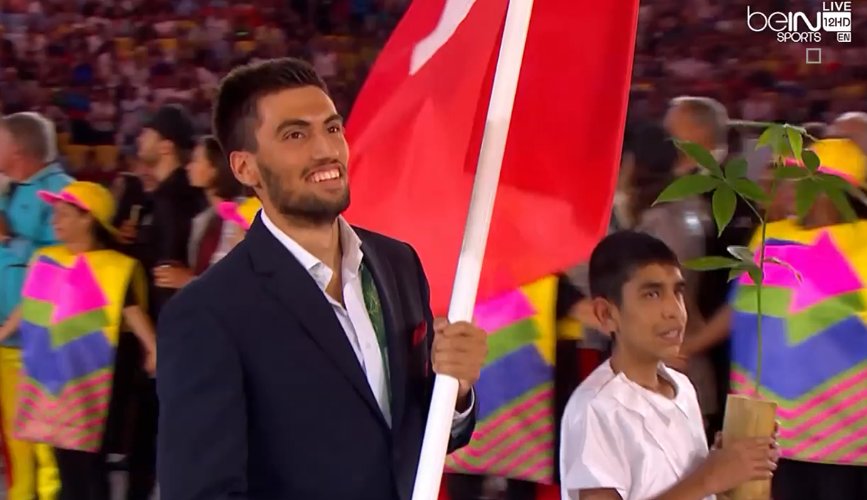 DT: What was it like representing a small country like Malta, specifically? 
AC: It was cool being a smaller country. When you walk out [during the opening ceremony] you're guaranteed to get spotted just
because there's only a few other athletes there. So when the cameras were on us, we all got TV time. Competing for the USA is
obviously a huge deal because those are the medal winners, so to be on that team, you're hoping for a medal. But it was still fun to
be on Malta's team. I mean, anyone who's been to the Olympics is going to say you're never going to forget that experience.
DT: What was the process to even qualify for Malta's team?
AC: My goal started when I was thirteen years old after I got on the junior national team for Malta. So my goal for the Olympics
started then, but my first trial was in 2012 for London. And the way they do it since we don't have a trials meet like the US is
we just have three or four set meets throughout the year where they let you compete, and if you get a qualifying time at those
meets you can go. So for Rio, I got a qualifying time in January in Luxembourg in the 50 free (50 meter freestyle). I had my
selection done in January so I knew I was going already.
DT: Is there anything that happens behind the scenes that you think most people do not know about the Olympics?
AC: Yeah, I was there for the whole Ryan Lochte incident with the — whatever it was, breaking a sign at a gas station and
getting robbed at gunpoint, which didn't happen. But it was funny because one of the athletes that was involved with that had to
come back to the village because if he went to the airport he would've been apprehended by local police because of the charges.
So he was literally in hiding for about four days. No one knew where the hell he was in the village! It was pretty crazy.
Going out was, I want to say, fun. I mean, nightlife in Brazil was fun but kind of sketchy. You know, in the US I don't watch my
back all the time. Walking around [in Rio], there's a lot of hidden crime going down. Overall it was an awesome country, but it
was definitely true about the crime and stuff. You have to watch yourself when you're there. We still went out a lot. Once I was
done competing, we got a tour of the Christ the Redeemer statue, we went to Copacabana beach, so we had a lot of downtime. We
went out every now and again, so I went out a couple times to bars and clubs, but nothing crazy since I didn't want to risk it.
London was a different story. I definitely went out more in London, plus I had some friends in the UK watching. So when I was
done competing, we'd go out. 
DT: What was your training like? How often did you practice and what did you do?
AC: We would swim eight times a week and lift three times a week. Swims would be for an hour to an hour-and-a-half in the
morning and then two hours in the afternoon. Lifting was always an hour and could be anything from power and strength
training to aerobic and cardio kind of stuff. It was pretty exhausting. This was all in college when I was training for the Olympic
games, so that was what the rest of the team was doing, too.
DT: Can you run us through a typical competition day at the 2016 Olympics?
AC: We would wake up at around 7 or 8. I would then go for a walk with my coach to wake up my legs and get the blood flowing.
So we'd walk, then get to the dining hall and have a lightish breakfast, but not too light because I want to keep eating normal on
race day since I don't want to change too much. Other people like eating light but personally I like a normal breakfast; so I'd have
eggs, a bowl of cereal, and toast.
Then we would head to the pool, and this was actually weird for Rio because of US television rights, but the heats were later than
normal. Usually in London they were at 11 o'clock, but so that they could get primetime in the US, they shifted them to 1 or 2
o'clock in the afternoon; finals for us were then at 10 o'clock at night. It was weird, but we'd get to the pool at around 9 or 10 in
the morning. I'd do a warm-up for about an hour, until like 11:30. Then I would have a half an hour to focus and play some music
in my head. I'd just chill out and stretch before my race. A zone out type of thing. Just focus on the race. And that's it. Then you
would race and have a big meal.
DT: How would you sum up the whole Olympic experience in Rio?
AC: It's pretty surreal. It's like a bubble. You're just separated from the rest of the world when you're there. It's its own different
world. I wouldn't even call it reality. Just when you're there — I don't even know how to describe it. Every person you see is a
world-class athlete. Everything is provided for you, such as food and transport around the city. You feel like a celebrity for a few
weeks. It's a lot of fun.
DT: What now? Where do you see your future in swimming going?
AC: I actually moved up north to Worcester, right outside of Boston. I'm at MCPHS (Massachusetts College of Pharmacy and
Health Sciences) and I'm doing a Doctor of Physical Therapy degree right now. That's a three-year program, so I'll be graduating
in the spring of 2019. So I want to be a physical therapist from there and try and work in the US. 
My plan for swimming right now is to take a break from the sport just because of how hectic school is– a doctoral-level degree is
kind of insane. I'm planning on getting back in the water potentially this summer to start training again and just see how I feel. If
I feel I can go again, I'll maybe shoot for Tokyo [in 2020], but that'll come when the summer comes and I see how I feel in the
water. So really I'm just taking a big break. I haven't had a break since I started swimming when I was four, so I got to let the body
rest a little bit.
DT: So you started swimming when you were four. What about it made you want to stick with the sport for so many years?
AC: It's ironic–I actually hated swimming as a kid. I was scared of water so I'd cry when I went to pools. We're from Malta,
which is an island country, so if you're afraid of it, it's kind of an issue. So my parents forced me to start swimming as a kid, and I
learned to start swimming when I was 2 or 3 and I hated it.
And then when I was 4-years-old and at some crappy, small swim meet, I won one of my races and got super excited about it. I let
it get to my head and I started wanting to be the best swimmer ever. That's how I started training and got into it a lot. Then I
moved to Dubai, and in Dubai there was a coach at a local swim club that I guess saw a lot of potential in me so he recruited me to
swim for them [the club team]. That's how I got into it and I haven't looked back since. I love the sport now, but it was a weird
sort of circumstance to get into it. 
DT: What advice would you give to others who want to be able to swim at the level you do?
AC: I'd say not to be discouraged if you don't get your best time at a meet. You have that stage as a kid where every single meet
you get a better time just because you're developing so quick. Then you get to the point where that doesn't happen. For me it was
discouraging because all of the sudden I wasn't getting my best times and I wanted to quit because of that. But if I did quit, I
wouldn't have been able to compete at the Olympics. So I would say if you're not getting your best times that means you just need
to keep putting in work, and the work will show and pay off in the long-run.