Welcome to The Sunday Recap!  This is the first of a weekly column dedicated to thoughts on the previous day's NFL action. Let's start things off with the top storyline from the opening week: The success of first-time quarterbacks.
Siemian, Wentz, Prescott, and Garoppolo All Deserve Praise After Promising Debuts 
A lot of questions surrounded four particular quarterbacks making their first career starts. First there was Trevor Siemian, a former seventh round pick out of Northwestern, whose task was to pick up where some fella named Peyton Manning left off and take the reigns of the defending Super Bowl champions. That's not an easy task for someone who had never thrown an NFL pass, even with a spectacular defense and a few stellar offensive weapons around him. And based on various predictions I came across that had the Broncos missing the playoffs altogether, clearly the common sentiment around Siemian was that he would struggle in 2016.
Over in the NFC East, two rookie quarterbacks were unexpectedly thrown into the fire after it seemed like they would wait at least a year before getting a chance. In Philadelphia, second overall pick Carson Wentz was reported to be third on the Eagles depth chart early in the preseason and then he suffered a rib injury that kept him very limited in practice throughout August. But then one Sam Bradford trade later and Doug Pederson decides to go with the unseasoned Wentz in the opener.
Meanwhile, the Dallas Cowboys were hit with what seemed to be the worst-case scenario when Tony Romo got injured once again in their third preseason game. That forced Jason Garrett to turn things over to the eighth quarterback taken in last year's draft, Dak Prescott. To many people's surprise, Prescott was superb in the preseason, which led some to buy into the hype surrounding the former Mississippi State star. But others, including myself, still were skeptical about Prescott considering that rookie quarterbacks have had similar success in preseasons before and failed to live up to the hype once the regular season began.
Lastly, in what has been arguably the biggest NFL storyline over the past two years, Jimmy Garoppolo was finally set to replace the suspended Tom Brady after what seemed like decades of speculation as to if and when Garoppolo might see his first true NFL action. And like the other three quarterbacks I mentioned above, the public clearly didn't have much confidence in Garoppolo's ability to stabilize the New England offense. Just look at how many bettors jumped on the Cardinals once it was announced that Rob Gronkowski wouldn't play! Just look at the fact that I–probably one of the biggest Patriots fans out there–wasn't a believer in Jimmy G!
Yet despite all the speculation, the biggest storyline to come out of Week One so far is the success of these four quarterbacks. Siemian started things off on Thursday night by playing a smooth game against one of the NFL's better defenses in a 21-20 win over Carolina. He wasn't spectacular: His Total QBR was only 43.4 and he did throw two interceptions. But the Denver offense actually showed some life–more so, in my opinion, than they did practically all of last year with Manning.
Despite facing an easy opponent, Carson Wentz started his Eagles career off beautifully by leading Philadelphia to a 29-10 win over the Browns. Wentz was precise on many of his throws, including this pretty heave to Nelson Agholor for his second TD pass of the day. From a statistical perspective, Wentz posted a very solid 66.1 Total QBR and a robust 7.5 yards per attempt. He'll surely face tougher tests as the season moves along, but for now, the Eagle's QB of the future just might be their QB of the present as well.
Even in a narrow loss to the Giants partly contributed by Terence Williams forgetting to his turn his brain on, Dak Prescott showed that his preseason success might not have been a fluke after all. The Cowboys may not put him in too many compromising situations by pounding the run like there's no tomorrow and having him escape the pocket on bootlegs to allow for clear throwing lanes, but Prescott still showed that he has accuracy and composure beyond his years. What stood out to me the most was his play on third down: Dallas was 10-17 in those situations, mainly because Prescott made many correct decisions. While the Cowboys red-zone execution left a lot to be desired, Prescott's performance bodes well for the Cowboys, who are hoping to at least stay afloat until Tony Romo returns.
And last, but certainly not least, Jimmy Garoppolo engineered the upset of the day by leading the depleted Patriots into Arizona and pulling off a 23-21 victory. No Rob Gronkowski, no Nate Soldier, no Sebastian Vollmer…no problem. Garoppolo was sharp right from the get-go and he avoided throwing any crucial interceptions that normally plague many other inexperienced quarterbacks. All this amounted to a stellar 73.0 Total QBR and an impressive 8.0 yards per pass attempt against one of the NFL's toughest defenses. Even if the Cardinals had executed on that final field goal attempt, Garoppolo's poise is tremendous news for the contending-Pats, who face less daunting matchups in their next three games until Brady returns.
Jack Del Rio Basically Wrapped Up Coach of the Year 
It takes brass balls to sell real estate, and it takes even brassier balls–is brassier a word?–to go for the win on a two-point conversion when your team is down one like Jack Del Rio did yesterday in Oakland's 35-34 win over New Orleans. ESPN's win probability model projected that the Raiders would have a 51% of winning the game if they had kicked the PAT and only a 44% if they had went for two. So was this actually the wrong decision? Yeah, I guess. But Jack Del Rio wanted to win the game now, and that's all that's important.
Statistics aside, that play call was  the right decision. How about the play call? A fade to the end zone. It's probably not what I would run unless I had a Larry Fitzgerald-esque receiver, but here's why I love that decision: It shows that Del Rio has faith in Michael Crabtree and, more importantly, Derek Carr. If the Raiders are going to seriously compete in the AFC, which is not just a pipe dream anymore, they will need their third-year QB to have the confidence that he can go up against a defense like Denver's or a team like New England in the playoffs and be cool. Carr started to take these steps last year, particularly in that late season upset win over the Broncos. But he hasn't had a defining moment in his career quite like this one. And thanks to Del Rio's gutsy decision, Carr now knows that no matter the situation, he'll have the confidence of his head coach. That edge will be invaluable for the Raiders, who will need as many victories as they can in what projects to be another loaded AFC playoff field.
Other Things That Stood Out in Week One…
Jameis Winston takes first step toward breakout season
I've been on record numerous times saying that the Falcons will disappoint mightily in 2016, but I still have to give Winston a lot of credit for tossing four touchdowns in a key divisional matchup to open up the season. Winston was widely praised this offseason for returning to camp in much leaner shape than his rookie season. It looks like that work is already paying off for him and the Bucs, who might be closer to the playoffs than you might think.
Even in defeat, Jets defensive line looks looks like league's best
I'm shocked Andy Dalton managed to put up 350+ yards given the way the New York defensive line harassed him yesterday. Leonard Williams (2.5 sacks) and offseason acquisition Steve McClendon (2 sacks) led the way in a seven sack beatdown by the Jets front-seven on a normally very stout Bengals offensive line. It might not have been quite enough to lead the Jets to victory, but New York should have little trouble competing on a weekly basis with such a disruptive pass rush.
Minnesota's defense steps up when needed most
I wasn't concerned that Shaun Hill would be starting in place of Teddy Bridgewater for their matchup against Tennessee. However, if you told me that Adrian Peterson would only rack up 31 rushing yards on 19 carries, I would've expected the Vikings to lose. No matter, though, because their defense managed to force three turnovers and take two of those–one interception and one fumble–back to the house in a second half comeback. Minnesota can't always expect to create points off takeaways on a weekly basis…but it sure would help mitigate the affect of losing Bridgewater on an offense that really struggled to open up lanes for Peterson against an average Titans rush defense.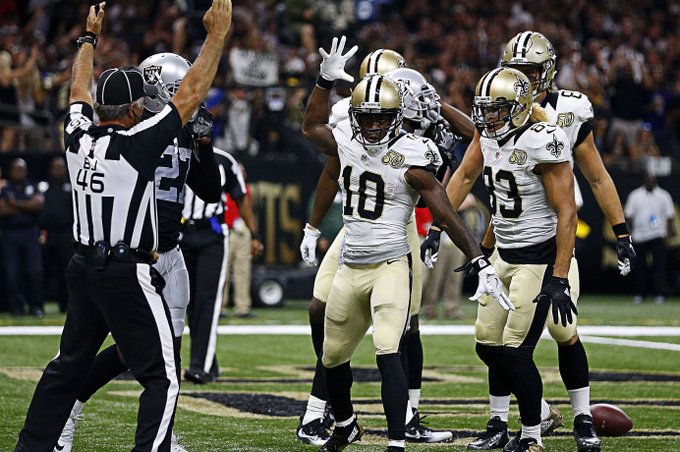 Fantasy Heroes & Zeroes
Hero: Andrew Luck (35 points)
It certainly wasn't Luck's fault that his defense couldn't hold off the Lions. He seems to be healthy again after an injury-plagued 2015.
Zero: Adrian Peterson (3 points)
The aforementioned Peterson had a miserable afternoon in what must have disappointed many fantasy owners.
Hero: Brandin Cooks (27 points)
Yeah…a 98-yard touchdown reception will make you a hero every time in this column.
Zero: Devonta Freeman (4 points)
Freeman made a living on scoring touchdowns last year. But he was a non-factor fantasy-wise yesterday.
Hero: Vikings D/ST (21 points)
Two return touchdowns will do the trick.
Zero: Brandon Marshall (5 points)
Marshall not only disappointed many fantasy owners with a subpar showing against the Bengals; he also had a crucial drop on a potential game-winning drive on New York's final possession.
Predictions Recap 
Best Call: Kansas City over San Diego
I had the Chiefs beating the Chargers 30-27 in a high-scoring affair. I was three points off (33-27 final). I also might add that I correctly called the margin of victory for four games: Tampa Bay by 7, Minnesota by 9, Baltimore by 6, and Green Bay by 4.
Worst Call: Cleveland over Philadelphia 
Yeah, why did I do that?
Records (going into Monday Night games):
Straight Up: 9-5    
Spread: 10-3-1    
Over/Under: 4-10    
Locks: 1-0    
Best Bets: 8-2 
Monday Night Picks
 vs 
Spread: PIT -3                   Over/Under: 50
'15 DVOA: PIT (7) > WSH (15) 
'16 DVOA (projected): PIT (4) > WSH (28) 
Public Betting: PIT 67%
It should be a high-scoring affair at FedEx Field tonight. Both offenses were among the league's best last year and Ben Roethlisberger and Kirk Cousins are each coming off top five finishes in Total QBR. Even though I expect the Steelers offense to find holes in the Redskins defense, I have a hunch that people are underrating Cousins and this Washington offense. The 'Skins pull off the upset win at home.
Washington 33, Pittsburgh 27 
**Best Bet: WASHINGTON (+3) over Pittsburgh 
 vs 
Spread: LA -3                   Over/Under: 42.5
'15 DVOA: LA (16) > SF (32) 
'16 DVOA (projected): LA (13) > SF (31) 
Public Betting: LA 72% 
In contrast to the first Monday night game, this one might not have any points at all. No, literally. How are the 49ers going to move the ball against the LA Rams defense? On the other hand, is anyone really confident in a Case Keenum-led attack? From a betting angle, low scoring games provide enormous value to the underdog, so I like the 49ers to make this interesting. However, the best players on the field–Aaron Donald, Todd Gurley–are on the Rams. I'll put my faith in them.
Los Angeles 10, San Francisco 9 
**Best Bet: Los Angeles vs San Francisco UNDER 42.5 
---
Wentz photo courtesy of Mitchell Leff/Getty Images; Del Rio photo courtesy of Getty Images; Winston photo courtesy of Tampa Bay Buccaneers; Cooks photo courtesy of Getty Images; Sports logos courtesy of sportslogos.net