My name is Jack McElduff, and it gives me great pleasure to write my first piece for Check Down. I am heading into my sophomore year at Marist College (go Foxes), and couldn't be more excited to start writing. Erik Manditch (known to the Check Down community as "Mando") is an old high school friend of mine, so kudos to him for seeing my potential. With that said, I'd like to take a crack at my first piece.
With the current ongoing saga of Deflategate marring professional football, it's sometimes easy to forget that regular season football is less than four months away. With that in mind, here are some bold predictions for the 2016 season.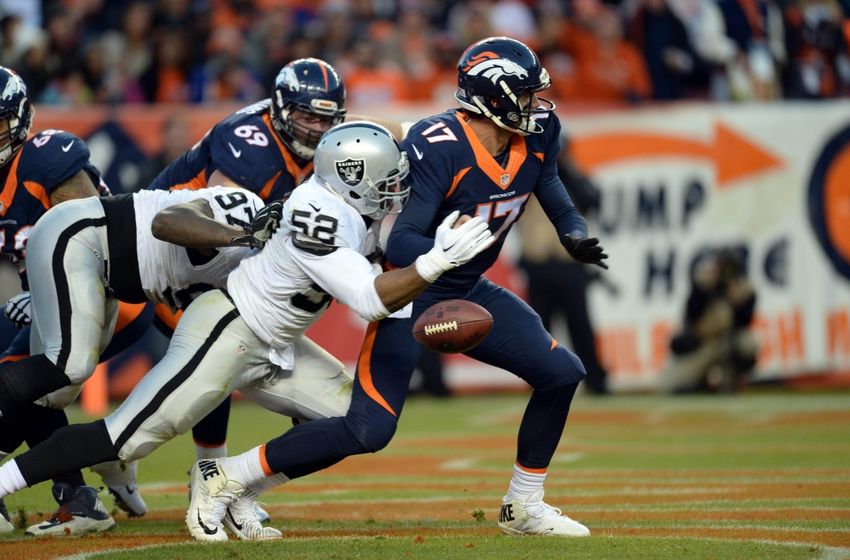 The Oakland Raiders will win the AFC West: Call me crazy, but 13 seasons is an awfully long playoff drought. The last time the Raiders took the field in the postseason, Rich Gannon threw five interceptions (with three returned for touchdowns) as Oakland was trounced by the Tampa Bay Buccaneers in Super Bowl XXXVII. After years of irrelevancy, this team is hungry, determined, and finally talented. When general manager Reggie McKenzie brought in Seattle linebackers Bruce Irvin and Malcolm Smith, Oakland's linebacking corps became arguably the best in football, due to the presence of Khalil Mack, who continues to prove to be an immovable force at outside linebacker or defensive end. On offense, this team continues to improve. Derek Carr will only grow at quarterback, wide receiver Amari Cooper serves as a reliable target with remarkable catching ability, and if running back Latavius Murray enjoys the success he had in 2015, this team will be extremely potent on the offensive side of the football. Any way you slice it, look for the Raiders to do big things this season.
Robert Griffin III will lift the Cleveland Browns to 7 wins: It may seem outlandish, especially for a team struggling with a playoff drought as long as the Raiders'. However, you have to remember that Griffin has had success in the past. In 2012, he showed in his rookie year that athleticism can get you places as a quarterback, and that year, he marched the lowly Washington Redskins to the playoffs (albeit in a weak NFC East). I believe that Griffin has been treated as an untapped resource for the last several years, and that perhaps all he needed was a change of scenery. Well, now he's got it. Of course, the Cleveland Browns are a different monster. Griffin will join the infamous Cleveland quarterback carousel, but something tells me he'll stay on the ride longer than Tim Couch, Colt McCoy, or-dare I say it!?-Johnny Manziel. Griffin was talented in college and is still young and fresh. The Browns offensive line has made some improvements during the last few offseasons, creating a decent wall of protection for a guy who can escape the pocket anyways. I'm not talking playoffs just yet in Cleveland. However, seven wins seems realistic.
The San Francisco 49ers will learn that they should have hired Mike Shanahan over Chip Kelly: This signing still baffles me. Mike Shanahan is a veteran head coach who took the Denver Broncos to the playoffs year after year, even winning back-to-back Super Bowls in the process. He's always been an offensively oriented coach, which is exactly what this San Francisco team needs right now. He's found ways to enjoy success in the NFL on the offensive side of the ball, which is something Chip Kelly simply can't say. This team went for the brand name with this signing, and it will come back to bite them. Kelly arrives in San Francisco after a failed tenure in Philadelphia that proved to be way overhyped, even with offensive weapons like DeMarco Murray and Jordan Matthews. Kelly was an excellent college coach, but sometimes those skills just don't translate. I would like to see him succeed in the NFL, but this is not the right place or right time for that to happen.
The Jacksonville Jaguars will be fighting for a playoff spot by Week 17: Sure, this team has had its share of ups and downs over the last decade (ok, mostly downs). However, there is reason to believe that this year could be a turning point for the franchise. On defense, the team used their draft picks to the best of their ability, bringing in cornerback Jalen Ramsey and linebacker Myles Jack. Notable free agency signings include Pro Bowl safety Taeshaun Gipson and defensive tackle Malik Jackson, who is fresh off a championship with the Denver Broncos. Offensively, this team will feed off its depth. Power back Chris Ivory will take a huge load off T.J. Yeldon in the backfield, as the two can now split carries. Blake Bortles only has upside at his young age and high skill level, and in a weak AFC South, the Jags will compete for the division title, likely winning eight or nine games in the process.
Martellus Bennett will be the lift the New England Patriots need to survive Tom Brady's suspension: Barring a miraculous fallout from the Deflategate case and impending trial, Tom Brady will be suspended for the first four games of the season. It's obviously a huge hit for the Patriots, but Bill Belichick and the front office have planned well for the situation. The signing of tight end Martellus Bennett gives the Patriots the luxury of rolling out a double-tight formation that we used to see with Rob Gronkowski and Aaron Hernandez several years ago. Jimmy Garoppolo, presumably the Patriots' new starting quarterback for the first quarter of the season, will rely heavily on this obvious benefit. He can send the two ends on seam routes down the middle, as they match up well against any linebacker, and certainly any defensive back. He can also keep them home on the line, providing much-needed blocking help for a quarterback who lacks regular-season experience. The Patriots will struggle more than usual for the first four games of 2016, but with Gronk and Bennett on the line, making their way through might be just a little easier.