You're reading The Morning Mando, a column released on Monday, Wednesday, and Friday mornings about four of the most intriguing stories in sports.
In today's edition, the top two stories come from the NBA, where I'll preview what Oklahoma City must do to take a commanding 2-0 lead over Golden State and give an early NBA mock draft based on last night's lottery results. I'll also discuss my vision of baseball's dream World Series as well as the quarterback drama ensuing in Philadelphia. 
---
Oklahoma City's Work is Not Done: Here is What Must Happen for Them to Win in Game 2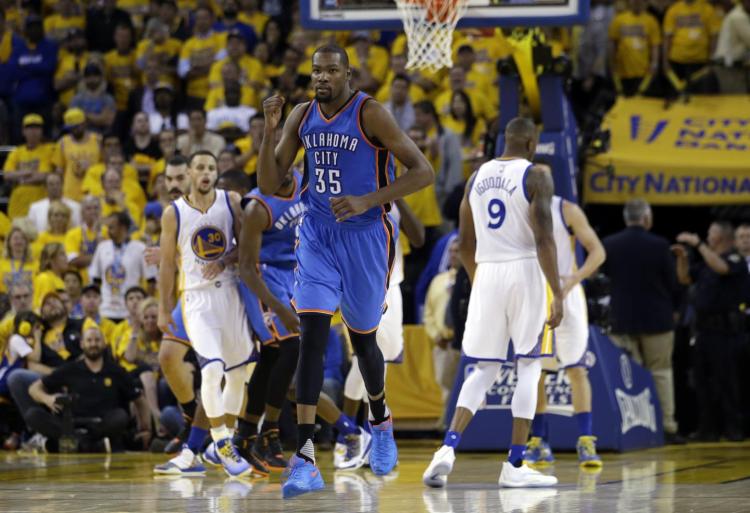 Oklahoma City was in tough shape after one half in Game 1. They were down thirteen, Russell Westbrook was 1-8, and the Warriors had put up 60 points. But then things turned around in the second half, and the Thunder held on to pull the upset.
By stealing Game 1, the Thunder have already made this a series. But a one game hole is no problem for the Warriors. They faced two one-game deficits last year on their way to the championship. In order for Oklahoma City to really take control, they need to take Game 2 in Oakland. Here are three things that they need to have happen in order to do that:
1) Russell Westbrook must play like he did in the second half 
In my preview of this matchup, I briefly mentioned that Westbrook needed to play better than he did in the Thunder's regular season matchups against Golden State. In the first half Monday night, Westbrook played even worse, shooting 1-8 for a mere 3 points. But in the second half, and in the third quarter in particular, he was terrific. With Kevin Durant struggling at times, Westbrook's big second half is what sparked the Thunder to the victory.
In order for Oklahoma City to win this series, Westbrook needs to produce like he did in Game 1.
2) The Thunder must continue to out-rebound the Warriors and must limit their turnovers
I should also mention that another factor in my preview was that the Thunder had a significant edge in rebounding over the Warriors. This trend continued as the Thunder held a 52-44 rebounding edge keyed by Steven Adams, who grabbed 12 boards in addition to scoring 16 points. I highlighted Adams as the x-factor before this series began and my position has not changed. Adams is the key player for OK City underneath and if he can continue to impact the game like he did on Monday (he led all players with a +19 plus/minus), then the Thunder will continue to give Golden State fits.
Another thing Oklahoma City must do is protect the basketball. This isn't a profound concept, but one of the significant stats from Game 1 was that the Thunder had ten of their eleven turnovers occur in the first half. This partly explains why Golden State was able to get out to a double digit lead. In essence, this means that the Thunder must do an even better job protecting the basketball to avoid big holes in the first place.
3) Golden State must be off their game again
The Warriors did many uncharacteristic things that contributed to their Game 1 loss: rushed three-point attempts, wild forays to the hoop, and sloppy turnovers being the ones that stand out the most. Oklahoma City deserves credit for making the Warriors adjust to their bigger lineup with Enes Kanter and Adams underneath. But to put it simply, the Warriors just played poorly (for their standards). The stats over the course of this season don't support the notion that Oklahoma City is a strong defensive team. That's why I think it will ultimately be less about what the Thunder do to contain Stephen Curry and Klay Thompson and more about whether Golden State plays a sounder game.
I was on record before this series began that I thought Oklahoma City would pull the upset. But even I admit that it is inconceivable that the Warriors drop the first two games in this series at home. That's why I like Golden State to play much better than they did Monday night and win Game 2 with relative ease.
---
Now that the Lottery is Over, An Early Mock Draft is in Order 
God, what a boring lottery last night. At least have their be one surprise! Anyways, here is an early mock draft that will surely change from now until late-June.
1 Philadelphia 76ers: Ben Simmons, PF LSU
Given his size, athleticism, and versatility, Simmons is certainly an elite talent that should be an immediate contributor. He's worth a high pick, but his trouble shooting may not make him a star.
2 Los Angeles Lakers: Brandon Ingram, PF Duke
I'm very high on Ingram. I see Durant-like potential in him and think that he is the best bet to be an All-Star in this draft.
3 Boston Celtics: Dragan Bender, PF Croaita 
Whoever drafts Bender will hope he is like Kristaps Porzingis, but remember this: among tall European draft picks, Porzingis is an exception, not the rule. That makes Bender a risk.
4 Phoenix: Jamal Murray, PG Kentucky
Murray is a smaller version of Simmons, but does he have a true position? Does he need to have one?
5 Minnesota: Kris Dunn, PG Providence
Dunn looks to be a pretty safe pick, but maybe his age (22) is what allowed him to succeed against younger players in college.
6 New Orleans: Jaylen Brown, SF California
I can't put my figure on it, but the name Jaylen Brown just has a ring to it that says "All-Star."
7 Denver: Buddy Hield, SG Oklahoma
Hield's ability to shoot make him worth a top-ten selection. It is unlikely, though, that he dominates the pros like he did college.
8 Sacramento: Henry Ellensen, PF Marquette
If guys like Cody Zeller can carve out solid pro careers, Ellensen should definitely be a good big man.
9 Toronto: Jakob Poetl, C Utah
I viewed Poetl as one of the most dominant players in the nation this past year. He could provide great value to a team that needs a big man.
10 Milwaukee: Marquese Chriss, PF Washington 
Chriss is big (6'10") and he can shoot threes. Yep, that will work.
---
For an Accurate Opinion of Sam Bradford, Consult Michael Bennett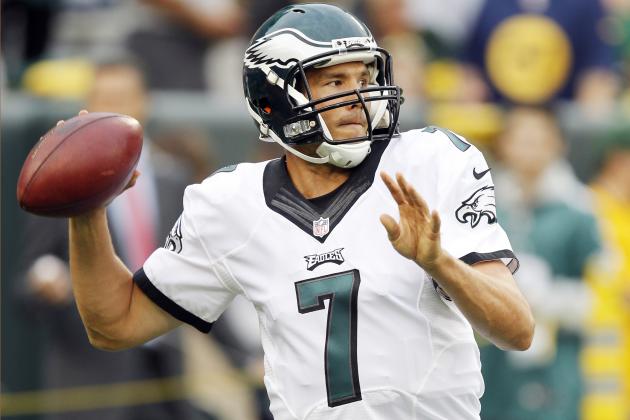 After watching various ESPN programs over the past few days, it seems to me that way too much coverage is being given to the Philadelphia Eagles and their current quarterback situation. As I'm sure many of you are aware, the Eagles traded up to draft Carson Wentz with the number two overall selection despite already "committing" to Sam Bradford with a two-year extension.
The decision to draft Wentz has hurt Bradford's feelings. After all, he had an exceptional season for the Eagles, leading them to a 7-9 record and posting the league's 30th best Total QBR rating.
Seattle Seahawks defensive end Michael Bennett isn't happy with his contract either. In an article published on ESPN yesterday, Bennett said,
"Any American wants to get paid more at their job," Bennett said. "I don't think there's anybody that goes to work and says: 'Hey, I'm happy with how much I'm getting paid, and I love it. Don't give me any more money.' So that's how I feel too."
But Bennett isn't demanding trades or causing unnecessary drama like Bradford is just because he is not being paid as much as he feels he should be. This led to his comments on the Eagles quarterback:
"I listened to Sam Bradford again. I just almost threw up," Bennett said. "I can't believe Sam Bradford is complaining about making $40 million in the next two years, and because he actually has to compete for a position. This guy, this guy right here definitely sets a bad tone of what a player should be."
Bennett summed up Sam Bradford perfectly. Who is he to expect that the Eagles should commit to him as the long-term starter? Not only was he mediocre in his first year with Philly, but he was a flop in St. Louis as well. I'll give Bradford somewhat of a break for all the injuries he has endured, but even when he has been healthy he has been far from a franchise-caliber quarterback. Bennett, in contrast, is one of the best defensive lineman in football. He actually has a case to get paid more. Bradford, with his mediocre statistics and lack of playoff appearances, doesn't.
What is there for Bradford to be unhappy about anyways? He's getting paid millions of dollars. Plus, despite Bradford's spotty success as a starter, new coach Doug Pederson seems to project Bradford as the Eagles starter anyways. So, as Bennett eluded too, he should stop complaining and start competing, because Sam Bradford's current situation is even better than it should be.
---
Is it too early too start projecting a Red Sox/Cubs World Series?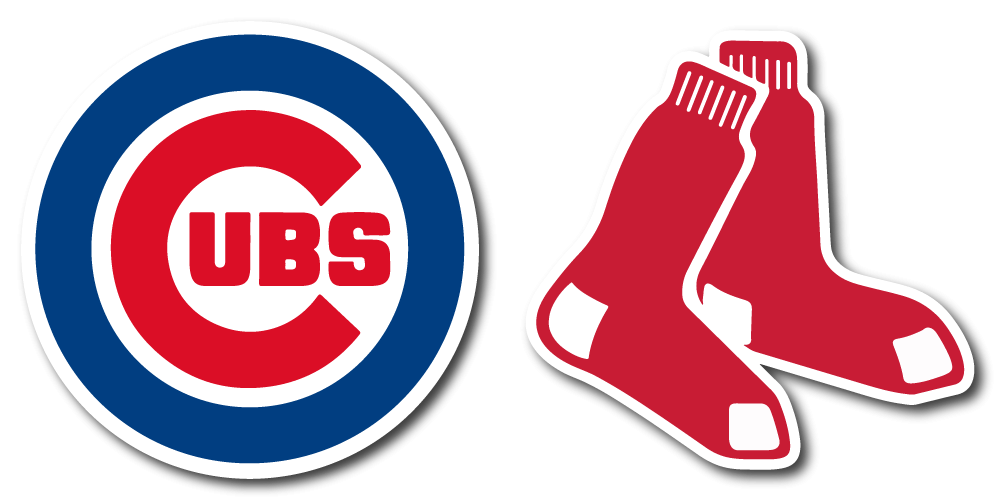 I'm not great at making long-term sports predictions. But I don't really think many people are, for that matter. For instance, pretty much every baseball pundit had the Nationals winning the World Series last year.
That said, I'm pretty confident that the Boston Red Sox and the Chicago Cubs are on a collision corse to meet in this year's World Series. Chicago currently owns baseball's best run differential by far. In fact, the difference between the Cubs and the second highest run differential (the Red Sox at +59) is the same difference between the Red Sox and the team with the ninth highest run differential, the Texas Rangers. And if you thought that was impressive, then know this: the Cubs currently rank first in hitting, first in starting pitching, and first in fielding according to Fangraphs. Sure, the National League is tough. But the Cubs are clearly the team to beat.
Though I'm less confident in the Red Sox making the Fall Classic than I am the Cubs, I'm not sure there is another team in the American League better than Boston. Similar to how the Cubs are stout in all three phases of the game, the Red Sox have the league's second best offense, tenth best pitching staff, and seventh best defense as measured by Wins Above Replacement (WAR). The lone weakness for the Sox so far has been their starting pitching, but with David Price poised to improve over the second half of the season given his high strikeout rates and low Fielding Independent Pitching (FIP), the Red Sox may become similarly dominant as the Cubs.
While negative stories concerning players taking banned substances, the increasing length of games, and new rule changes have put a cloud over baseball of late, a Red Sox/Cubs World Series is exactly what the game needs. The Cubs, if you're unaware, haven't won a World Series in a while. The intrigue as they get closer and closer to that long unawaited championship would be extraordinary. But if in their way was the Red Sox, a team who knows what it's like to be cursed, then baseball would have a World Series matchup for the ages. This series would have everything: two teams with rich histories, exciting offenses, and dominant starting pitchers. On top of that, there's added intrigue with this series possibly being David Ortiz's last as well as the return of Jon Lester to Fenway Park to pitch against the team he helped lead to two titles.
With all due respect to teams like the Kansas City Royals and the St. Louis Cardinals, baseball needs a sexier matchup that will captivate America's attention. Red Sox/Cubs is one of the very few, if not the only matchups that could do that. The beauty is that I think it is poised to happen.