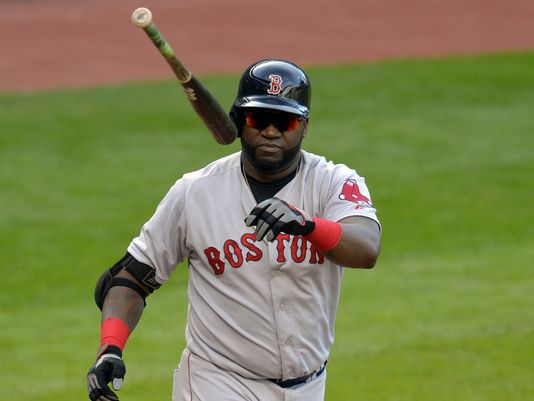 Big Papi literally put the Red Sox on his back today in a win over the Astros. With performances like the one he had today, it makes you wonder why he would retire. I mean, he's on pace for another 30+ home run season, minimum.
Now, as evidenced by the title of the article, I'm not a fan of David Ortiz for the most part. And I'm a Bostonian (notice how I don't say Red Sox fan- all Patriots for me, baby). The reason why I don't like Ortiz is because he's a fraud. How come Ortiz gets away with steroid use while guys like Barry Bonds, Alex Rodriguez, etc. are vilified? I understand guys like Bonds, A-Rod, McGwire, and Clemens are pricks, but it just bothers me how Ortiz isn't lumped into that same category of steroid users simply because he seems to be a great guy. After all, at least most of those names I just mentioned, in all likelihood, would have been Hall of Famers with or without steroids (Bonds and Clemens in particular). Ortiz was released after the 2002 season and then miraculously became one of the five best hitters of the decade. If that doesn't signal a steroid user I don't know what does.
Having said all this, I will say this about Ortiz. I don't care much for Red Sox baseball telecasts on NESN because I find them boring. But when my dad told me that Ortiz was coming up in the ninth with the Red Sox down one and the tying run on first, I left the room I was in to watch his at-bat. If Hanley Ramirez, Dustin Pedroia, or any other player on the Red Sox was up in that situation, I doubt I'm interested.
Regardless of the fact that I think Ortiz is a fraud and a lucky bastard to not have a dark cloud of steroid use over his head, the man delivers in the clutch like few others have in sports. With or without steroids, his timely hits and performances on the biggest stages make him one of the defining players of this generation and a Hall of Famer, assuming steroid use doesn't hold back his candidacy.
I didn't think I'd miss Ortiz when he retired, but moments like today are finally making me overlook the negatives and appreciate the legendary career of Big Papi.